Of course, when we first brainstormed back to school flavors the first one we thought of was apple. That's probably the first thing that pops into your mind, right? That being said, even though it is a predictable flavor, that doesn't make it any less delicious!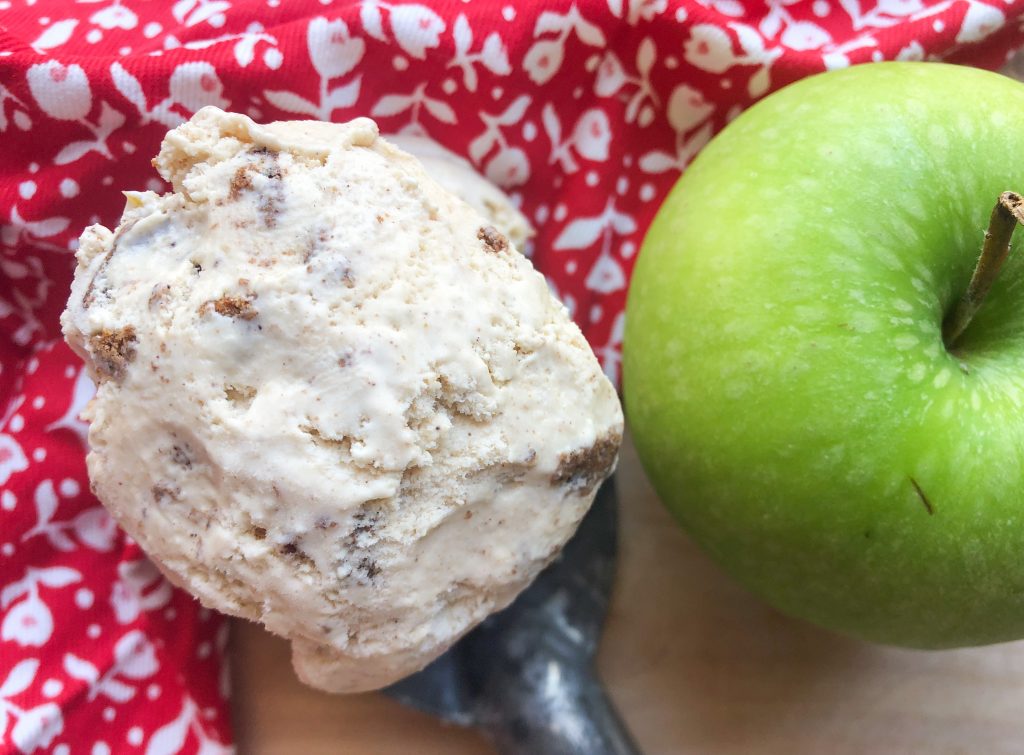 This ice cream is a granny smith apple base made with honey and brown sugar. It is speckled throughout with homemade speculoos cookies, which are amazing, if I do say so myself. Even though the weather is still over 100 degrees over here, this ice cream has us feeling all of the fall feels.
A is for Apple
Definitely could eat an apple a day this way!
Ingredients
2 granny smith apples, peeled, cored, and cut into 1 in pieces

2 Tbs brown sugar

1 Tbs cinnamon

1 Tbs butter

4 large egg yolks

1/4 cup dry milk powder

1/3 cup brown sugar

1/3 cup honey

2 cups heavy cream

1 cup whole milk

Speculoos

2 Tbs butter, softened

3 Tbs brown sugar

1 Tbs molasses

1 egg yolk

1/2 cup flour

1/4 tsp baking soda

2 tsp cinnamon

3/4 tsp ginger

1 tsp allspice
Directions
Speculoos
Preheat the oven to 350 degrees and lightly grease a cookie sheet or line with a silpat or parchment paper.
Mix the butter, brown sugar, and molasses with a hand mixer until smooth. Add the egg and mix again.
In a separate bowl, combine flour, baking soda, cinnamon, ginger, and allspice.
Add the wet ingredients to the dry and mix until a dough forms.
Using your hands, gently pat the dough into a circle about 5 in in diameter.
Bake for about 15-18 minutes, until set throughout. Remove from the oven and allow it to cool completely, then cut into small pieces, no larger than a pea.
Apple Ice Cream Base
Add the apples, 2 Tbs brown sugar, cinnamon, and butter to a saucepan. Cook over medium heat for about 10 minutes, until the apples are softened and reduced a bit. Make sure you stir constantly to avoid burning the sugar.
Allow to cool completely.
Mix together the egg yolks, powdered milk, 1/3 cup brown sugar, honey, cream, and milk together. Make sure to mix thoroughly! Don't want any sugar or egg clumps left behind!
Pour the mixture into a saucepan and heat over medium low heat until the base reaches a temperature of 162 degrees. Keep the base on a low heat and stir constantly, allowing the base to reduce for about 10 minutes.
Remove from heat. Use the immersion blender to blend in the cooked apple pieces until you get a nice, smooth consistency.
Add base to a plastic gallon bag, and put in a prepared ice bath until cooled (about 15-20 minutes).

Add the prepared base and vanilla extract to the ice cream maker. Make in your ice cream maker based on the maker's instructions. 
During the last 5-10 minutes in the machine, when the ice cream is about the texture of soft serve, add in your prepared speculoos cookie pieces. Don't add it all in! Add handfuls at a time until you get your desired chunkiness.
Move into the freezer until hardened (at least 4 hours).