It's finally October!!! We love the beginning of October. It's the beginning of holiday seasons, the weather is cooling down, and we can finally make food with pumpkin without feeling too weird about it. Enter this ice cream: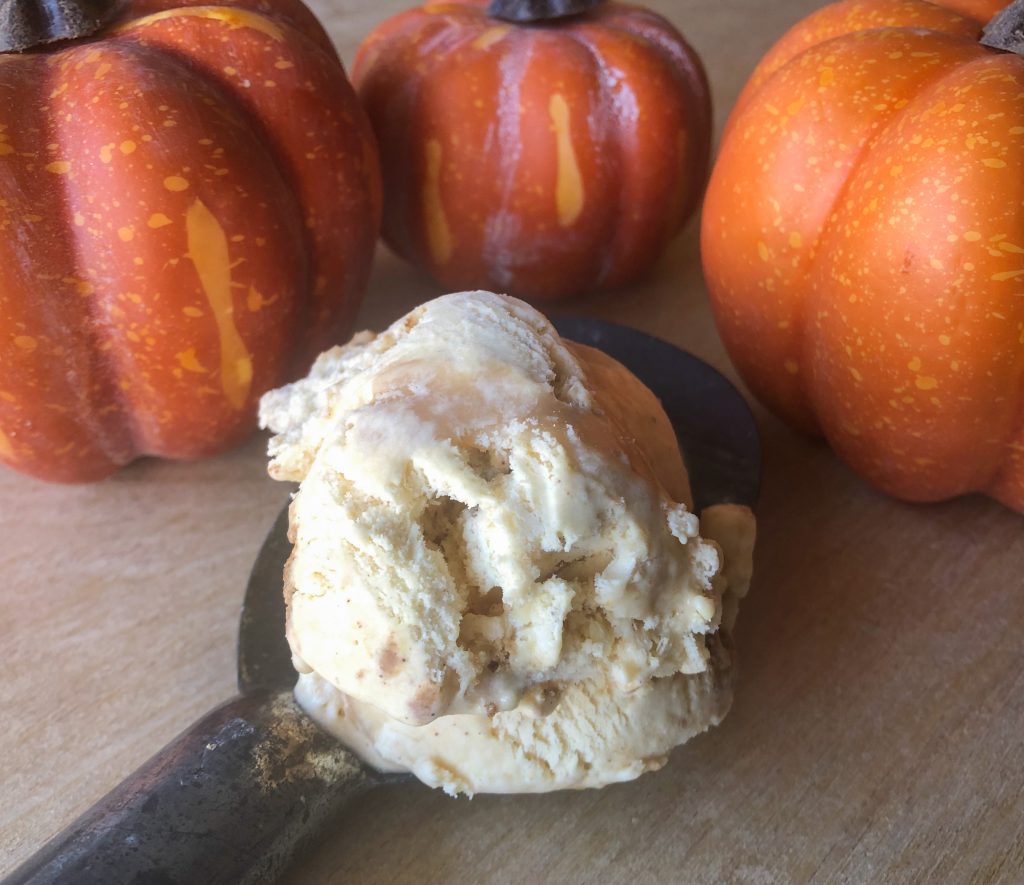 It's a pumpkin ice cream with perfect amounts of pumpkin pie seasoning, pretzel pie spice streusel chunks, and swirls of salty caramel. What a great way to kick off the season!
Caramel Pumpkin
Pumpkin, spice, and everything nice!
Ingredients
Pumpkin and Pie Spice Base

2 cups heavy cream

1 cup whole milk

4 large egg yolks

1/4 cup powdered milk

3/4 cup sugar

1/2 can (15 ounce) of pumpkin

1 tsp pumpkin pie spice

Pretzel Pie Spice Streusel

1 stick butter (cold)

3/4 cup flour

1/2 tsp pumpkin pie spice

6 Tbs brown sugar

1/4 tsp salt

3/4 cup chopped pretzels

Salted Caramel Swirl (adapted from this recipe)

1 cup sugar

1 Tbs light Karo syrup

1/4 cup water

3/4 cup heavy cream

1 Tbs vanilla extract

4 Tbs butter

1/4-1/2 tsp salt (depending on desired saltiness)
Directions
For the Pumpkin and Pie Spice Base
Mix together the egg yolks, powdered milk, sugars, cream, and milk together. Make sure to mix thoroughly! Don't want any sugar or egg clumps left behind!
Pour the mixture into a saucepan and heat over medium low heat until the base reaches a temperature of 162 degrees. Keep the base on a low heat and stir constantly, allowing the base to reduce for about 10 minutes.
Add the pumpkin and pumpkin pie spice to the hot mixture. Give the mixture a stir. If the pumpkin and spice don't totally incorporate, use the immersion blender to mix it well.
Add base to a plastic gallon bag, and put in a prepared ice bath until cooled (about 15-20 minutes).
Add the prepared base to the ice cream maker. Make in your ice cream maker based on the maker's instructions. 
During the last 5-10 minutes in the machine, when the ice cream is about the texture of soft serve, add in the streusel chunks. Don't add it all in! Add handfuls at a time until you get your desired chunkiness
When it is ready to come out, add a layer of ice cream, followed by a layer of caramel swirl. Repeat the layers until your ice cream is all in the container.
Move to the freezer until hardened (about 4 hours).
Pretzel Streusel
Preheat the oven to 350 degrees. Add all of the ingredients besides the butter and the pretzels to a large bowl and mix.
Keep the butter cold and cut into cubes. Add them to the flour mixture and cut the butter cubes in until they are no bigger than pea size.
Add the pretzels and stir.
Add the streusel mixture to a pan. Bake for about 15-20 minutes, stirring a couple of times making sure the edges don't burn.
Allow to cool completely before adding it to your ice cream.
Salted Caramel Swirl
Add the sugar, corn syrup, and water to a medium sized saucepan. You'll want a bigger one than you might think, because it will foam up later on in the process. Stir occasionally.
Bring the mixture to a boil and let it cook until it turns an amber color. Be careful here! The mixture goes from perfect to burnt pretty fast (not that we would know-cough, cough).
Once amber, remove from the heat and immediately whisk in the cream. Once it is well mixed, add in the vanilla, butter, and salt as well. Stir until the butter is all melted and the sauce is uniform.
Move the caramel to a jar and allow it to cool a bit before adding it to your ice cream.