You know that treat that you see sometimes at parties that you just can't get enough of? You know, the one with Chex mix and pretzels and chocolate and stuff all coated in white chocolate? You know what I'm talking about? (If not…look at the picture below to see what I'm talking about).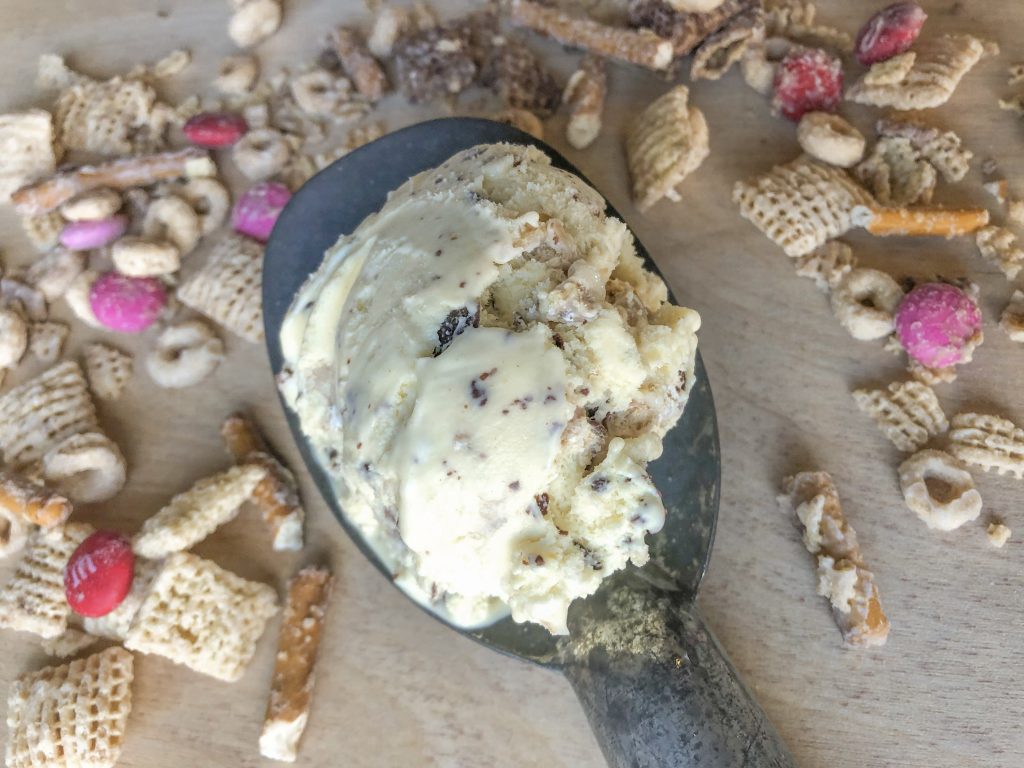 Basically we infused the cream with Chex cereal and used that to make a white chocolate base speckled shamelessly with pieces of the beloved snack and chocolate bits. SO SO SO flavorful! The Chex really shines! Definitely is a must make!
Chex Mix "Crack"
You WILL. NOT. STOP. eating this one. We guarantee it.
Ingredients
White Chocolate Chex Base

2 cups heavy cream

2 cups whole milk

2 cups Chex cereal (we used rice, but you can use whatever flavor you fancy)

4 large egg yolks

1/2 cup sugar

1/4 cup powdered milk

4 oz white chocolate

1/2 tsp salt

"Crack" Mix

1 cup Chex cereal

1 cup cheerios (we used Honey Nut)

1 cup pretzel sticks

1 cup M&Ms

White chocolate (enough for coating everything, so probably about 8 oz)

Chocolate Flecks

1/2 cup bittersweet chocolate chips

1 tsp coconut or avocado oil
Directions
White Chocolate Chex Base and Chocolate Flecks
To infuse the cream, add the cream and milk to a medium saucepan. Add the Chex cereal and cook over medium heat, stirring constantly.
Once the mixture comes to just a simmer, remove it from the heat and strain out the soggy cereal. If you want, you can allow the cream to cool.
Mix together the egg yolks, powdered milk, sugar, and infused cream/milk (add it in a slow stream while you stir if it is still hot so that you don't cook the eggs). Make sure to mix thoroughly! Don't want any sugar or egg clumps left behind!
Pour the mixture into a saucepan and heat over medium low heat until the base reaches a temperature of 162 degrees. No need to reduce this base because it evaporated out the excess liquid when infusing.
Pour the hot mixture over the white chocolate. Stir or combine with an immersion blender until all of the chocolate is mixed in well.
Add base to a plastic gallon bag, and put in a prepared ice bath until cooled (about 15-20 minutes).
Make in your ice cream maker based on the maker's instructions. During this time, melt the chocolate and oil for the chocolate flecks in a microwave safe bowl in 30 second increments until the consistency is melted and smooth. Be careful not to burn. Set aside until ready.
During the last 5-10 minutes in the machine, when the ice cream is about the texture of soft serve, add the crack pieces. Don't add it all in! Add handfuls at a time until you get your desired chunkiness.
After that, slowly drizzle in the melted chocolate for the flecks. It will create these perfect little chocolate speckles! Just don't overmix, or it may start to turn the ice cream brown.
Move to the freezer until hardened (at least 4 hours).
"Crack" Mix
Give EVERYTHING besides the white chocolate a pretty good chop! (Yes, that includes the M&Ms). If you leave big pieces the chunks will be too large and awkward in your ice cream.
Put everything you chopped in a large bowl and stir.
Melt the white chocolate in the microwave 30 seconds at a time, stirring in between. You have to be really careful with white chocolate or it WILL burn.
Pour the white chocolate over the chopped pieces and stir until everything is coated well.
Pour the mixture onto a cookie sheet lined with parchment paper or wax paper, spread it out into as thin of a layer as possible, and place it in the freezer until hardened.
Just before you are ready to add it to the ice cream, take it out of the freezer and once again give it a good chop until you have pieces that are no larger than a pea. (See the above recipe for how to add it to your ice cream).