We had a really hard time naming this ice cream. When you make anything peanut butter and banana, it has to have an Elvis related name right? Peanut butter and banana sandwiches were one of his all time favorite foods after all. After much deliberation, this is the one we picked!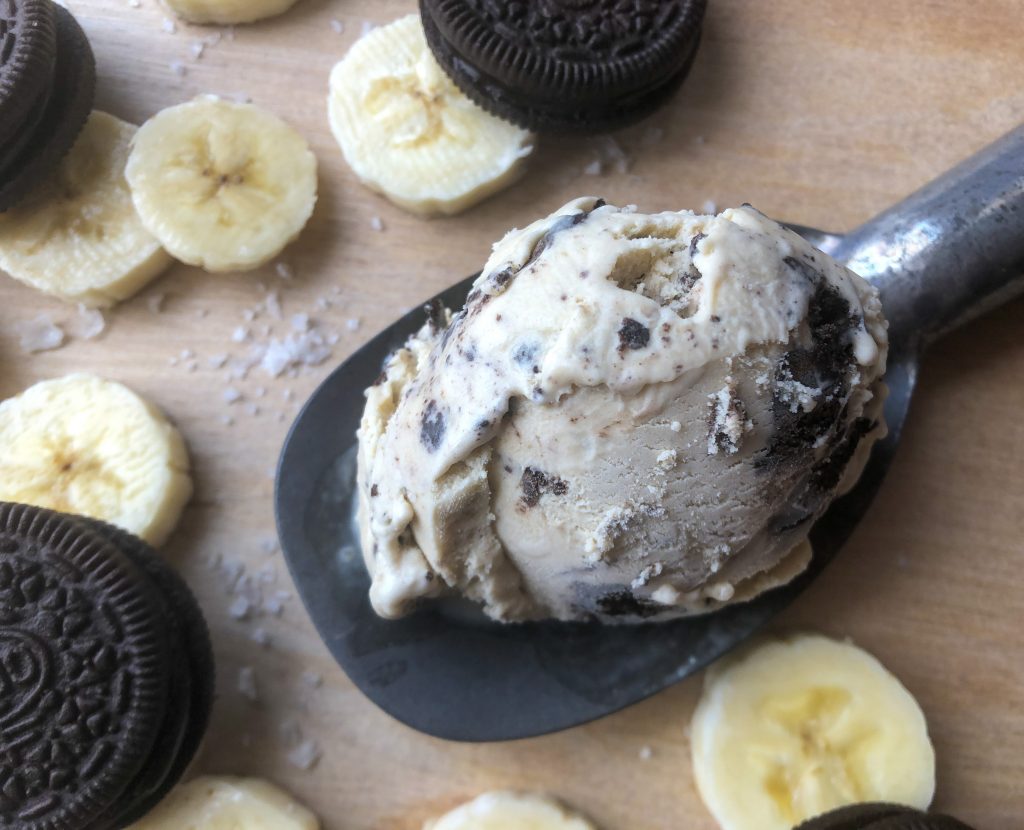 This ice cream is full of flavor! It is a salted peanut butter, brown sugar, roasted banana base with dark chocolate Oreo chunks throughout. Have you tried those yet? If not, you're definitely missing out. While all of the components are great in this ice cream, I think the added 1/2 tsp salt really puts it over the edge. We have a "hunk-a, hunk-a burnin' love" for this flavor, and we think you will too!
A Little Less Conversation A Little More Ice Cream, Baby
We "can't help falling in love" with this amazing ice cream!
Ingredients
4 egg yolks

3/4 cup brown sugar

1/4 cup powdered milk

2 cups heavy cream

1 cup whole milk

2 heaping spoonfuls peanut butter

Roasted bananas (see recipe below)

1/2 tsp fine sea salt

12 dark chocolate Oreos, cut into chunks
Directions
Roast the bananas and allow to cool (see instructions below).
Whisk the egg yolks until they are light and fluffy, about 2 minutes. Slowly whisk in the brown sugar until the color turns lighter and the consistency is smooth, about 2 minutes more. Add the powdered milk and whisk again until well blended.

Add the egg/sugar mixture to a sauce pan along with the milk, cream, and salt. Heat on medium low heat until it reaches 162, stirring frequently and scraping the bottom with a spatula to avoid cooking the eggs. 
Turn the heat on low once it reached temperature and stir constantly, letting the mixture reduce, for about 10 minutes.
Remove from heat. Use the immersion blender to blend in the peanut butter and bananas, until you get a nice, smooth consistency.
Add base to a plastic gallon bag, and put in a prepared ice bath until cooled (about 15-20 minutes).
Add the prepared base to the ice cream maker. Make in your ice cream maker based on the maker's instructions. 
During the last 5-10 minutes in the machine, when the ice cream is about the texture of soft serve, add in your prepared Oreos (broken up into small pieces or chopped into fourths). Don't add it all in! Add handfuls at a time until you get your desired chunkiness.
Move into the freezer until hardened (at least 4 hours).
Roasted Bananas
Preheat the oven to 350 degrees.
Peel 2 bananas and slice them into about 1/2 inch chunks. Lay them in a flat layer on a cookie sheet.
Sprinkle the bananas lightly with brown sugar and sea salt.
Roast for 30 minutes. Allow them to cool completely before adding them to the ice cream (see note below).
Notes
If you are using the immersion blender, you can add the banana slices straight into your base and blend. If not, mash up the pieces really well until they are a runny paste and add them to your prepared base.