What would Halloween be without pumpkins? That's like Christmas without the tree! So, what would Halloween ice creams be without a pumpkin flavor of some kind thrown in?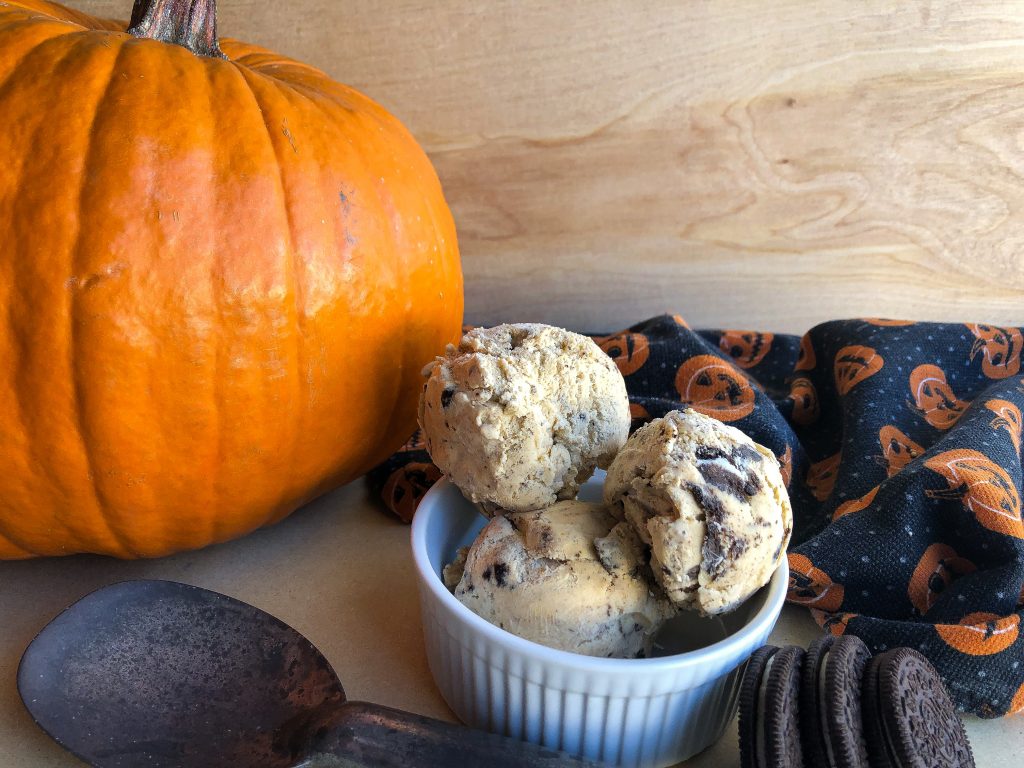 To make it extra special, we took the traditional pumpkin flavor and made it a pumpkin cookies and cream. We weren't 100% sure the flavors would blend well, but they were actually amazing! Such a fun twist of two iconic flavors!
Jack O' Lantern
Some of the best pumpkin in the patch!
Ingredients
1 cup heavy cream

1 cup whole milk

3/4 cup sugar

2 large eggs

1 tsp vanilla extract

1/2 can (about 7 ounces) pumpkin puree

1/2 tsp pumpkin pie spice

Oreos
Directions
Heat the 1 cup heavy whipping cream and 1 cup milk on low in a medium saucepan until it reaches 140° F, stirring occasionally. While the custard heats, using an electric mixer to whisk the 2 large eggs in a medium mixing bowl until light and fluffy, about 2 minutes.
While the cream is still heating, slowly add the 3/4 cup sugar into the eggs, whisking thoroughly to make sure the mixture doesn't become grainy.
After the cream reaches the target temperature, gradually pour it into the egg and sugar mixture, again whisking each time the cream is added to avoid cooking the eggs. Whisk in the pumpkin and pumpkin pie spice.
Pour the entire mixture back into the medium saucepan and heat it to 170° F.
Now pour the mixture back into the mixing bowl. Cover and chill for 1 hour or up to 3 hours.
While it is chilling, dip the Oreos in half and half briefly. Stick them in the freezer until you are ready to chop and add them.
Add the vanilla and salt right before adding it to the ice cream maker. When ready, make in your ice cream maker based on the maker's instructions.
During the last 5-10 minutes in the ice cream maker, chop the Oreos into fourths and add them to the ice cream. Don't add it all in! Add handfuls at a time until you get your desired chunkiness.
Move the ice cream to the freezer until hardened (about 4 hours).