When thinking of iconic summer flavors and desserts, one of the first things we thought of was smores. We've made a few different smores flavors, but we really wanted to switch it up a little bit. Enter biscoff smores!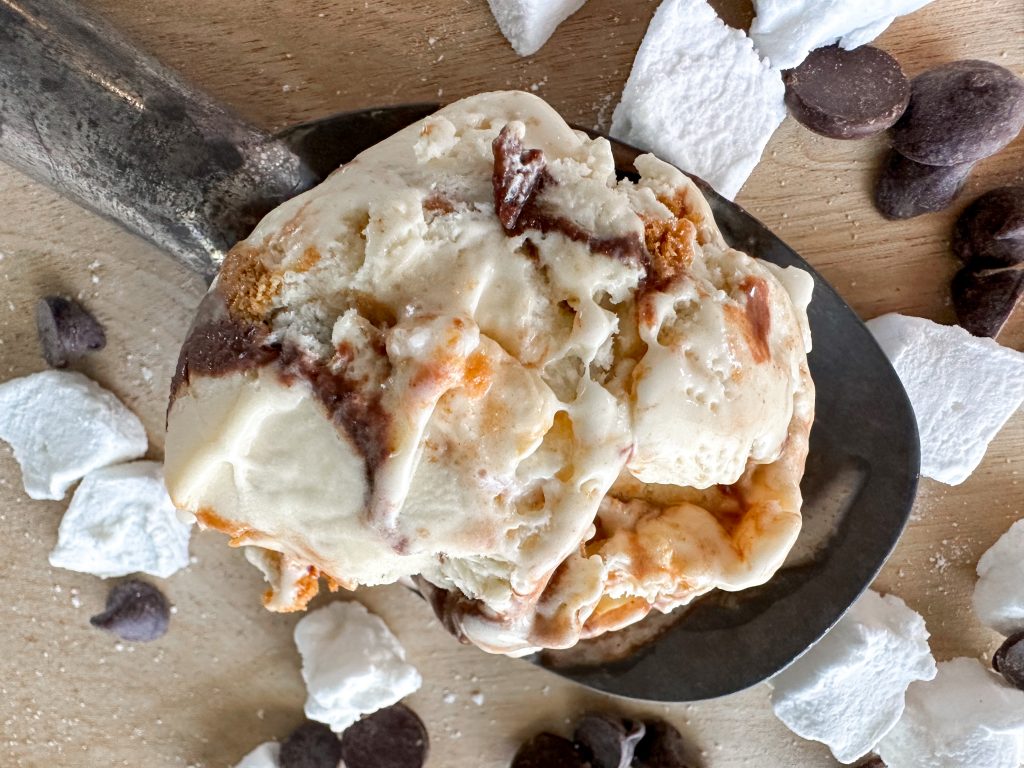 We decided to go for a toasted marshmallow base this time. Then we simply added some homemade toasted marshmallow chunks, some Biscoff cookie pieces, and a chocolate swirl. Oh. My. Word. It is delicious! The spices in the Biscoff cookie paired perfectly with the toasty-ness of the marshmallows! This one was a summertime home run!
Biscoff Smores
Just look at that melt! (And don't let the long list of ingredients intimidate you…it's simpler than it seems and soooo worth the work!)
Ingredients
Toasted Marshmallow Base

4 large egg yolks

2 cups heavy cream

1 cup whole milk

1/4 cup powdered milk

1/2 cup sugar

9 jumbo marshmallows

Homemade Marshmallows (From Jeni's Splendid Ice Creams at Home)

1 cup cold water

3/4 ounces of gelatin

2 cups sugar

3/4 cup corn syrup

1/4 tsp salt

powdered sugar

Chocolate Swirl

6 Tbs heavy cream

1 Tbs butter

1/4 cup sugar

2 Tbs brown sugar

1/2 cup chocolate chips

1 tsp vanilla

Other Mix Ins

10 Biscoff cookies
Directions
Toasted Marshmallow Base
Mix together the egg yolks, powdered milk, sugars, cream, and milk together. Make sure to mix thoroughly! Don't want any sugar or egg clumps left behind!
Pour the mixture into a saucepan and heat over medium low heat until the base reaches a temperature of 162 degrees. Keep the base on a low heat and stir constantly, allowing the base to reduce for about 10 minutes.
Meanwhile, roast the marshmallows in a 400 degree oven for 7-9 minutes, until the marshmallows are really golden. Remove from the oven, and use the immersion blender to completely blend all of the marshmallow pieces in.
Add base to a plastic gallon bag, and put in a prepared ice bath until cooled (about 15-20 minutes).
Make in your ice cream maker based on the maker's instructions. 
When ready, make in your ice cream maker based on the maker's instructions. During the last 5-10 minutes in the ice cream maker (when your ice cream is about the texture of soft serve), add in as many Biscoff cookie pieces and toasted homemade marshmallows as you want! Do not add all of your marshmallow pieces! Just add little bits at a time until you are satisfied with the chunkiness of your ice cream.
When it is ready to come out, add a layer of ice cream, followed by a layer of chocolate swirl. Repeat the layers until your ice cream is all in the container.
Move to the freezer until hardened (at least 4 hours).
Homemade Marshmallows
Grease a baking sheet lined with parchment paper with vegetable oil.
Put 1/2 cup of the water and gelatin in a bowl of a stand mixer and sprinkle the gelatin over it. Make sure it is all stirred in and let it sit while you move on to the next step.
Combine the rest of the water, sugar, corn syrup, salt, and vanilla seeds in a saucepan and bring to a boil. Stir constantly to make sure the sugar dissolves.
Using a candy thermometer allow the mixture to come to 236 degrees.
Turn the stand mixer with the whisk attachment on low and allow the gelatin to mix a bit. With the mixer still going, slowly add the hot syrup carefully.
Turn the mixer up to medium for a minute, and then to high. Allow the mixture to run for 12 minutes. It should be white and frothy by the end.
Pour the mixture onto the greased cookie sheet and spread so that you have an even layer. Cover with a sheet a well greased plastic wrap and let it stand on the counter overnight.
When ready, either cut the marshmallows, tossing them with powdered sugar so they don't stick, or toast them with a kitchen torch, allow them to cool, and then cut them.
Chocolate Swirl
Add the cream, butter, sugar, and brown sugar to a small sauce pan.
Heat stirring constantly over medium heat, until the mixture comes to a boil. Boil for 2 minutes.
In a separate bowl, add the chocolate chips. Pour the hot, boiling mixture over them and allow it to sit for 3 minutes, letting the hot mixture melt the chips.
After it has sat for a bit, stir the mixture until it reaches a uniform color and consistency. Allow to cool before you add it to your ice cream, and right before stir it to make it smooth.