If I had to pick my favorite treat of all time (aside from ice cream, of course) I would have to say it is a chocolate chip cookie. Admittedly, I am VERY picky when it comes to my cookies though. They have to be slightly crunchy but melty in the middle. They can't be too sweet (preferably they have a little saltiness to them). And, they have to have bittersweet chocolate chips (or at very least semisweet). I guess I'm just a girl who knows what she wants.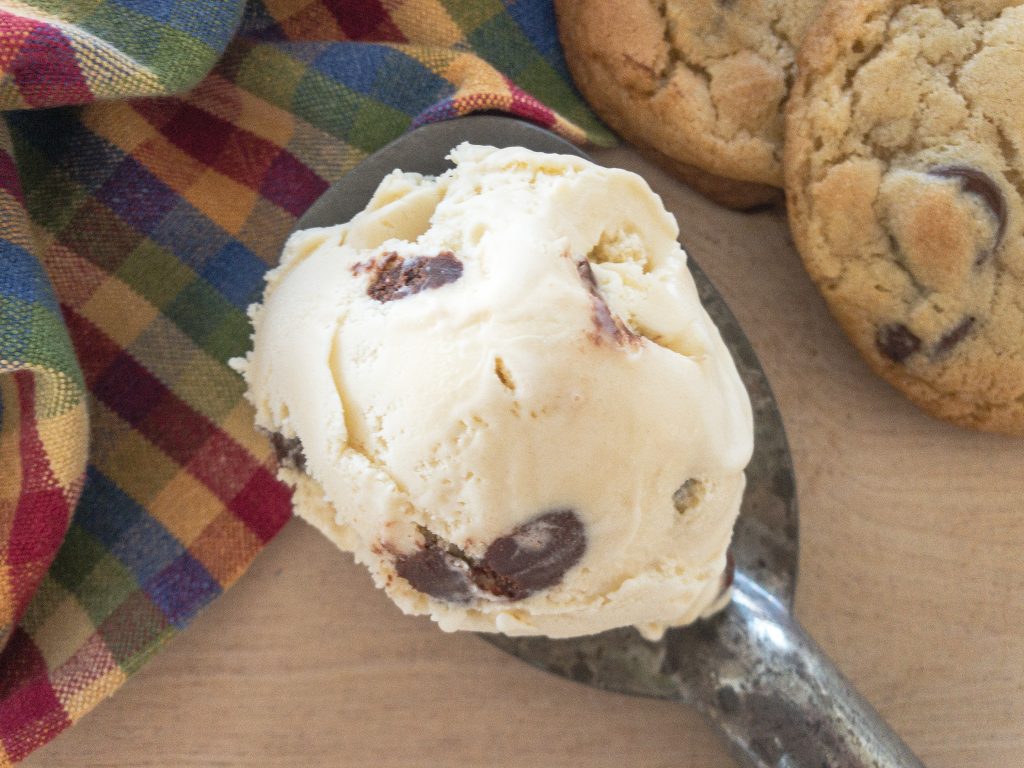 We decided to try to replicate the sugary, buttery, slightly salty, chocolatey flavor of our favorite chocolate chip cookies in ice cream form. While it is not an exact flavor match, I have to say we got pretty darn close! We started by browning some butter. Then we made a mostly brown sugar base with added salt and vanilla. We finished it off with dots of soft chocolate to replicate the texture of a good melted chocolate chip in a cookie. This one was definitely delicious! If you're a cookie fan, you'll have to give this one a try!
Chocolate Chip Cookie
Cookie Monster would LOVE this one!
Ingredients
1/2 cup butter, melted and browned

1/2 cup brown sugar

1/8 cup sugar

4 large egg yolks

1/4 cup skim milk powder

2 cups heavy cream

1 cup whole milk

1/2 Tbs vanilla

1/4 tsp salt

Chocolate "Chips"

1/4 cup + 2 Tbs heavy cream

1 Tbs butter

1/4 cup sugar

2 Tbs brown sugar

1/2 cup bittersweet chocolate

Dash of salt

Dash of vanilla
Directions
Brown the butter over medium heat until you get a deep amber color. Set aside and allow to cool for a bit.
Whisk the egg yolks until they are light and fluffy, about 2 minutes. Slowly whisk in the brown sugar and white sugar until the color turns lighter and the consistency is smooth, about 2 minutes more. Add the powdered milk and whisk again until well blended.
Add the egg/sugar mixture to a sauce pan along with the milk and cream. Heat on medium low heat until it reaches 162, stirring frequently and scraping the bottom with a spatula to avoid cooking the eggs. 
Turn the heat on low once it reached temperature and stir constantly, letting the mixture reduce, for about 10 minutes. Add the vanilla, salt, and browned butter.
Add base to a plastic gallon bag, and put in a prepared ice bath until cooled (about 15-20 minutes).
Make in your ice cream maker based on the maker's instructions. Meanwhile, prepare your chocolate.
When the ice cream is ready to come out, layer a thin layer of ice cream. Dollop little dots of chocolate on top to make it look like a chocolate chip cookie (to do this, I put the chocolate in a ziploc bag, cut the corner off, and squeezed it out like a piping bag). Repeat these layers, making sure to be as generous as you want with the chocolate.
Move to the freezer until hardened (at least 4 hours).
Chocolate "Chips"
Add the cream, butter, sugar, and brown sugar to a small sauce pan.
Heat stirring constantly over medium heat, until the mixture comes to a boil. Boil for 2 minutes.
In a separate bowl, add the chocolate chips. Pour the hot, boiling mixture over the chips and allow it to sit for 3 minutes, letting the hot mixture melt the chips.
After it has sat for a bit, stir the mixture until it reaches a uniform color and consistency. Allow to cool before you add it to your ice cream, and right before stir it to make it smooth. (Once it is cool enough to handle, I move it to a ziploc bag).