We love cookies over at our house. There is a big debate though: which is better, the cookie or the dough? I'm definitely team dough! Other people in my house might disagree with me, but fortunately, those people didn't get to invent this flavor.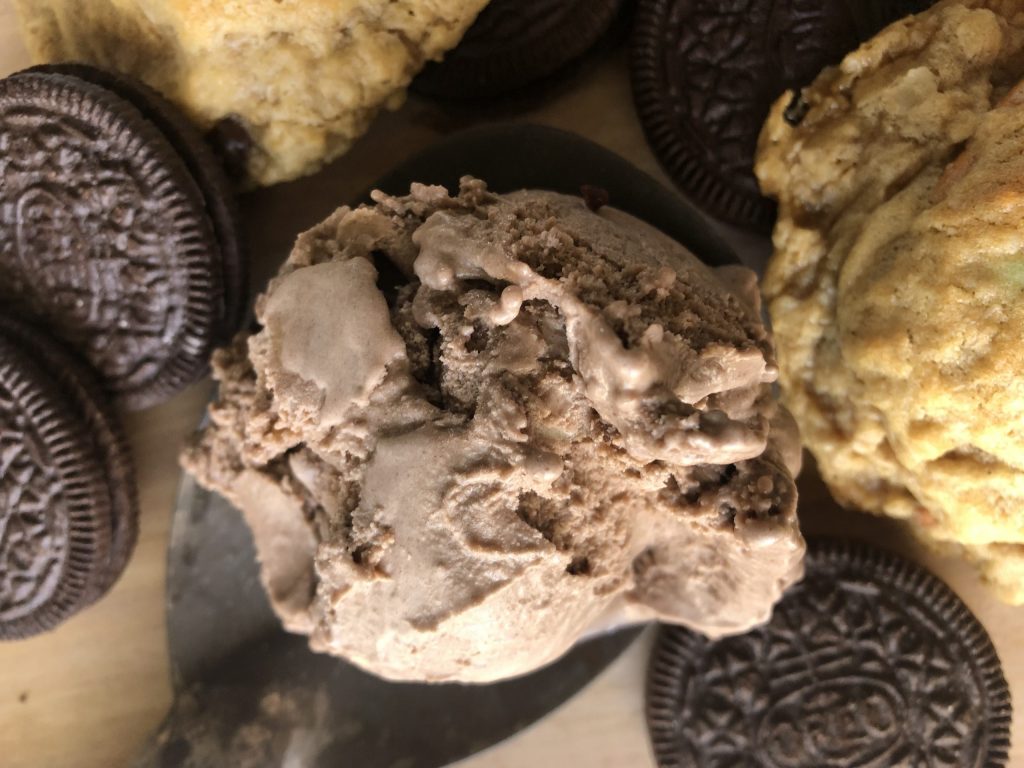 We wanted to try something a little bit different with the Oreos, so instead of just adding in the cookies, we infused them overnight. Then, to that base we added 4 different cookie doughs: chocolate chip, oatmeal, chocolate, and peanut butter. This one is definitely loaded and definitely delicious!
Cookie Craze
This is the way the cookie should crumble!
Ingredients
12 oreos

2 1/2 cup heavy cream

1 1/4 cup whole milk

3/4 cup minus 2 Tbs sugar

4 large egg yolks

1/4 cup powdered milk

Cookie Dough 4 Ways

1/2 cup butter

1/3 cup brown sugar

1/4 cup sugar

2 Tbs milk

1/2 tsp vanilla

1/4 tsp salt

1 1/4 cup flour

2 Tbs mini chocolate chips

1 Tbs cocoa powder

1/2 Tbs melted peanut butter

2 Tbs oats

1/4 tsp cinnamon
Directions
Oreo Infused Ice Cream
To infuse the cream, add the cream and milk to a medium saucepan. Add the Oreos and cook over medium heat, stirring constantly.
Once the mixture comes to just a simmer, remove it from the heat and cover it with a lid. Allow it to cool to room temperature before you prepare the rest of your ice cream. Once it is cooled, run it through a fine mesh strainer to remove the soggy cookie pieces. (You can throw that soggy mess away). The longer you let it sit, the better the flavor. We allowed it to cool overnight.
Mix together the egg yolks, powdered milk, sugar, and infused cream/milk. Make sure to mix thoroughly! Don't want any sugar or egg clumps left behind!
Pour the mixture into a saucepan and heat over medium low heat until the base reaches a temperature of 162 degrees. No need to reduce this base because it evaporated out the excess liquid the day before.
Add base to a plastic gallon bag, and put in a prepared ice bath until cooled (about 15-20 minutes).
Make in your ice cream maker based on the maker's instructions. 
During the last 5-10 minutes in the machine, when the ice cream is about the texture of soft serve, add the cookie dough pieces. Don't add it all in! Add handfuls at a time until you get your desired chunkiness.
Cookie Dough 4 Ways
Melt the butter and sugars together until the sugar is dissolved.
Stir in milk, vanilla, and salt until totally combined. Divide this mixture evenly into four bowls.
To bowl #1, add 1/4 cup plus 1 Tbs flour and mini chocolate chips. Stir well until the dough is well mixed. Roll into little balls.
To bowl #2 add 1/4 cup flour and the cocoa powder. Stir well until the dough is well mixed. Roll into little balls.
To bowl #3 add 1/4 cup plus 1 Tbs flour, oats, and cinnamon. Stir well until the dough is well mixed. Roll into little balls.
To bowl #4, add the melted peanut butter and stir to combine. Then, add 1/4 cup plus 2 Tbs flour. Stir well until the dough is well mixed. Roll into little balls.
Add all of the cookie dough balls onto a cookie sheet lined with parchment paper and move to the freezer until ready to add to the ice cream.