This one comes from one of our favorites, and honestly, probably the movie we have watched the most times together. It's from the 1972 Barbara Streisand/Ryan O'Neal comedy "What's Up, Doc?". This hilarious movie is about a music researcher trying to win a grant, a woman sabotaging his life at every turn, and a hilarious side plot about matching suitcases. In the movie, Ryan O'Neals character is studying music and how it relates to igneous rock formations (or something like that…confession, I don't remember the exact details). When deciding what to put in the ice cream, we stumbled upon the most delicious "rocks" and we knew this one would be a winner!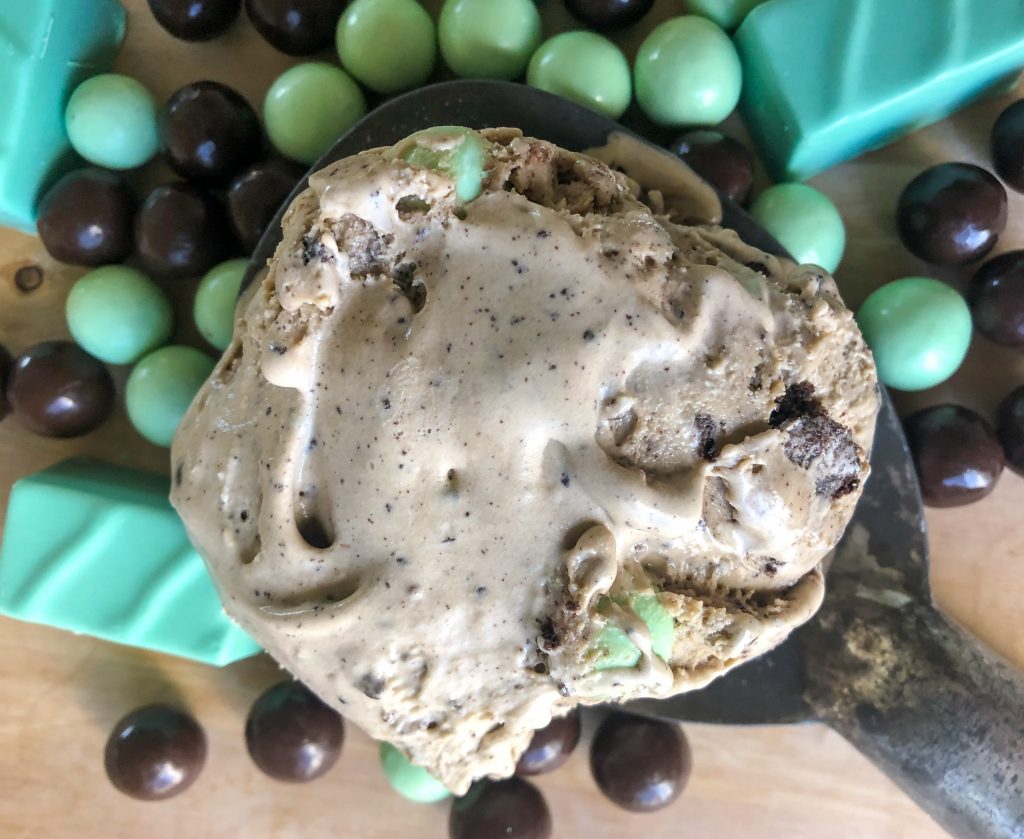 If you're a local Arizonan, you can find our specialty ingredients at Cerreta Candy Co. in downtown Glendale. If you're not, no worries! You can still order them online. They are known for their French mints, and those "rocks" we were talking about, happened to be French mint cookie bites. Unfortunately, they may only be around the store occasionally, so if you happen upon them, stock up!
Our ice cream is a French mint base, with French mint cookie "rocks" and some crushed Oreo crumbs. If you can't find the cookie bites, even the French mint base is worth the trip/order to Cerreta. Just make sure you get extras so you can snack on them by themselves too! Enjoy the ice cream and, if you haven't, definitely watch and enjoy the movie!
"I Can Take Your Igneous Rocks or Leave 'Em"
You'll hate it when your igneous rocks are touched too!
Ingredients
4 large egg yolks

1/4 cup powdered milk

2 cups heavy cream

1 cup whole milk

2/3 cup sugar

9 French mint truffles, chopped (order them here)

French Mint Cookie Bites (only sold in stores for now)

6 oreos, crushed fine
Directions
Mix together the egg yolks, powdered milk, sugar, cream, and milk together. Make sure to mix thoroughly! Don't want any sugar or egg clumps left behind!
Pour the mixture into a saucepan and heat over medium low heat until the base reaches a temperature of 162 degrees. Keep the base on a low heat and stir constantly, allowing the base to reduce for about 10 minutes.
Add the chopped French mint truffle pieces and allow it to sit for a minute. Then, stir or blend until all of the chocolate is well incorporated and the mixture is uniform in color.
Add base to a plastic gallon bag, and put in a prepared ice bath until cooled (about 15-20 minutes). 
Add the prepared base to the ice cream maker. Make in your ice cream maker based on the maker's instructions. 
During the last 5-10 minutes in the machine, when the ice cream is about the texture of soft serve, add in your French mint cookie bites and Oreo crumbs. Don't add it all in! Add handfuls at a time until you get your desired chunkiness.
Move into the freezer until hardened (at least 4 hours).