We love trying to recreate different elements of other ice creams. This week we really wanted to try recreating a brownie batter swirl, like the one found in a few different Ben & Jerry's flavors. Here is the flavor we decided to use with it: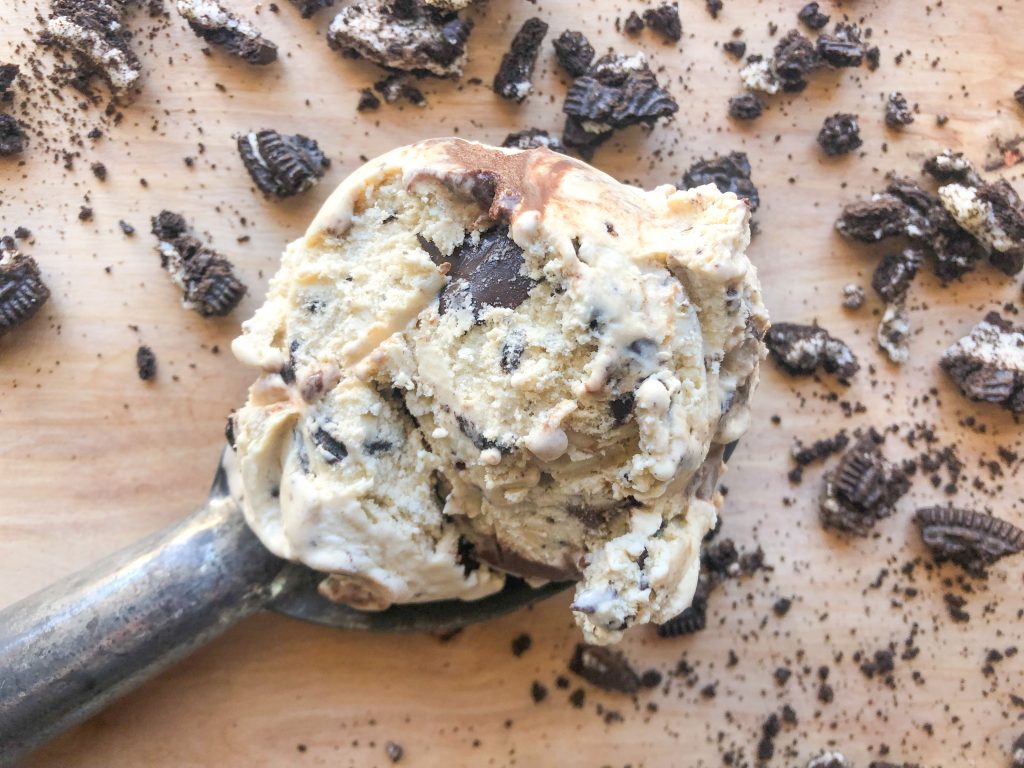 Its a pretzel infused base with a brownie batter swirl and chunks of peanut butter and chocolate covered Oreos. The richness of the brownie batter swirl went so well with the saltiness of the pretzel ice cream. And who doesn't love it when Oreos are in the mix?
Pretzel Brownie Batter
The perfect Pair
Ingredients
Pretzel Ice Cream Base

2 3/4 cups heavy cream

1 3/4 cups whole milk

2 cups pretzels (I just used your regular old pretzel sticks)

4 large egg yolks

1/4 cup powdered milk

3/4 cup sugar

1/2 tsp salt

Brownie Batter Swirl (Adapted from this recipe)

6 Tbs melted butter

1/4 cup brown sugar

1/2 cup sugar

1 cup Dutch processed cocoa powder

1 cup flour

1/2 cup milk (more or less for desired texture)

Splash of vanilla

Dash of salt

Covered Oreos

10 regular (or double stuf) Oreos

5 Tbs peanut butter

1/2 cup bittersweet chocolate chips

1 tsp coconut (or avocado) oil
Directions
Pretzel Ice Cream Base
Heat the cream in milk in a medium saucepan over medium heat until steaming. Add the pretzel pieces. No need to chop them.
Cook the cream and pretzels, stirring constantly, for 20 minutes.
Immediately strain. (Allow the mixture to cool a bit so that it won't cook your egg yolks when you add them.)
Mix together the egg yolks, powdered milk, sugar, and salt. Add the infused cream, little bits at a time, mixing continuously, so that you don't cook your eggs. Make sure to mix thoroughly! Don't want any sugar or egg clumps left behind!
Heat on medium low heat until it reaches 162, stirring frequently and scraping the bottom with a spatula to avoid cooking the eggs. No need to reduce afterward!
Add base to a plastic gallon bag, and put in a prepared ice bath until cooled (about 15-20 minutes).
Make in your ice cream maker based on the maker's instructions. (While the ice cream churns, prep your brownie batter and dipped Oreos).
During the last 5-10 minutes in the machine, when the ice cream is about the texture of soft serve, add in your dipped Oreo chunks. Don't add it all in! Add handfuls at a time until you get your desired chunkiness.
When ready to remove, add a layer of the ice cream to your ice cream container. Top with your brownie batter swirl. Repeat layers until all of your ice cream is in the container.
Move to the freezer until hardened (at least 4 hours).
Brownie Batter Swirl
Melt the butter and sugars in the microwave 30 seconds at a time, stirring in between, until the butter is all melted and sugars are dissolved.
Stir in the cocoa followed by the flour. Stir until it is all well mixed.
Slowly add the milk, a couple of tablespoons at a time, again stirring in between each addition, until you reach your desired consistency. We wanted it a bit thinner, so we ended up using about 1/2 cup. Add the vanilla and salt and stir to mix.
Allow to cool until you are ready to add it to your ice cream.
Dipped Oreos
Line a baking sheet with a Silpat liner or parchment paper.
Lay your Oreos out on the sheet. Top each Oreo with a flat layer of 1/2 Tbs of peanut butter. Move to the freezer for 10-15 minutes.
Meanwhile, add the chocolate chips and oil to a microwave safe bowl and microwave 30 seconds at a time, stirring in between, until the chocolate is all melted and smooth.
Take the Oreos out of the freezer. Dip the peanut butter smeared side in the chocolate, flip, and then dip the other side. Give the Oreo a few shakes to dislodge any excess chocolate.
Return the Oreo to the baking sheet and repeat with the other Oreos.
Move the Oreos back to the freezer. Right before you are ready to add them to the ice cream, chop each Oreo into small pieces (think pea size or smaller).