For his birthday recently, Alex got a few ice cream cookbooks. We love looking for inspiration for new flavors and techniques in all different places! The recipe that immediately caught our eye was the dark chocolate ice cream recipe from the Ample Hills Creamery Cookbook. It was by far the darkest chocolate ice cream we have ever seen. We knew we had to try it!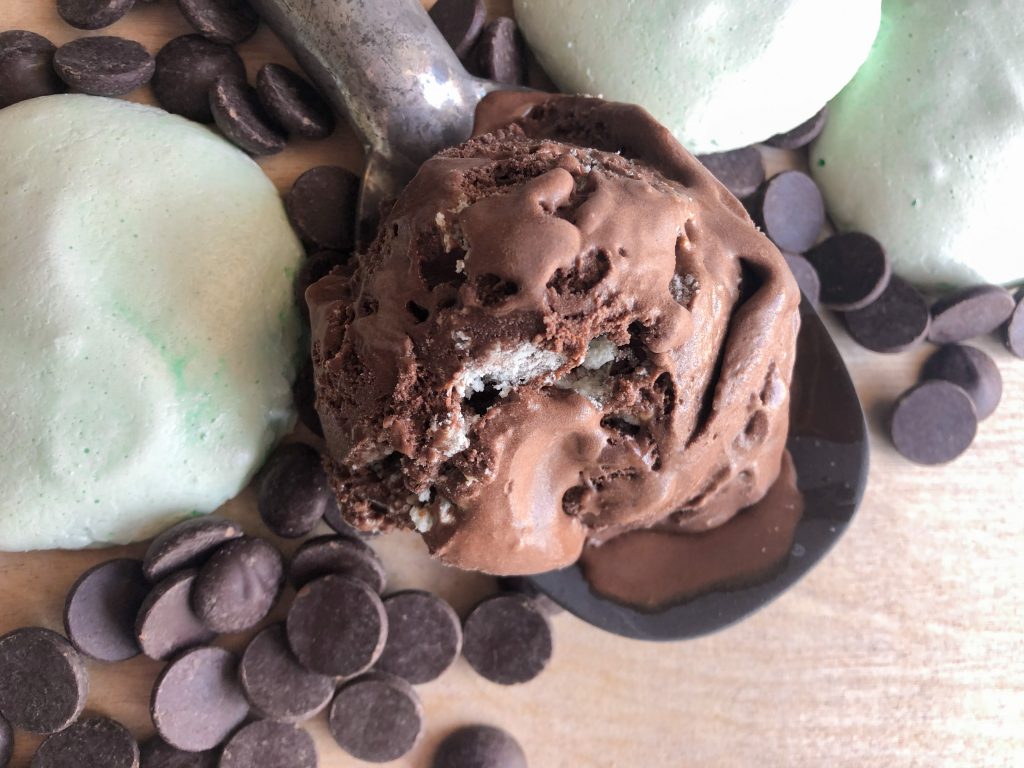 I know some people find dark chocolate too rich. For me, the darkest chocolate is almost chocolatey enough. The darker the better! To show you just how dark this ice cream is, we took a picture of our ballpark chocolate next to this dark chocolate. Do you see how dark that is?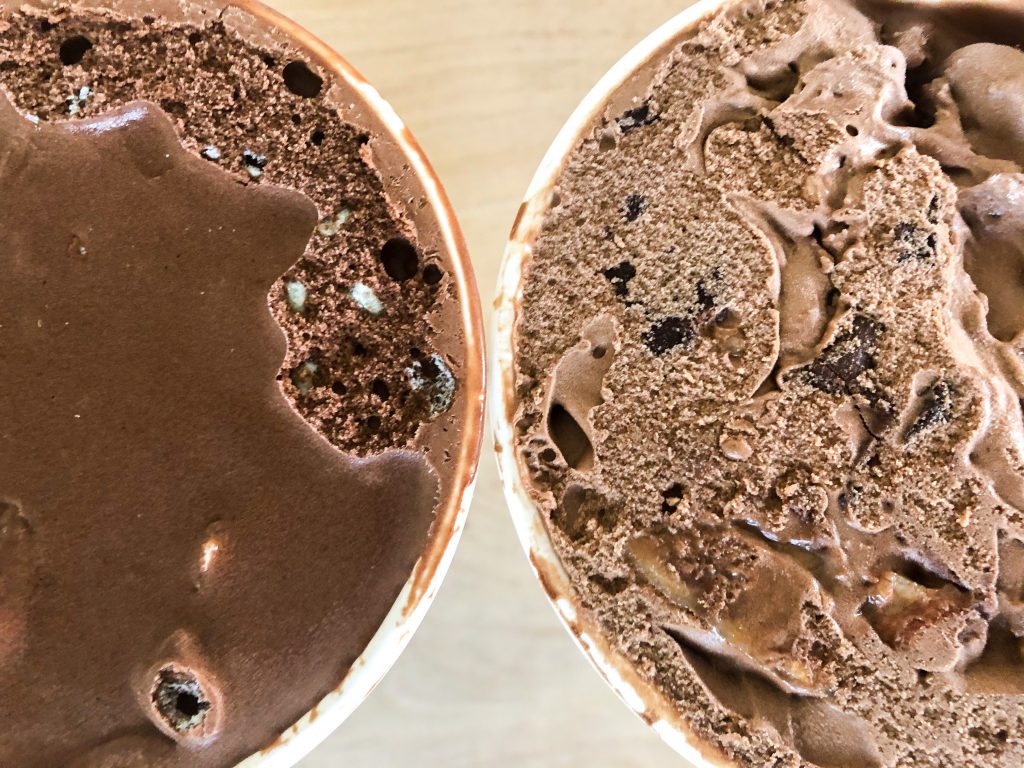 Now, I'm not going to lie. This ice is rich. Like, really rich. So, to cut back on the richness just a hair we added a light mint meringue, reminiscent of a meringue cookie my grandma used to make at Christmas time. This ice cream is a chocolate lovers dream!
Dark Chocolate with Mint Meringue
It's not just dark. It's dark dark. (Only the coolest of people will get that tv show reference).
Ingredients
Dark Chocolate Paste

1 cup water

1 cup dutch processed cocoa powder

1 cup sugar

4 oz bittersweet chocolate, chopped (we used 60% cacao)

The Rest of the Base

4 large egg yolks

1/4 cup skimmed milk powder

1/3 cup sugar

1 3/4 cup heavy cream

3/4 cup whole milk

Mint Meringue

4 egg whites (left over from the ice cream)

1/4 tsp peppermint extract

1/4 tsp vanilla extract

Pinch of salt

Pinch of cream of tartar

1 cup sugar
Directions
Dark Chocolate Paste
Add the water to a saucepan and bring to a boil. Once it is boiling, remove from the heat and whisk in the sugar and cocoa powder.
Add the chopped chocolate bar while the water is still hot. Allow it to sit for just a minute, and then stir it, until all of the chocolate is melted. Set aside.
The Rest of the Base
Whisk the egg yolks until they are light and fluffy, about 2 minutes. Slowly whisk in the sugar until the color turns lighter and the consistency is smooth, about 2 minutes more. Add the powdered milk and whisk again until well blended.
Add the egg/sugar mixture to a sauce pan along with the milk and cream. Heat on medium low heat until it reaches 162, stirring frequently and scraping the bottom with a spatula to avoid cooking the eggs. 
Turn the heat on low once it reached temperature and stir constantly, letting the mixture reduce, for about 10 minutes. Add the chocolate paste.
Add base to a plastic gallon bag, and put in a prepared ice bath until cooled (about 15-20 minutes).
Make in your ice cream maker based on the maker's instructions. 
During the last 5-10 minutes in the machine, when the ice cream is about the texture of soft serve, add in your prepared meringue (broken up into small flakes). Don't add it all in! Add handfuls at a time until you get your desired chunkiness.
Move to the freezer until hardened (at least 4 hours).
Mint Meringues
Preheat the oven to 200 degress. Line a cookie sheet with parchment paper, but no need to spray.
Put the egg whites, extracts, salt, and cream of tartar in the bowl of a stand mixer. Turn the mixer onto medium, and then high. Whip for a few minutes until lots of bubbles appear at the top.
Add the sugar little bits at a time until it is all incorporated. Continue to mix on high until stiff peaks form.
Use a spoon to transfer small mounds of the meringue onto the cookie sheet. Bake about 1 hour (maybe longer) until the meringues are crispy throughout and pull off of the parchment easily. Allow to cool, then crack into pieces.