We had some ice cream with almond brittle in it recently on vacation, and I absolutely loved it! The only problem with it was that the brittle chunks were HUGE! Some of them were almost impossible to eat. I have been so excited to try a flavor ourselves with almond brittle in it, but we made certain that all of the brittle pieces were bite sized. When creating Easter flavors, we decided that the almond brittle almost looked like a nest. And what goes in a nest? Eggs!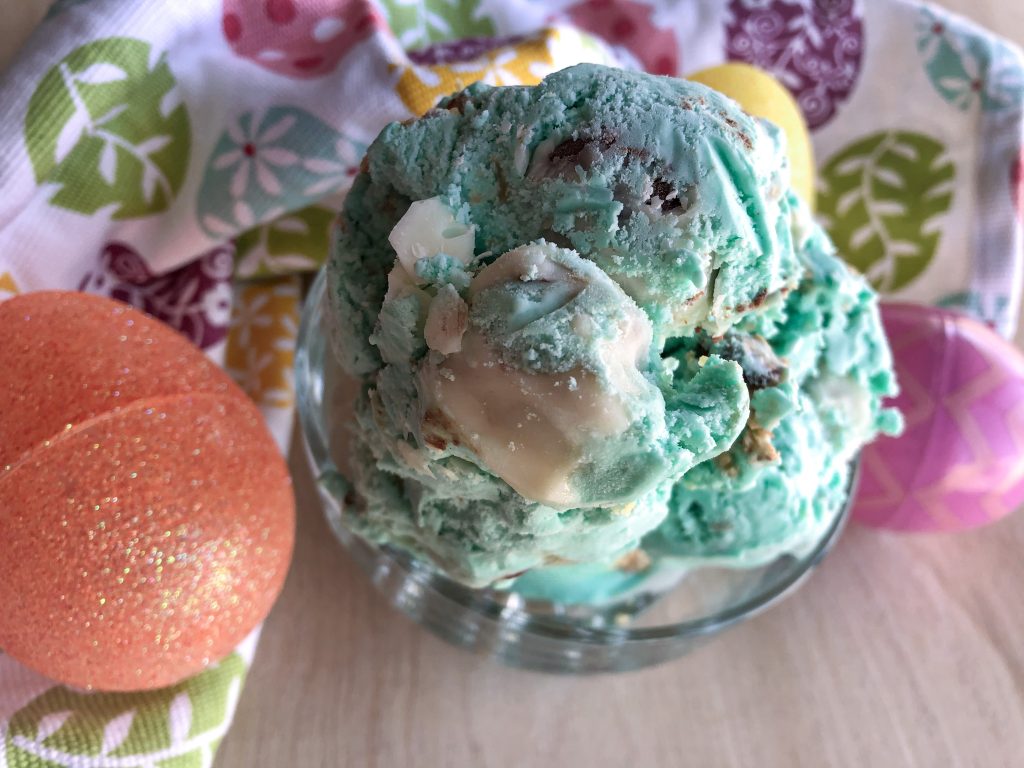 We kept the base flavor a simple vanilla, but added some delicious mix ins: The almond brittle pieces, of course, and white chocolate covered truffles for the eggs. The truffles themselves are a delicious dark chocolate in the middle. We decided to dye the ice cream a lovely pale blue, the color of the sky. While admittedly this ice cream is a mouthful, it is a mouthful of only deliciousness!
Eggs in a Nest
Every birdie will flip for this one!
Ingredients
1 cup heavy cream

1 cup whole milk

2 large eggs

3/4 cup sugar

1 Tbs vanilla

Dash of salt

Blue food coloring

Almond Brittle (I used this recipe)

1/2 cup butter

1 cup almonds

1/2 cup sugar

1 tsp light corn syrup

Salt for sprinkling on top (I used coarse, kosher salt)

Chocolate Truffle Eggs

4 oz dark chocolate

1/4 cup heavy cream

White melting chocolate
Directions
Vanilla Base
Prepare your chocolate eggs and almond brittle (see recipes below).
Whisk the eggs until they are light and fluffy, about 2 minutes. Slowly whisk in the sugar until the color turns lighter and the consistency is smooth, about 2 minutes more.
Add the egg/sugar mixture to a sauce pan along with the milk and cream. Heat on medium low heat until it reaches 170, stirring frequently and scraping the bottom with a spatula to avoid cooking the eggs.
Add base to a plastic gallon bag, and put in a prepared ice bath until cooled (about 15-20 minutes).
Add the salt, vanilla, and food coloring. When ready, make in your ice cream maker based on the maker's instructions.
During the last 5-10 minutes in the machine, when the ice cream is about the texture of soft serve, add in your brittle chunks and chocolate eggs. Don't add it all in! Add handfuls at a time until you get your desired chunkiness.
Move to the freezer until hardened (at least 4 hours).
Almond Brittle
Melt the butter and sugar in a sauce pan over medium high heat. When it begins to boil, add the almonds and corn syrup.
Boil until golden and frothy, about 6 or 7 minutes.
Pour onto a cookie sheet lined with wax or parchment paper. Sprinkle salt on top.
Allow to cool completely, then smash into chunks.
Chocolate Truffle Eggs
Heat the cream in the microwave until hot. Add the chocolate chips to a bowl and pour the hot cream over them.
Allow the chocolate and cream to sit for a few minutes, then stir until the chocolate is uniform.
Refrigerate a few hours until the chocolate is firm but scoopable. Scoop into little circles (this is messy, ye be warned). Put the little circles on a cookie sheet and freeze until firm.
When ready, melt the white chocolate melting chips. At this point you can either take a few eggs out at a time, dip them, and then return them to the freezer to harden, or you can pour the white chocolate over the top of the eggs and roll them around in the white chocolate until they are well coated. They are significantly less pretty the second way, but it takes a lot less time.
Return the dipped eggs to the fridge or freezer until ready to add to the ice cream. The white chocolate shell should firm up quickly.