We were once in a meeting where someone brought a treat to pass around. They had recently been to Hawaii and brought back these chocolate covered macadamia nuts coated in tiny toffee pieces. So, we mindlessly took a couple while we were listening to the content. When we tasted them, though, they consumed all of our attention. They were DELICIOUS! Again, they were another perfect blend of sweet and salty and just for a second made us feel like we were on vacation, not a care in the world.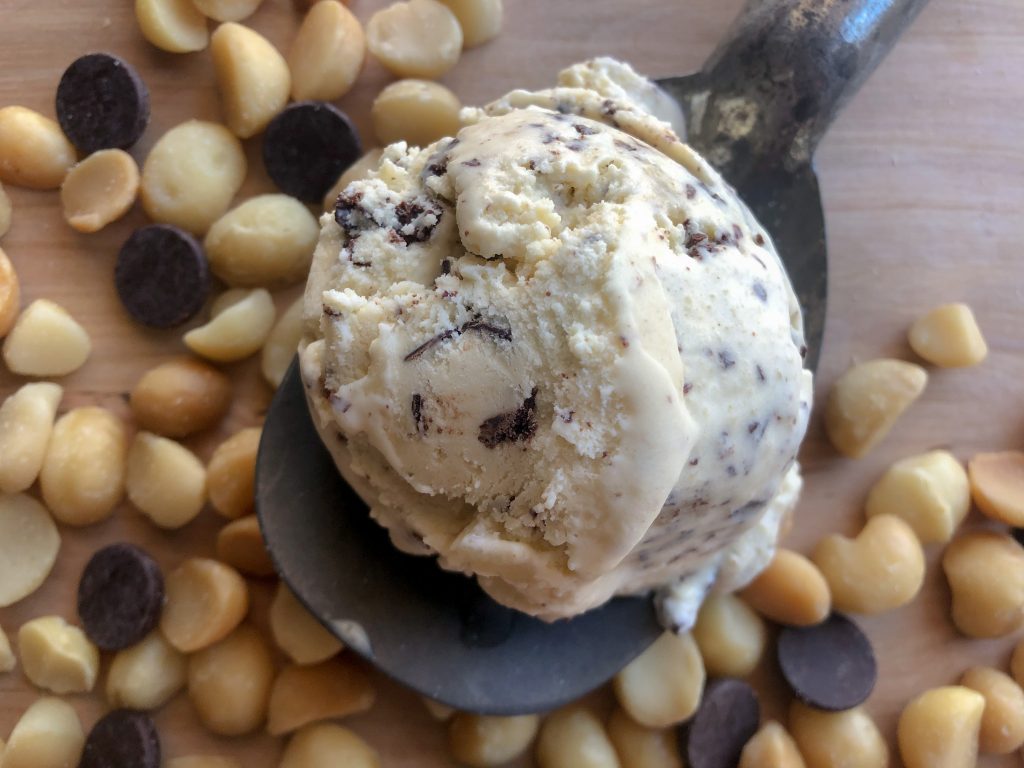 Naturally, we had to replicate the flavor as an ice cream. To make this one, we used a similar method to our pistachio ice cream, in that we made a base and then added some macadamia nuts that we had ground down into a paste. This time we added a little bit of brown sugar too, just for a little more depth. We topped it off with chocolate flecks and small pieces of homemade toffee for the perfect summer bite! Be ready to be transported to a tropical land, where nothing matters except that delicious ice cream melting in your mouth! Or, at very least, be ready to enjoy some really tasty ice cream.
Macadamia Nut with Chocolate and Toffee
Ingredients
Macadamia Nut Base

4 egg yolks

3/8 cup sugar

3/8 cup brown sugar

1/4 cup dry milk powder

2 cups heavy cream

1 cup whole milk

3 heaping Tbs macadamia nut paste (made by simply grinding macadamia nuts in a food processor until a paste forms)

Chocolate Flecks

6 oz bittersweet chocolate

1 Tbs vegetable oil (can sub coconut or avocado oil as well)

Homemade Toffee (from Mel's Kitchen Café)

1 cup sugar

1 stick butter

Dash of salt
Directions
Whisk the egg yolks until they are light and fluffy, about 2 minutes. Slowly whisk in the brown sugar and white sugar until the color turns lighter and the consistency is smooth, about 2 minutes more. Add the powdered milk and whisk again until well blended.
Add the egg/sugar mixture to a sauce pan along with the milk and cream. Heat on medium low heat until it reaches 162, stirring frequently and scraping the bottom with a spatula to avoid cooking the eggs.
Turn the heat on low once it reached temperature and stir constantly, letting the mixture reduce, for about 10 minutes. Blend in the macadamia nut paste at the end until uniform.
Add base to a plastic gallon bag, and put in a prepared ice bath until cooled (about 15-20 minutes). (At this point, you can prepare your toffee and chocolate).
When ready, make in your ice cream maker based on the maker's instructions.
During the last minutes in the machine, when the ice cream is about to come out, slowly drizzle in your chocolate to create the flecks. Then, add in your chopped toffee pieces.
Move to the freezer until hardened (at least 4 hours).
Chocolate Flecks
Melt the chocolate and oil in 30 second intervals in the microwave just until it is all melted. Allow it to cool for a bit before you add it to your ice cream.
Some tips: Don't add it until right at the end, or the chocolate may blend in too much. Also, drizzle it in slowly when adding to the machine to make sure you get nice small flecks all throughout.
Homemade Toffee
Melt the butter and sugar in a medium saucepan, stirring just until dissolved. Add salt. Once it comes to a boil, stop stirring.
Add a candy thermometer and cook it until it reaches about 295 degrees.
Remove it from the heat and pour it onto a parchment paper lined cookie sheet. Allow it to cool on the counter (or in the fridge or freezer) until hardened.
Break it up into small pieces before adding it to your ice cream (too big and they will be too hard to eat).