Our second to last romantic comedy flavor comes from one of my favorite movies of all time, "While You Were Sleeping". Did we choose something with a super obvious flavor inspiration? Yep! Is it kind of like cheating? Maybe. But is the ice cream delicious? You bet!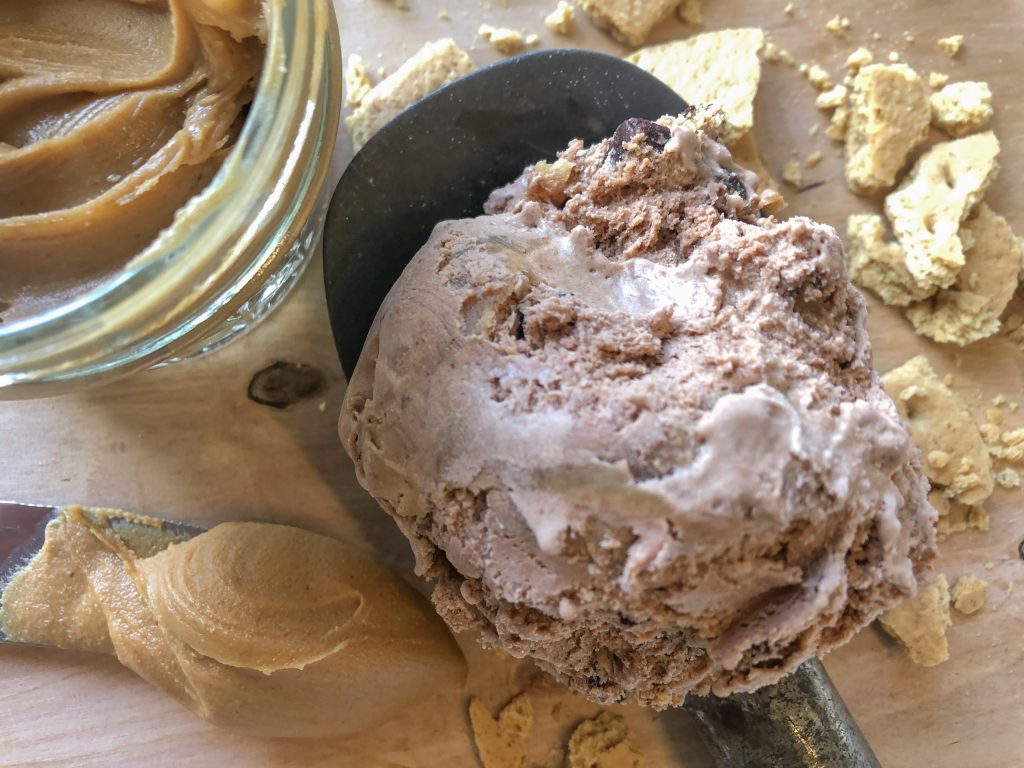 We started with our simple milk chocolate base. Then, we added some sweet chocolate covered graham cracker pieces. Finally, we swirled in some delicious, salty, peanut butter sauce. The sweet, salty, smooth, chocolatey, and nutty tastes all blend together to make basically the perfect ice cream! If you're a chocolate peanut butter fan, this one will definitely satisfy your sweet tooth!
"Even This Chocolate Peanut Butter Tastes Better"
This ice cream is just as creamy as the mashed potatoes.
Ingredients
4 egg yolks

1/4 cup powdered milk

3/4 cups sugar

2 cups heavy cream

1 cup whole milk

4 oz bittersweet chocolate

Chocolate Covered Graham Crackers

4 graham crackers

1/2 cup bittersweet chocolate chips

1 tsp coconut oil

Peanut Butter Sauce

3/8 cup heavy cream

1/4 cup sugar

2 Tbs brown sugar

1/2 cup peanut butter chips

1/2 tsp vanilla

1/8 tsp fine sea salt
Directions
Mix together the egg yolks, powdered milk, sugars, cream, and milk together. Make sure to mix thoroughly! Don't want any sugar or egg clumps left behind!
Pour the mixture into a saucepan and heat over medium low heat until the base reaches a temperature of 162 degrees. Keep the base on a low heat and stir constantly, allowing the base to reduce for about 10 minutes.
Add the chocolate pieces and allow them to sit in the hot cream for a few minutes. After a few minutes, give the mixture a stir. If the chocolate doesn't totally incorporate, use the immersion blender to mix it well.
Add base to a plastic gallon bag, and put in a prepared ice bath until cooled (about 15-20 minutes).
Add the prepared base to the ice cream maker. Make in your ice cream maker based on the maker's instructions. 
During the last 5-10 minutes in the machine, when the ice cream is about the texture of soft serve, add in your prepared chocolate covered graham cracker pieces. Don't add it all in! Add handfuls at a time until you get your desired chunkiness.
When the ice cream is ready to come out, add a layer of the ice cream followed by a layer of peanut butter sauce. Repeat the layers until all of your ice cream is in your desired container.
Move to the freezer until hardened (about 4 hours).
Chocolate Covered Graham Crackers
Melt the chocolate and coconut oil together in the microwave 30 seconds at a time, stirring in between, until melted. Be careful not to burn!
Break up the graham crackers into pieces (not crumbs, but pieces).
Stir the graham cracker pieces into the chocolate until completely covered. Remove the pieces with a fork, tapping off any excess chocolate. Place the pieces on a cookie sheet lined with parchment paper, trying to keep them as separated as possible so they don't all clump together when they cool.
Move to the freezer and leave them there until right before you are ready to add them to the ice cream.
Peanut Butter Sauce
Add the cream, butter, sugar, and brown sugar to a small sauce pan.
Heat stirring constantly over medium heat, until the mixture comes to a boil. Boil for 2 minutes.
In a separate bowl, add the peanut butter chips. Pour the hot, boiling mixture over them and allow it to sit for 3 minutes, letting the hot mixture melt the chips and add the vanilla and salt.
After it has sat for a bit, stir the mixture until it reaches a uniform color and consistency. (I ended up blending it a little with the immersion blender just to make sure there were no chunks left). Allow to cool before you add it to your ice cream, and right before stir it to make it smooth.