This one is courtesy of our 5 year old. She wanted it to be dark, dark, dark, and chocolatey, chocolatey, chocolatey. Well, this one definitely fits both of those descriptions! I don't think I've ever had a more rich and deep chocolate ice cream in my life!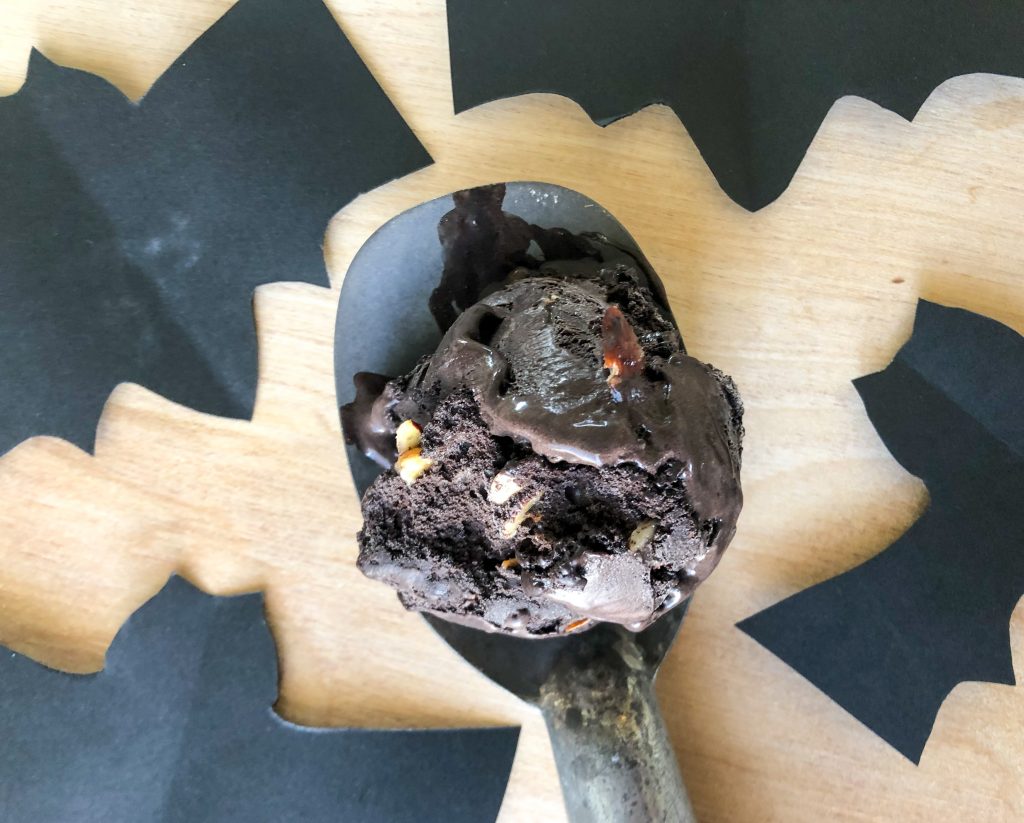 This is a dark chocolate base made with jet black cocoa powder, with pieces of brownie pudding, white chocolate "eye balls" and candied slivered almond "claws". So so dark! It is the perfect Halloween treat!
Brownie Bat
You'll be batty for this one!
Ingredients
Jet Black Chocolate Paste

1 cup water

1 cup jet black cocoa powder

1 cup sugar

4 oz bittersweet chocolate, cut into chunks

The Rest of the Base

4 egg yolks

1/4 cup powdered milk

1/3 cup sugar

1 3/4 cup heavy cream

3/4 cup whole milk

Brownie Pudding

6 Tbs cocoa powder (we just used regular this time)

2 Tbs flour

Dash of salt

1 egg

7 Tbs sugar

Candied Almonds

1/2 cup slivered almonds

1/4 cup sugar

2 Tbs water

White Chocolate Eye Balls

1/4 cup white chocolate

1/2 tsp coconut (or avocado) oil

1/4 cup semisweet chocolate
Directions
Jet Black Chocolate Base
To make the paste, add the water to a saucepan and bring to a boil. Once it is boiling, remove from the heat and whisk in the sugar and black cocoa powder. Add the chopped chocolate bar while the water is still hot. Allow it to sit for just a minute, and then stir it, until all of the chocolate is melted. Set aside.
In a separate bowl, whisk the egg yolks until they are light and fluffy, about 2 minutes. Slowly whisk in the sugar until the color turns lighter and the consistency is smooth, about 2 minutes more. Add the powdered milk and whisk again until well blended.
Add the egg/sugar mixture to a sauce pan along with the milk and cream. Heat on medium low heat until it reaches 162, stirring frequently and scraping the bottom with a spatula to avoid cooking the eggs. 
Turn the heat on low once it reached temperature and stir constantly, letting the mixture reduce, for about 10 minutes. Add the chocolate paste.
Add base to a plastic gallon bag, and put in a prepared ice bath until cooled (about 15-20 minutes).
Make in your ice cream maker based on the maker's instructions. 
During the last 5-10 minutes in the machine, when the ice cream is about the texture of soft serve, add in your prepared candied almonds and white chocolate eye balls. Don't add it all in! Add handfuls at a time until you get your desired chunkiness.
When it is ready to come out, add a layer of the chocolate ice cream. Then, add a few dollops of brownie pudding. Repeat until all of your ice cream is in your desired container.
Move to the freezer until hardened (at least 4 hours).
Brownie Pudding
Preheat the oven to 325 degrees and spray 2 small ramekins.
Mix together the eggs and sugar for 5-7 minutes, until pale yellow.
Add the flour, cocoa, and salt in the bowl. Mix to combine. Slowly add the melted butter and whisk until well combined.
Pour the batter into the prepared dishes. Set them in a larger one, and add water to the bigger pan, until it is about halfway up your brownie pan.
Bake for 25-30 minutes, until mostly set, but still moist and almost fudgy. Allow to cool completely.
Candied Almonds
Heat a nonstick skillet on medium heat. Add the almonds and the sugar, stirring to avoid burning.
When the sugar is all melted, add the water. Continue to cook and stir until all of the water is dissolved.
Move the almonds onto a sheet of parchment paper to cool and harden.
White Chocolate Eye Balls
Add the white chocolate and oil to a microwave safe bowl. Microwave 30 seconds at a time, until it is all melted and smooth. Move the chocolate to a ziploc bag and cut the corner a little bit to make a makeshift piping bag.
Pipe little circles onto a cookie sheet lined with parchment paper.
Immediately after, melt the semisweet chocolate the same way you did the white chocolate (no need to add oil this time). Move this chocolate to a different ziploc and snip an even smaller amount at the corner.
Pipe little "pupils" in the center of each white circle.
Add the cookie sheet to the freezer to quickly harden the eye balls. Don't remove them from the freezer until right before you add them to the ice cream. They will melt easily!