It's October 1st, which in our house means the official first day of "Halloween season". Our kids love everything about Halloween! (Well, everything food related about Halloween anyway. They could do without the scary stuff). In preparation for the month of October, we came up with a whole list of Halloween ice cream flavors to make! Our kids each invented their own flavor too, so be excited about that! This one, however, was just invented by us, but that doesn't mean it's not delicious!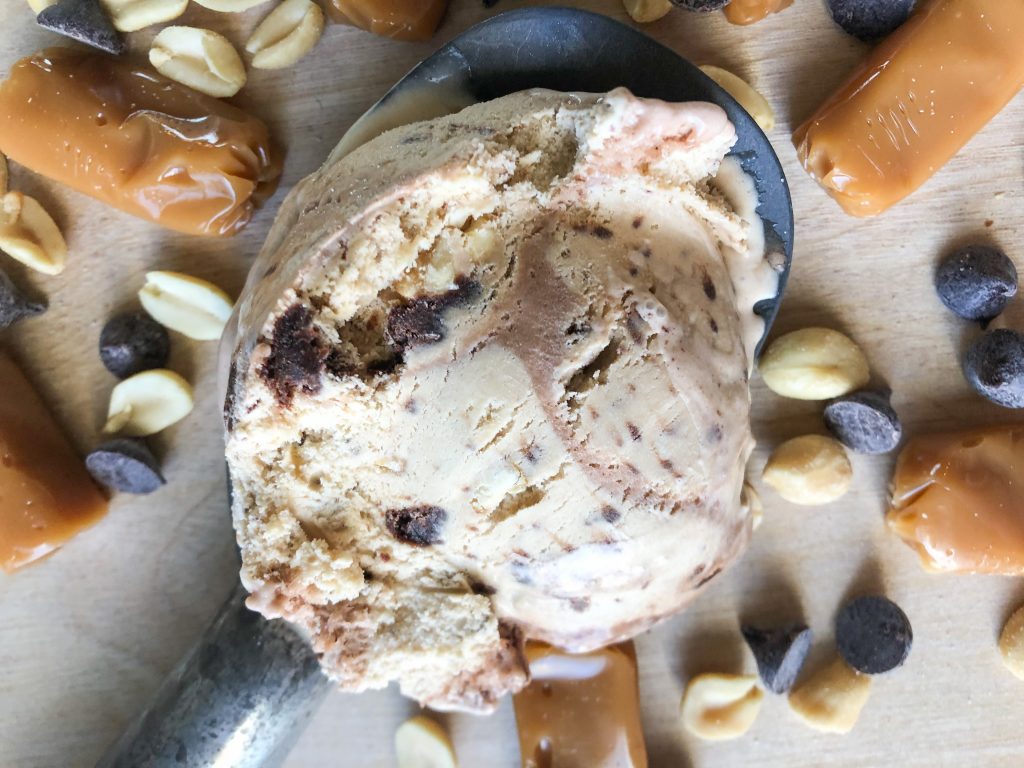 Today's flavor is in honor of some of our favorite Halloween candies! It is a salted caramel base with pieces of brownie pudding and peanut brittle swirled with nougat creme. Again, that favorite combination of salty and sweet comes through in the best way possible. It's scary how good this flavor is!
Halloween Candy
No one will be snickering at this one!
Ingredients
Salted Caramel Base

3/4 cup sugar

2 cups heavy cream

1 cup whole milk

4 large egg yolks

1/4 cup powdered milk

1/2 tsp fine sea salt

Brownie Pudding (used this recipe)

6 Tbs dutch processed cocoa

2 Tbs cup flour

Dash of salt

1 egg

7 Tbs sugar

Nougat Swirl (adapted from Salt and Straw)

3 egg whites

1/2 tsp cream of tartar

2/3 cup light corn syrup

1/4 cup sugar

1/4 cup water

1 (1/4 ounce) packet unflavored gelatin

1 Tbs dutch processed cocoa powder

Peanut Brittle

1/4 cup butter

1/4 cup sugar

1/2 cup peanuts

1/2 tsp corn starch
Directions
Salted Caramel Base
Heat the sugar over medium heat, stirring until it is melted and golden. Remove from the heat and slowly pour in the milk and cream, little bits at a time, stirring thoroughly after each addition. Once all of the milk/cream is added, set it aside for a minute.
Whisk the egg yolks until they are light and fluffy, about 2 minutes. Slowly whisk in the powdered milk and salt and whisk again until well blended.
Add the egg/sugar mixture to a sauce pan along with the milk/cream/sugar mixture. Heat on medium low heat until it reaches 162, stirring frequently and scraping the bottom with a spatula to avoid cooking the eggs.
Turn the heat on low once it reached temperature and stir constantly, letting the mixture reduce, for about 10 minutes.
Add base to a plastic gallon bag, and put in a prepared ice bath until cooled (about 15-20 minutes).
When ready, make in your ice cream maker based on the maker's instructions.
During the last 5-10 minutes in the machine, when the ice cream is about the texture of soft serve, add in your brownie pudding and peanut brittle (make sure they are all about the size of a pea or smaller). Don't add it all in! Add handfuls at a time until you get your desired chunkiness.
Add a layer of the caramel ice cream, followed by a layer of nougat creme to your desired ice cream container. Repeat the layers until all of the ice cream is in the container.
Move to the freezer until hardened (at least 4 hours).
Brownie Pudding
Preheat the oven to 325 degrees and spray 2 small ramekins.
Mix together the eggs and sugar for 5-7 minutes, until pale yellow.
Add the flour, cocoa, and salt in the bowl. Mix to combine. Slowly add the melted butter and whisk until well combined.
Pour the batter into the prepared dishes. Set them in a larger one, and add water to the bigger pan, until it is about halfway up your brownie pan.
Bake for 25-30 minutes, until mostly set, but still moist and almost fudgy. Allow to cool completely.
Nougat Swirl
Beat the egg whites on medium speed, just until bubbly. Add the cream of tartar and beat some more until soft peaks form.
In a medium sauce pan, mix together the con syrup, sugar, and water and bring to a boil over medium high heat. Stir just until sugar is dissolved completely, then stop stirring and allow it to continue to cook until the mixture reaches 238 degrees.
With the mixer on medium low, slowly drizzle the sugary mixture into the egg whites. (Keep the hot saucepan close for later!)
Turn the mixer back up to medium high once all of the sugar mixture has been added. Meanwhile, add the gelatin to a small bowl along with 1 Tbs cold water. Allow it to sit for a minute for the gelatin to completely soften and absorb the water.
Once the gelatin is soft and the egg white mixture is shiny, add the gelatin into the hot saucepan to melt it. Once melted, slowly drizzle the gelatin mixture onto the egg white mixture. Continue to mix on high for 1 minute.
Transfer to an airtight container until ready to use and refrigerate.
Peanut Brittle
Line baking sheet with parchment paper (no need to grease).
Melt the butter over medium heat. Add the rest of the ingredients and cook until golden brown and frothy, about 6 minutes. (Note: This expands so make sure you are using a big enough pot).
Spread the mixture into a thin layer on the prepared cookie sheet. Sprinkle with sea salt if you want it a bit salty. Allow to cool and then, when ready, break into pieces about the size of a single peanut.