Sometimes it is so fun to make a really unique flavor. And sometimes it is really fun to just make our own twist on a classic. After a fruity flavor, I was really craving something just really chocolatey. Enter rockiest road.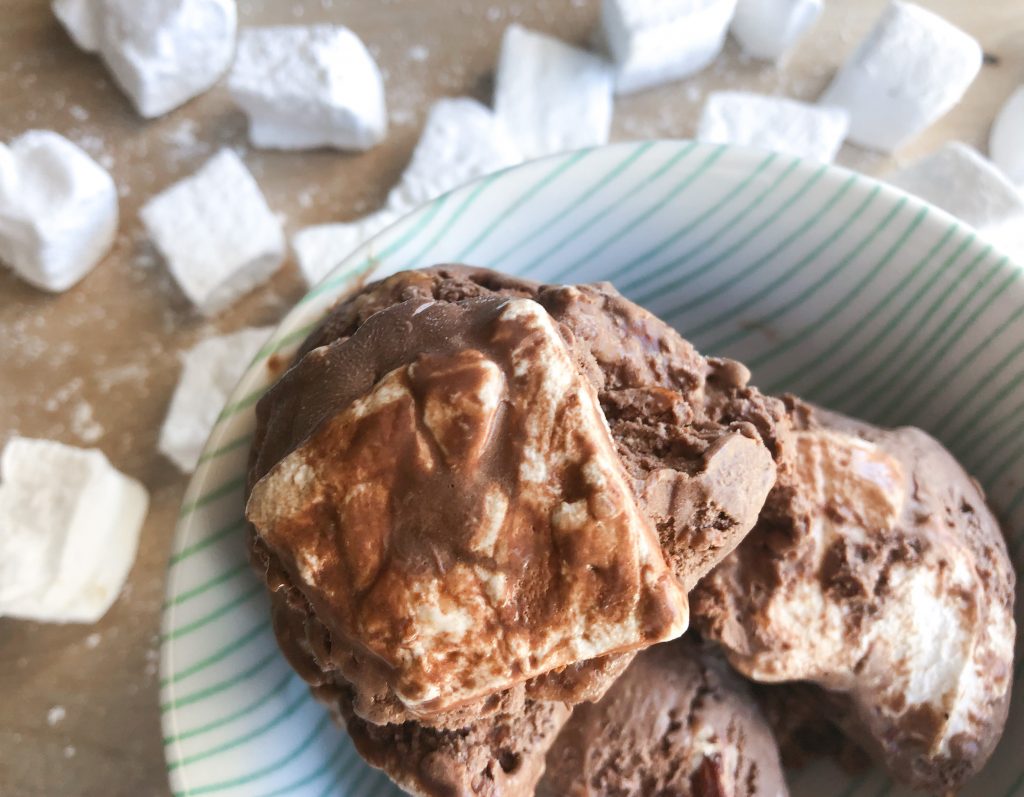 This is pretty much your average rocky road with just a few adjustments. First, we made homemade marshmallows and toasted them to make them nice and charred. Second, instead of just nuts, we made a salty almond brittle. Third, we named it rockiest road because we put A LOT of chunks in it. A LOT. Alex said maybe too much, but I disagreed. I thought it was perfect! And finally, instead of making it chocolate with just melted chocolate bars or just cocoa powder we though, whatever, we'll just add both! The result was an extra chocolatey, extra chunky, toasty, salty sweet dream! After all, the classics are a classic for a reason…
Rockiest Road
The classic just got an upgrade!
Ingredients
Double Chocolate Base

1 cup whole milk

4 oz bittersweet chocolate

1 cup heavy cream

2 large eggs

3/4 cup sugar

1/4 cup cocoa powder

1 Tbs vanilla extract

Dash of salt

Salty Almond Brittle (I used this recipe from allrecipes.com)

1/2 cup butter

1 cup almonds

1/2 cup sugar

1 tsp light corn syrup

Flaky sea salt

Homemade Marshmallows (I used the recipe from Jeni's Splendid Ice Creams cookbook)

1 cup water

3/4 ounces unflavored gelatin

2 cups sugar

3/4 cup light corn syrup

1/4 tsp fine sea salt

Powdered sugar (for dusting)
Directions
Homemade Marshmallows
Grease a baking sheet lined with parchment paper with vegetable oil.
Put 1/2 cup of the water and gelatin in a bowl of a stand mixer and sprinkle the gelatin over it. Make sure it is all stirred in and let it sit while you move on to the next step.
Combine the rest of the water, sugar, corn syrup, and salt in a saucepan and bring to a boil. Stir constantly to make sure the sugar dissolves.
Using a candy thermometer allow the mixture to come to 236 degrees.
Turn the stand mixer with the whisk attachment on low and allow the gelatin to mix a bit. With the mixer still going, slowly add the hot syrup carefully.
Turn the mixer up to medium for a minute, and then to high. Allow the mixture to run for 12 minutes. It should be white and frothy by the end.
Pour the mixture onto the greased cookie sheet and spread so that you have an even layer. Cover with a sheet a well greased plastic wrap and let it stand on the counter overnight.
When ready, either cut the marshmallows, tossing them with powdered sugar so they don't stick, or toast them with a kitchen torch, allow them to cool, and then cut them.
When you're almost ready to add the marshmallows to your ice cream, use a kitchen torch to torch the marshmallows until as golden as you like. Let them cool for a bit before you add them in.
Almond Brittle
Line baking sheet with parchment paper (no need to grease).
Melt the butter over medium heat. Add the rest of the ingredients and cook until golden brown and frothy, about 6 minutes. (Note: This expands so make sure you are using a big enough pot).
Spread the mixture into a thin layer on the prepared cookie sheet. Sprinkle with sea salt. Allow to cool and then, when ready, break into pieces about the size of a single almond.
Double Chocolate Base
Melt the 4 oz of chocolate in a double broiler. Once melted, slowly add the 1 cup of milk little bits at a time until the chocolate mixture is smooth and consistent in texture and color. Set aside until the rest of the base is ready.
Whisk the eggs until they are light and fluffy, about 2 minutes. Slowly whisk in the sugar until the color turns lighter and the consistency is smooth, about 2 minutes more.
Add the egg/sugar mixture to a sauce pan along with the milk and cream. Heat on medium low heat until it reaches 170, stirring frequently and scraping the bottom with a spatula to avoid cooking the eggs.
Pour the hot mixture into the chocolate/milk mixture. Stir until completely combined.
Add the cocoa powder, vanilla, and salt and blend until it is well mixed.
Add the custard base into a plastic gallon bag, and put in a prepared ice bath until cooled (about 15-20 minutes).
When ready, make in your ice cream maker based on the maker's instructions.
During the last 5-10 minutes in the machine, when the ice cream is about the texture of soft serve, add in your brittle chunks and toasted marshmallows. Don't add it all in! Add handfuls at a time until you get your desired chunkiness.
Move to the freezer until hardened (at least 4 hours).