You know those people who come back from a trip to Hawaii and won't stop talking about it? You know how no one likes those people? Well, when we were planning our anniversary trip to Hawaii we were sure we weren't going to be those people. But now that we're home with all the glorious memories from that trip, we unfortunately have become those people. We daydream about the whale watching. We can't stop reminiscing about the incredible views and hikes. Most especially though, we can't keep ourselves from looking up Hawaiian food recipes, searching for exotic fruits, and longing for the delicious food that was ours on that trip. While we were there, we stopped at a farmers market and bought a bunch of jams, jellies, curds, honeys, and syrups, knowing that we'd want some of those flavors once we were back home. And, of course, we bought some with the express purpose of making a truly dreamy Hawaii inspired ice cream.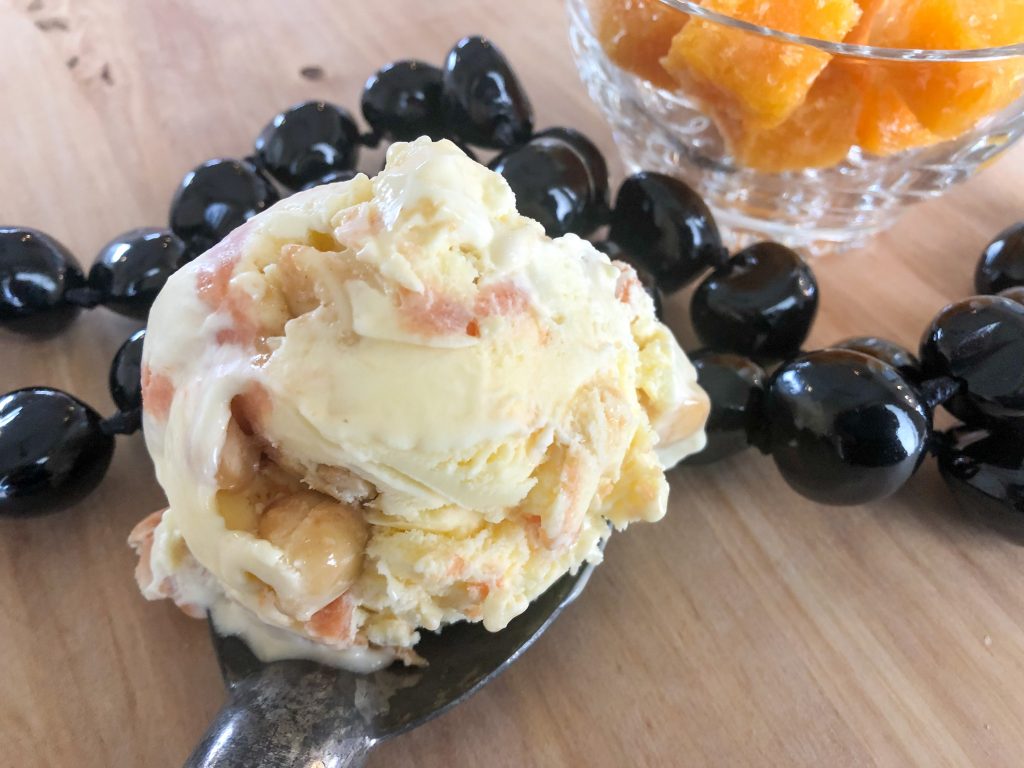 Enter this Hawaiian Vacation Ice Cream. It is a lilikoi ice cream with a guava curd swirl and caramelized macadamia nut chunks. And, I must say, it takes us right back to the beach and gives us all of the tropical feels. We used the lilikoi syrup from the Olowalu Farmer's Market. You can purchase the syrup online or, if you'd rather just use something you can find locally, you can buy frozen passionfruit chunks and create a simple syrup with those. We also bought the guava curd from the same market. While this certainly isn't an ice cream we could make on a whim because of the ingredients, we are so glad we planned ahead! The flavor is almost as perfect as the vacation (hyperbole of course, but you get the picture).
Hawaiian Vacation Ice Cream
Say aloha to your new favorite ice cream!
Ingredients
4 large egg yolks

1/4 cup dry powdered milk

1/2 cup sugar

2 cups heavy cream

1 cup whole milk

1/2 cup lilikoi syrup (or passionfruit simple syrup)

Guava curd

Caramelized Macadamia Nuts

Dry roasted and lightly salted macadamia nuts

1/2 cup sugar

2 Tbs water

Flake salt (optional)
Directions
Mix together the cream, milk, egg yolks, powdered milk, and sugar. Make sure to mix thoroughly! Don't want any sugar or egg clumps left behind!
Pour the mixture into a saucepan and heat over medium low heat until the base reaches a temperature of 162 degrees. Keep the base on a low heat and stir constantly, allowing the base to reduce for about 10 minutes.
Add base to a plastic gallon bag, and put in a prepared ice bath until cooled (about 15-20 minutes).
Add the prepared base and the lilikoi syrup to the ice cream maker. Make in your ice cream maker based on the maker's instructions. 
During the last 5-10 minutes in the machine, when the ice cream is about the texture of soft serve, add in your prepared macadamia nuts (make sure you don't have any big clumps of macadamias). Don't add it all in! Add handfuls at a time until you get your desired chunkiness.
When the ice cream is ready to come out, add a layer of the ice cream followed by a layer of the guava curd. Repeat the layers until all of your ice cream is in your desired container.
Move into the freezer until hardened (at least 4 hours).
Caramelized Macadamia Nuts
Add the nuts and sugar to a saucepan over medium heat. Stir constantly until the sugar is melted.
Once the sugar has crystallized a bit, add the water and stir constantly again, making sure the nuts don't burn.
Stir until the caramel coating on the nuts is smooth. Remove from the heat and pour the nuts onto a piece of parchment paper, making sure to spread them out.
If desired, sprinkle with a little bit of flake salt. Allow to cool completely before adding them to the ice cream.