I am not one who loves gory, horror anything. I love spooky Halloween, but once it gets bloody and creepy, I am out. This ice cream is the exception I guess. Fortunately, it looks nothing like actual blood, or I would have to be out.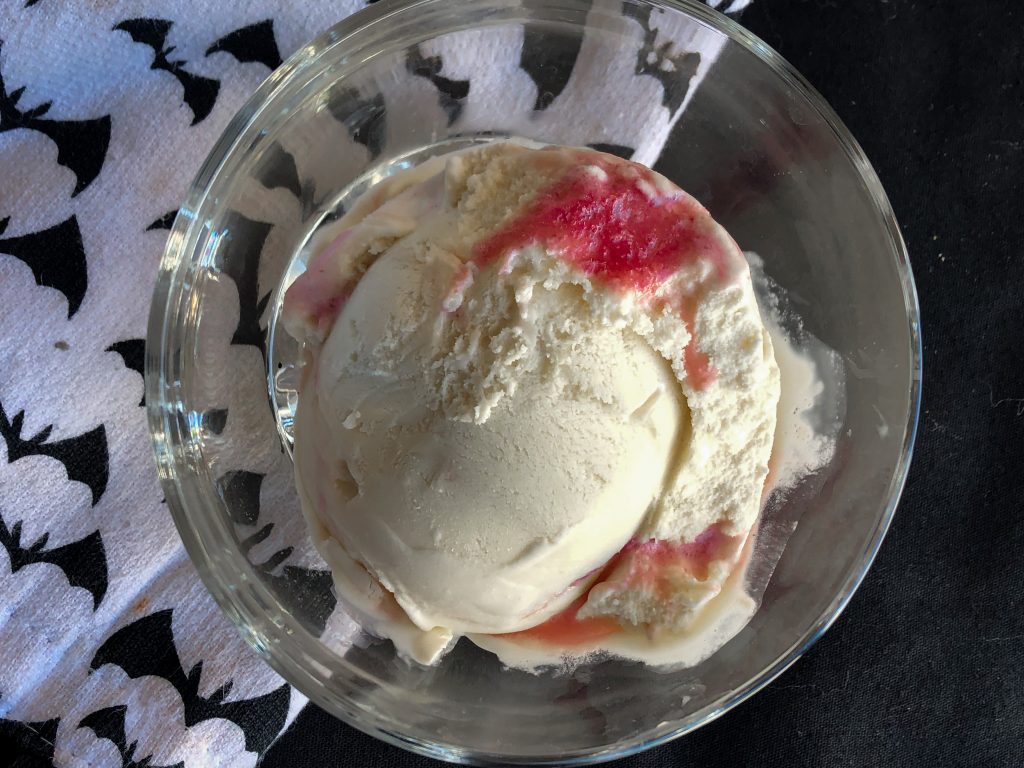 We got a jar of homemade choke cherry syrup for my stepdad straight from the farm in Idaho. And boy oh boy was this ice cream AMAZING! The sweet vanilla mixed with the super flavorful syrup perfectly! Of course, you can make this ice cream with any red fruit jam or syrup you want, but the choke cherry was perfection! So if you can ever get your hands on any, you definitely should!
Vampire
You'll definitely want to sink your teeth into this!
Ingredients
1 cup heavy cream

1 cup whole milk

3/4 cup sugar

2 large eggs

1 Tbs vanilla extract

Dash of salt

Red syrup or jam of your choice (we used Choke Cherry Syrup)
Directions
Heat the 1 cup heavy whipping cream and 1 cup milk on low in a medium saucepan until it reaches 140° F, stirring occasionally. While the custard heats, using an electric mixer to whisk the 2 large eggs in a medium mixing bowl until light and fluffy, about 2 minutes.
While the cream is still heating, slowly add the 3/4 cup sugar into the eggs, whisking thoroughly to make sure the mixture doesn't become grainy.
After the cream reaches the target temperature, gradually pour it into the egg and sugar mixture, again whisking each time the cream is added to avoid cooking the eggs.
Pour the entire mixture back into the medium saucepan and heat it to 170° F.
Now pour the mixture back into the mixing bowl. Cover and chill for 1 hour or up to 3 hours.
Add the vanilla and salt right before adding it to the ice cream maker. When ready, make in your ice cream maker based on the maker's instructions.
Add a layer to the container of your choice. Top that layer with the syrup or jam. Add more ice cream, then top with another layer of syrup. Keep repeating until you have added all of the ice cream.
Move the ice cream to the freezer until hardened (about 4 hours).