This one was inspired by the 1989 movie "When Harry Met Sally". In the movie, Sally makes a super complicated order involving a slice of apple pie. So, naturally, we knew we needed to make apple pie ice cream. (I know what you're thinking, why didn't we call it "I'll have what she's having". All I can say is that we just decided to go the less obvious, albeit less funny, route."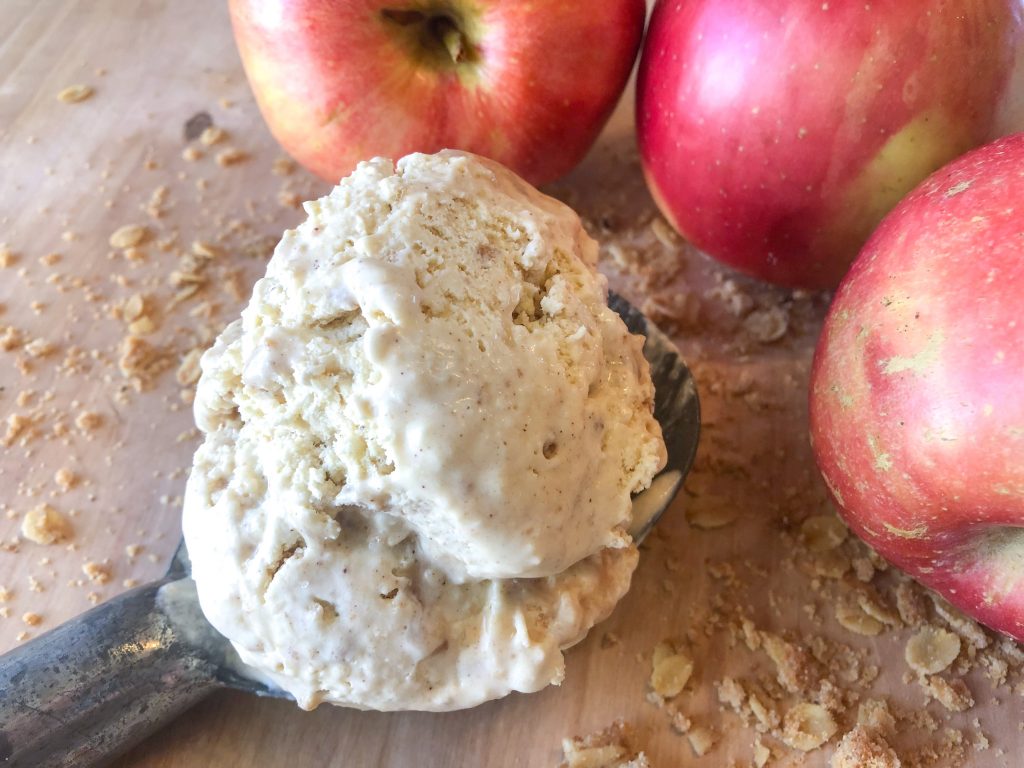 This ice cream is an apple pie base with cinnamon streusel chunks and a creamy cinnamon swirl. And, seriously, it tastes JUST like an apple pie. I know we say things taste just like how we want them to all of the time, but we only say it when we 100% mean it. If apple pie is your thing, then this ice cream will blow your mind! (And definitely check out the movie if you haven't.)
"Just the Pie, Not Heated"
Maybe this was what she was having…
Ingredients
2 large granny smith apples

2 Tbs brown sugar

1 Tbs butter

1 Tbs cinnamon

4 large egg yolks

1/4 cup powdered milk

3/8 cup brown sugar

3/8 cup sugar

2 cups heavy cream

1 cup milk

Cinnamon Streusel

1 stick butter

3/4 cup flour

1/4 tsp cinnamon

6 Tbs brown sugar

1/4 tsp salt

3/4 cup old fashioned oats

Cinnamon Swirl

3/8 cup heavy cream

1/4 cup sugar

2 Tbs brown sugar

1 Tbs butter

1/2 cup cinnamon chips (like these)

1/2 tsp vanilla
Directions
Add the apples, 2 Tbs brown sugar, cinnamon, and butter to a saucepan. Cook over medium heat for about 10 minutes, until the apples are softened and reduced a bit. Make sure you stir constantly to avoid burning the sugar.
Allow to cool completely.
Mix together the egg yolks, powdered milk, 3/8 cup brown sugar, regular sugar, cream, and milk together. Make sure to mix thoroughly! Don't want any sugar or egg clumps left behind!
Pour the mixture into a saucepan and heat over medium low heat until the base reaches a temperature of 162 degrees. Keep the base on a low heat and stir constantly, allowing the base to reduce for about 10 minutes.
Remove from heat. Use the immersion blender to blend in the cooked apple pieces until you get a nice, smooth consistency.
Pour the cooked custard through a fine mesh strainer to get any clumps or pieces of apple peel out.
Add base to a plastic gallon bag, and put in a prepared ice bath until cooled (about 15-20 minutes).
Add the prepared base to the ice cream maker. Make in your ice cream maker based on the maker's instructions. 
During the last 5-10 minutes in the machine, when the ice cream is about the texture of soft serve, add in your prepared streusel pieces. Don't add it all in! Add handfuls at a time until you get your desired chunkiness.
When it is ready to come out, add a layer of ice cream, followed by a layer of cinnamon swirl. Repeat the layers until your ice cream is all in the container.
Move into the freezer until hardened (at least 4 hours).
Cinnamon Streusel
Preheat the oven to 350 degrees. Add all of the ingredients besides the butter and the oats to a large bowl and mix.
Keep the butter cold and cut into cubes. Add them to the flour mixture and cut the butter cubes in until they are no bigger than pea size.
Add the oats and stir.
Add the streusel mixture to a pan. Bake for 30 minutes, stirring a couple of times making sure the edges don't burn.
Cinnamon Swirl
Add the cream, butter, sugar, and brown sugar to a small sauce pan.
Heat stirring constantly over medium heat, until the mixture comes to a boil. Boil for 2 minutes.
In a separate bowl, add the cinnamon chips. Pour the hot, boiling mixture over them and allow it to sit for 3 minutes, letting the hot mixture melt the chips and add the vanilla.
After it has sat for a bit, stir the mixture until it reaches a uniform color and consistency. (I ended up blending it a little with the immersion blender just to make sure there were no chunks left). Allow to cool before you add it to your ice cream, and right before stir it to make it smooth.