I'm a little late in posting our last Halloween flavor. I guess we were just a little too busy enjoying the holiday. I certainly won't complain about that! It was so much fun getting to make such festive flavors all month long! There's nothing I love more than a good theme!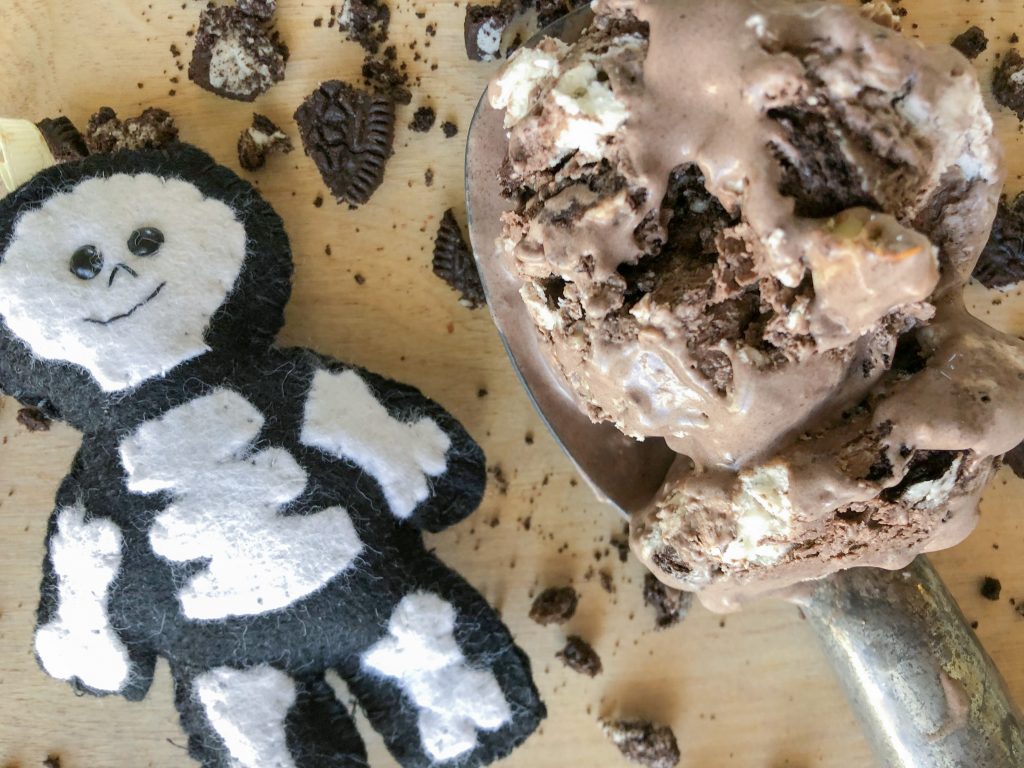 Our Halloween flavors end with the ice cream invented by the teenager in the house. It's a chocolate cream cheese base with oreos, white chocolate pretzels, and swirled with whipped topping. The chocolate and oreos create the look of dirt, while the white chocolate pretzels give a great look and crunch meant to represent skeleton bones. And the white whipped topping just gives it that slightly eerie look. Perfect way to end the month. Happy (late) Halloween from our crew to yours!
Skeletons in the Graveyard
A Spooktacular finish to a great season!
Ingredients
2 cups heavy cream

1 cup whole milk

4 egg yolks

3/4 cup sugar

1/4 cup powdered milk

2 oz cream cheese

4 oz bittersweet chocolate, chopped

Oreos (some crushed, some chopped)*

White chocolate covered pretzels (homemade or storebought)

Whipped topping (the full fat kind, no light here!)
Directions
Mix together the egg yolks, powdered milk, sugar, cream, and milk together. Make sure to mix thoroughly! Don't want any sugar or egg clumps left behind!
Pour the mixture into a saucepan and heat over medium low heat until the base reaches a temperature of 162 degrees. Keep the base on a low heat and stir constantly, allowing the base to reduce for about 10 minutes.
Remove from heat. Use the immersion blender to blend in the cream cheese and chocolate until you get a nice, smooth consistency.
Add base to a plastic gallon bag, and put in a prepared ice bath until cooled (about 15-20 minutes).
Add the prepared to the ice cream maker. Make in your ice cream maker based on the maker's instructions. Meanwhile, chop the white chocolate pretzels into small pieces.
During the last 5-10 minutes in the machine, when the ice cream is about the texture of soft serve, add in the oreo pieces (both crushed and chopped) and the white chocolate pretzel pieces. Don't add it all in! Add handfuls at a time until you get your desired chunkiness.
Add a layer of the ice cream, followed by a layer of whipped topping (a few heaping tablespoons). Stir a bit to swirl, but you should still see some wisps of whipped topping. Repeat until all of the ice cream is in your desired container.
Move into the freezer until hardened (at least 4 hours).
Notes
*We used dark chocolate oreos this time, but love this flavor with basically any flavor oreo. Feel free to experiment!