Summer time always puts me in the mood for fruit. All kinds of fruit. I get pretty excited when it is finally time to buy a nice, ripe watermelon or perfectly sweet pineapple. This week we were craving something nice and bright and fruity. We decided to give lemon a try again, but in a different way. Don't get me wrong. We LOVE our lemon cream pie ice cream! We just wanted to branch out.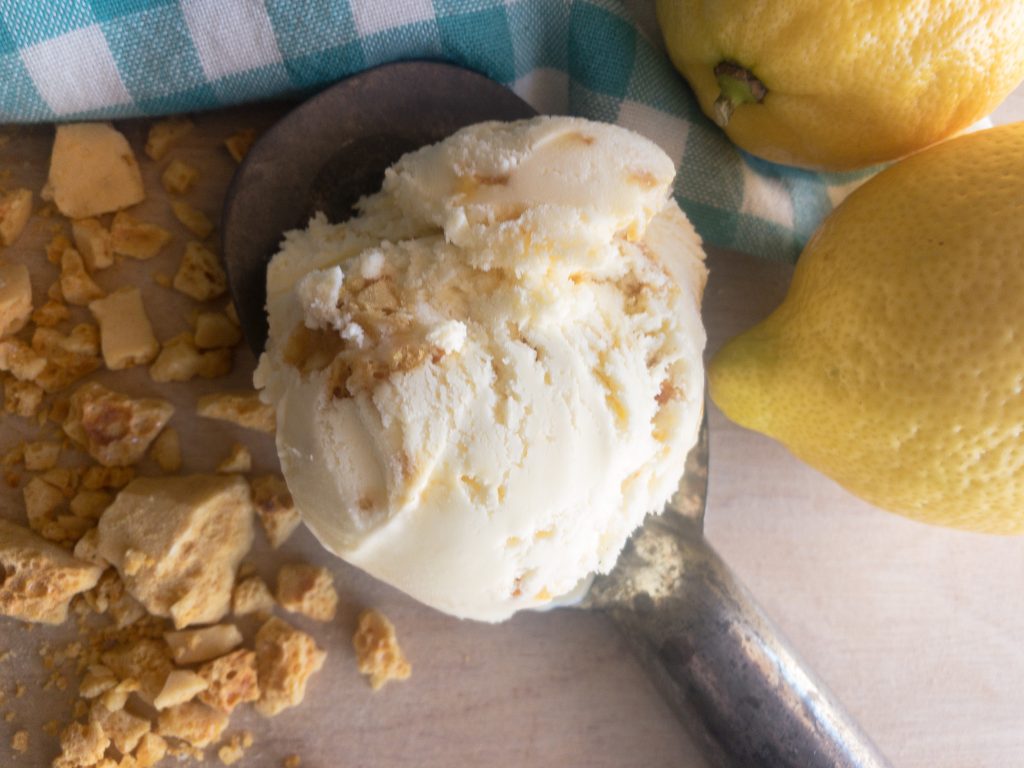 We always like new methods of creating flavors, so this time, we made our regular base, but when we added it to the ice cream maker, we also added a bit of lemon syrup that we made. The result was such a strong, bright, distinct lemon flavor! It was great! Then, after brainstorming a few different chunk possibilities, we decided honeycomb would be the perfect companion! And boy were we right!
Lemon Honeycomb
A match made in fruity heaven!
Ingredients
Juice from 2-3 lemons

2 Tbs sugar

4 egg yolks

1/4 cup skim milk powder

2/3 cup sugar

2 cups heavy cream

1 cup whole milk

Honeycomb Candy (recipe from Jeni's Splendid Ice Creams at Home)

1 1/2 cup sugar

1/2 cup water

3 Tbs honey

1/3 cup corn syrup

1 Tbs baking soda
Directions
Lemon Base
(Prep the honeycomb candy beforehand). Combine the lemon juice and 2 Tbs sugar. Simmer until thickened slightly. Set aside and allow to cool until ready to use.
Whisk the egg yolks until they are light and fluffy, about 2 minutes. Slowly whisk in the sugar until the color turns lighter and the consistency is smooth, about 2 minutes more. Add the powdered milk and whisk again until well blended.
Add the egg/sugar mixture to a sauce pan along with the milk and cream. Heat on medium low heat until it reaches 162, stirring frequently and scraping the bottom with a spatula to avoid cooking the eggs. 
Turn the heat on low once it reached temperature and stir constantly, letting the mixture reduce, for about 10 minutes.
Add base to a plastic gallon bag, and put in a prepared ice bath until cooled (about 15-20 minutes).
Add the prepared base and the prepared lemon syrup to the ice cream maker. Make in your ice cream maker based on the maker's instructions. 
During the last 5-10 minutes in the machine, when the ice cream is about the texture of soft serve, add in your prepared honeycomb (make sure all pieces are about the size of a pea or smaller). Don't add it all in! Add handfuls at a time until you get your desired chunkiness.
Move to the freezer until hardened (at least 4 hours).
Honeycomb Candy
Combine the sugar, water, honey, and corn syrup to a sauce pan. Stir constantly while it comes to a boil. Allow it to continue to cook until the candy reaches 269 degrees (use a thermometer for this).
Add the baking soda and stir until it is all mixed (fair warning, it will foam and expand quite a bit)!
Pour the candy onto a parchment paper lined cookie sheet and allow it to cool while you prep the rest of the ingredients and make the ice cream.
Just a bit before you are ready to add the honeycomb to the ice cream, add the honeycomb to a bag and smash it into small bits. We did pretty small bits, so that the candy wouldn't be too hard to eat.