Alright, alright, alright. Hear us out on this one. Is it weird? Yes. Is it unconventional? Yes. Is it a little off putting at first? Maybe. But is it incredibly delicious? For sure! We were a little skeptical about trying it, but now we are so glad that we did! This one is definitely a must try!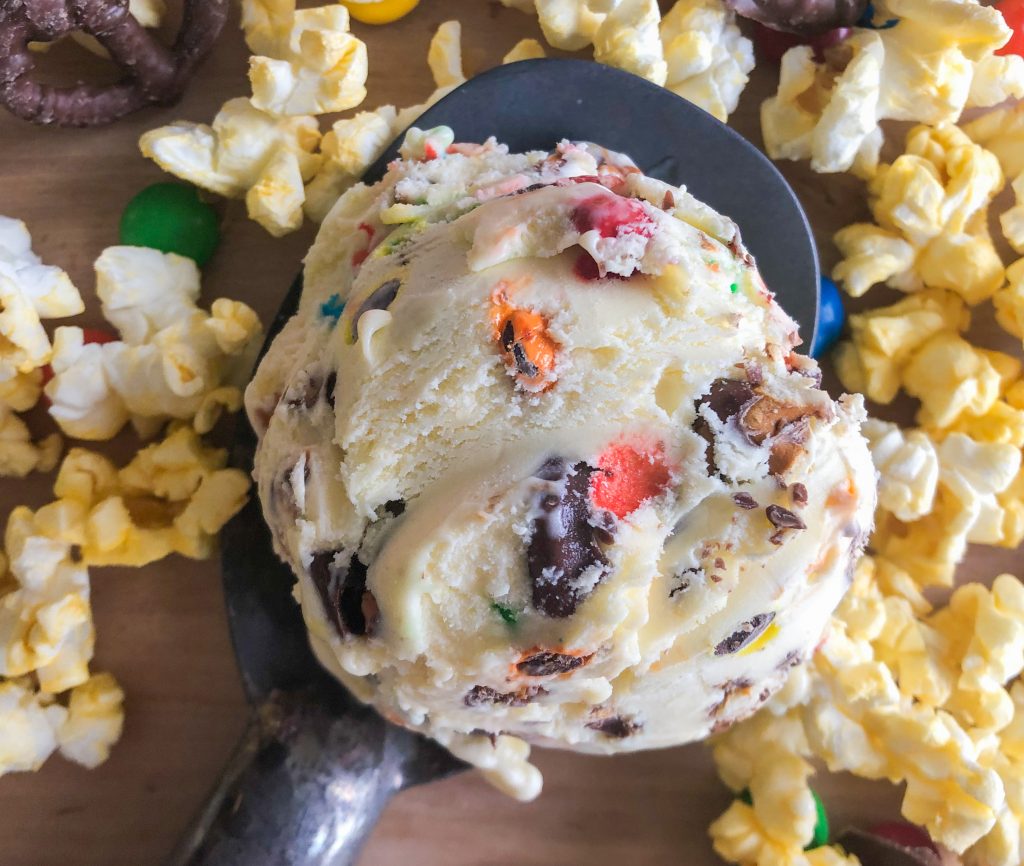 Obviously, the thing that makes this one so…unique…is the base flavor. It is a movie theater popcorn base. We infused the ice cream with popped popcorn (the bag kind, with extra movie theater butter, NOT the air popped kind). Then, we made the base as usual, adding a bit of salt. And, seriously, it tastes just like popcorn! We again weren't sure how we'd feel about eating popcorn in ice cream form, but it turns out it is amazing! And, since we like to load our popcorn up at our house, we loaded up our popcorn ice cream with mini M&Ms and chocolate covered pretzels. It looked and tasted so fun! Such an experience! We think everyone needs to try it!
Movie Night Delight
This one is popping with flavor!
Ingredients
2 cups popped movie theater butter popcorn (the kind in the bag)

2 1/4 cups heavy cream

1 1/4 cups whole milk

1/4 cup powdered milk

4 large egg yolks

3/4 cup sugar

1/2 tsp fine sea salt

Lots of mini M&Ms

Chopped chocolate covered pretzels
Directions
To infuse the cream, add the cream and milk to a medium saucepan. Add the popped popcorn and cook over medium heat, stirring constantly.
Once the mixture comes to just a simmer, remove it from the heat and cover it with a lid. Allow it to cool to room temperature before you prepare the rest of your ice cream. Once it is cooled, run it through a fine mesh strainer to remove the soggy popcorn pieces. All you'll be left with is delicious popcorn flavor!
Mix together the egg yolks, powdered milk, sugar, infused cream/milk, and salt. Make sure to mix thoroughly! Don't want any sugar or egg clumps left behind!
Pour the mixture into a saucepan and heat over medium low heat until the base reaches a temperature of 162 degrees. Keep the base on a low heat and stir constantly, allowing the base to reduce for about 10 minutes.
Add base to a plastic gallon bag, and put in a prepared ice bath until cooled (about 15-20 minutes).
Make in your ice cream maker based on the maker's instructions. 
During the last 5-10 minutes in the machine, when the ice cream is about the texture of soft serve, add in the mini M&Ms and pretzel pieces (broken up small). Don't add it all in! Add handfuls at a time until you get your desired chunkiness.
Move into the freezer until hardened (at least 4 hours).