Last year, around Easter, we invented an ice cream called "Dirt". It was a cream cheese vanilla pudding base with Oreo crumbs and Oreo pieces. Basically, it was perfection.
Now, I am a firm believer in the more chocolate the better. So, when my birthday came around, I was a little torn. I really wanted the Dirt ice cream, but I also wanted something really chocolatey. Maybe something with brownie?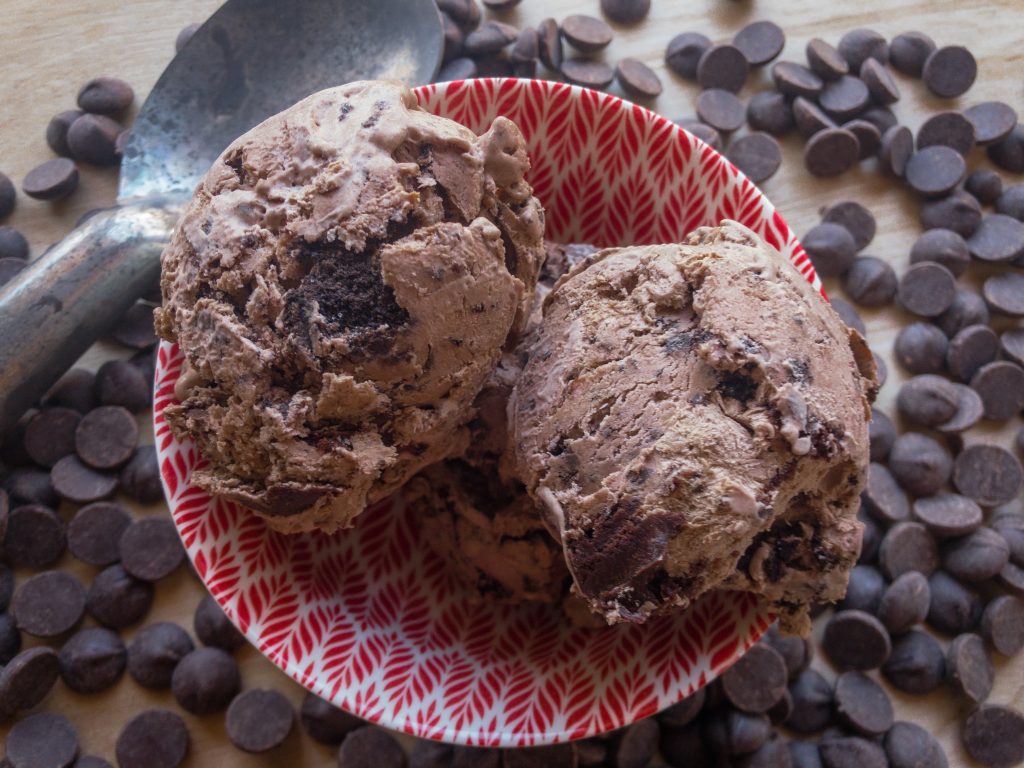 I decided instead of either or, I could just have it all! Alex made Dirt ice cream, with a few substitutions. Instead of vanilla pudding, he used chocolate pudding. Instead of regular Oreos, he used Chocolate Creme Oreos. And, instead of just Oreo chunks, he used Oreos AND brownie pudding chunks. Basically, it was the most me ice cream we have ever made. It was absolutely amazing!
Dirtiest Dirt
What goes better with chocolate than more chocolate?
Ingredients
2 large eggs

3/4 cup sugar

1 cup heavy cream

1 cup whole milk

1.75 oz cook and serve chocolate pudding (half the box)

4 oz cream cheese

1 cup whipped topping

Chocolate Creme Oreos

Favorite brownie recipe (I use this recipe for brownie pudding. The brownie pieces are perfectly fudgy.)
Directions
Heat the heavy whipping cream and milk on low in a medium saucepan until it reaches 140° F, stirring occasionally. While the custard heats, using an electric mixer to whisk the 2 large eggs in a medium mixing bowl until light and fluffy, about 2 minutes.
While the cream is still heating, slowly add the 3/4 cup sugar and 1.75 oz chocolate pudding mix into the eggs, whisking thoroughly to make sure the mixture doesn't become grainy.
After the cream reaches the target temperature, gradually pour it into the egg mixture, again whisking each time the cream is added to avoid cooking the eggs.
Pour the entire mixture back into the medium saucepan and heat it to 170° F. While it heats, add the 4 oz cream cheese. Whisk constantly so the cream cheese melts evenly into the mixture. (We ended up using an immersion blender to get rid of the chunks.)
Now pour the mixture back into the mixing bowl. Cover and chill for 1 hour or up to 3 hours.
When ready, make in your ice cream maker based on the maker's instructions.
During the last 5 minutes in the ice cream maker (the ice cream should basically have the consistency of soft-serve ice cream), add in some finely ground Oreos. This is the part that makes it look like dirt, so add liberally!
Once it has mixed, add larger Oreo chunks (see note below) and brownie chunks.
Allow the Oreos to mix evenly in the ice cream. Then scoop the ice cream into a medium-sized mixing bowl and fold in the whipped cream, making sure not to mix too much. You should still see some streaks of whipped topping.
Move the ice cream to your quart-sized container and top with crumbs. Freeze until hardened (at least 4 hours).
Notes
For our Oreo chunks, we ground up 8 Oreos into fine crumbs, and cut 12 Oreos into quarters. For the larger chunks, before cutting them we dipped them in half-and-half and let them freeze before adding them into the ice cream. This gives them a softer texture. Not required, but definitely recommended.