It is still over 100 degrees here. We are definitely ready for Fall, but it appears that Fall isn't ready for us yet. Since it can't feel like Fall outside, we decided we might as well make it feel like Fall in our mouths. To do that, we made an orange based ice cream, but instead of a bright, summery citrus flavor, we went for a warm, cinnamon orange. This was our first attempt at infusing the cream, and I can say with confidence that it will not be our last. The results were amazing!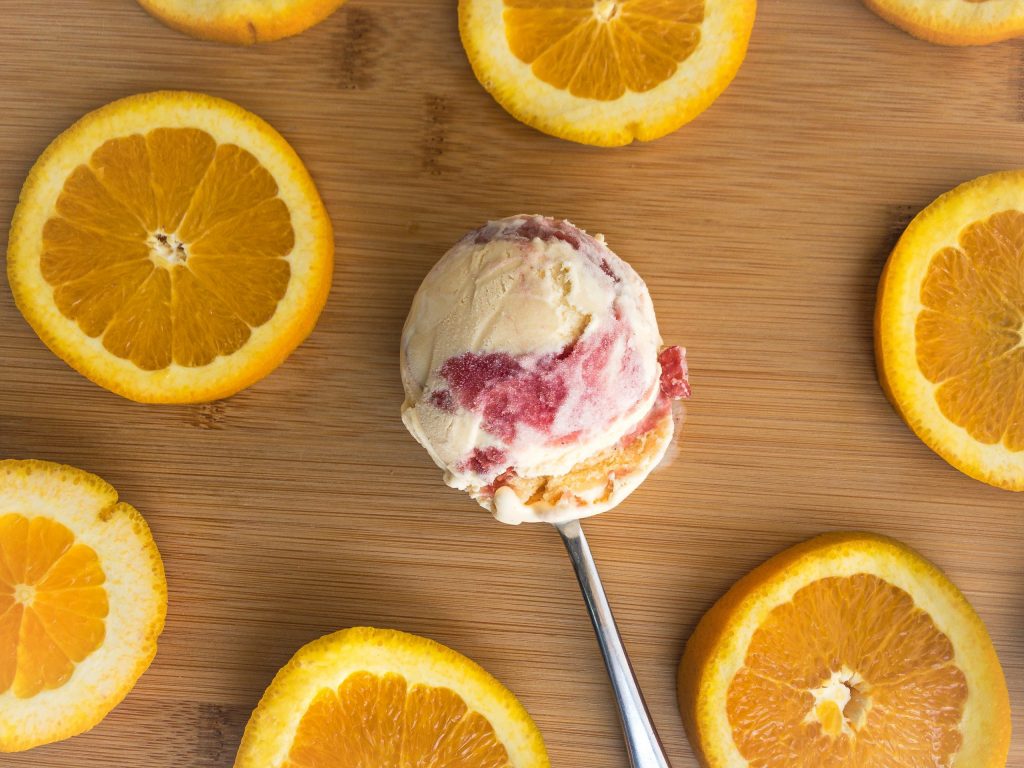 To get that cozy Fall flavor, we infused the cream and milk with some cinnamon sticks, a vanilla bean, and orange peel. We really wanted the orange to shine, so we also added a little bit of orange extract right before putting it in the ice cream maker. And, the cranberry sauce swirl we added at the end, adds the perfect tartness to really bring the autumn/holiday feel we were going for. The one thing this ice cream is definitely not lacking is flavor! Here's to cooler weather and warm flavors!
Spiced Orange Cranberry Swirl
Sugar and spice and everything nice!
Ingredients
1 cup whole milk

1 cup heavy cream

2 cinnamon sticks

1 vanilla bean (split in half)

Peel of 1 orange (only the orange part, no pith)
Directions
To infuse your cream and milk, add them both to a medium saucepan. Add the cinnamon sticks, the vanilla bean (split lengthwise), and the peel of one orange. (I used a vegetable peeler and made sure just to get the orange parts and none of the white pith). Heat until simmering, and simmer for 5 minutes. Cover and allow to cool completely. Strain the cream and you are ready to go! (The cream mixture might reduce to a little less than 2 cups. Just add a little more cream to make up for it when you make your ice cream).
Heat the infused milk/cream on low in a medium saucepan until it reaches 140° F, stirring occasionally. While the custard heats, using an electric mixer to whisk the 2 large eggs in a medium mixing bowl until light and fluffy, about 2 minutes.
While the cream is still heating, slowly add the 3/4 cup sugar into the eggs, whisking thoroughly to make sure the mixture doesn't become grainy.
After the cream reaches the target temperature, gradually pour it into the egg and sugar mixture, again whisking each time the cream is added to avoid cooking the eggs.
Pour the entire mixture back into the medium saucepan. Heat it to 170° F.
Now pour the mixture back into the mixing bowl. Cover and chill for 1 hour or up to 3 hours.
Right before adding it to the ice cream maker, add about 1/4 tsp of orange extract and stir.
Make in your ice cream maker based on the maker's instructions.
When the ice cream is ready to come out, add a layer of cranberry sauce to the bottom of your container of choice. Top that with a layer of ice cream.
Repeat the layers of cranberry and ice cream until you reach the top of your container. Freeze until hardened (at least 4 hours).
Notes
We also tried a chocolate orange variation, where instead of layering it with cranberry sauce, we added a chocolate ganache during the last few minutes in the ice cream maker, allowing chocolate flecks to form. This was also AMAZING! It tastes a lot like those chocolate oranges they sell at Christmastime, but with a much deeper flavor and without the waxy chocolate texture. Maybe w will do a separate post for that one someday, but we would highly recommend it!