For Mother's Day, I made the women in my life some orange rolls. They are a family favorite! The cream cheese frosting blends so nicely with the orange flavor and beautiful, bright flakes of orange zest. Now, we've seen orange ice cream (hello, sherbet?), but we've never seen an orange roll ice cream. It's orangey, yes, but the cream cheese adds a nice tang and the zest gives them such a fresh flavor. So, we decided to replicate that in ice cream form!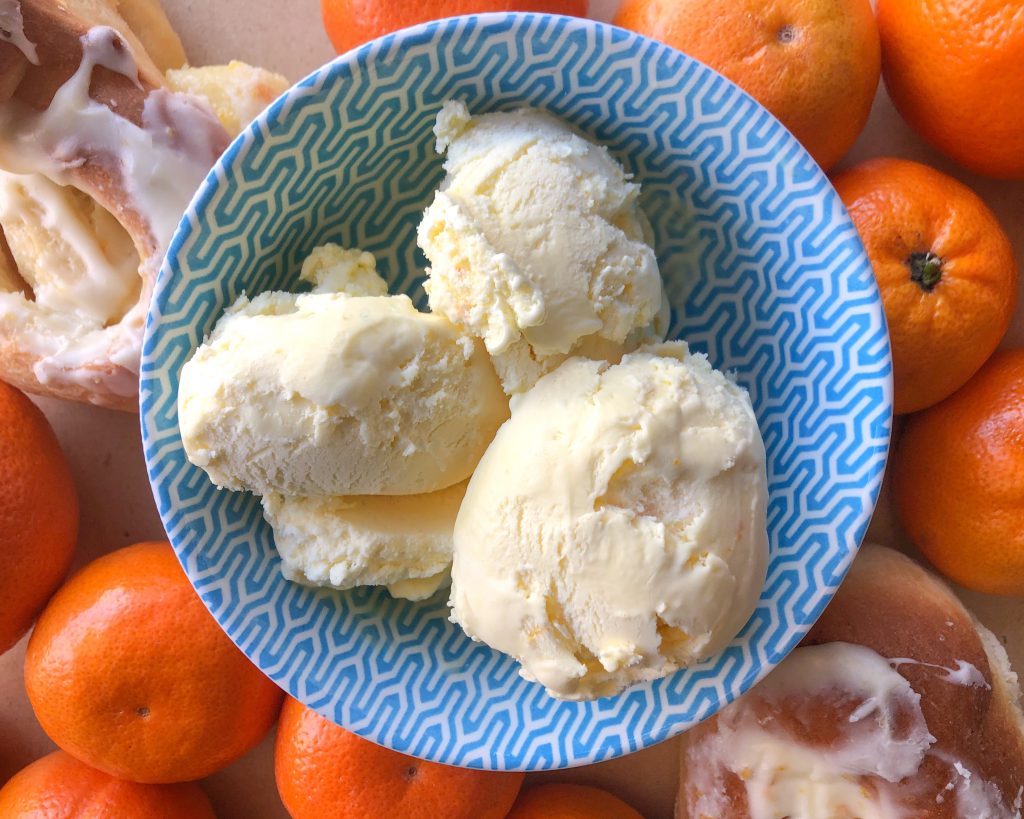 We started by making a simple syrup with orange juice and sugar. We added that to our traditional base, along with a small amount of cream cheese and some orange extract. To top it off, when we added it to the bag to cool, we added a few tablespoons of fresh orange zest. The result was an amazingly bright flavor, that tastes just like an orange roll! This one was a crowd pleaser at our house for sure!
Orange Roll
"Orange" you gonna try this one?
Ingredients
1/2 cup orange juice

1/2 cup sugar

4 egg yolks

1/4 cup skim milk powder

2 cups heavy cream

1 cup whole milk

2 oz cream cheese

1 Tbs vanilla

1 tsp orange extract

Orange zest from 2 oranges
Directions
Make a simple syrup by adding the orange juice and sugar together in a small saucepan. Cook over medium heat.
Allow the syrup to boil for about 5-10 minutes, until it is thickened. Set aside to cool to room temperature.
Whisk the egg yolks until they are light and fluffy, about 2 minutes. Slowly whisk in the syrup until the color turns lighter and the consistency is smooth, about 2 minutes more. Add the powdered milk and whisk again until well blended.
Add the egg/syrup mixture to a sauce pan along with the milk and cream. Heat on medium low heat until it reaches 162, stirring frequently and scraping the bottom with a spatula to avoid cooking the eggs.
Turn the heat on low once it reached temperature and stir constantly, letting the mixture reduce, for about 10 minutes.
Blend in the cream cheese, vanilla, and orange extract. Add the zest.
Add base to a plastic gallon bag, and put in a prepared ice bath until cooled (about 15-20 minutes).
When ready, make in your ice cream maker based on the maker's instructions. 
Move to a container and move to the freezer until hardened (at least 4 hours).