We've all had this cake. We all love this cake. We all call this cake something different. Some people call it better than anything cake, some call it better than sex cake, but whatever you call it, it is delicious. And as delicious as it is as a cake, it may be even better as an ice cream!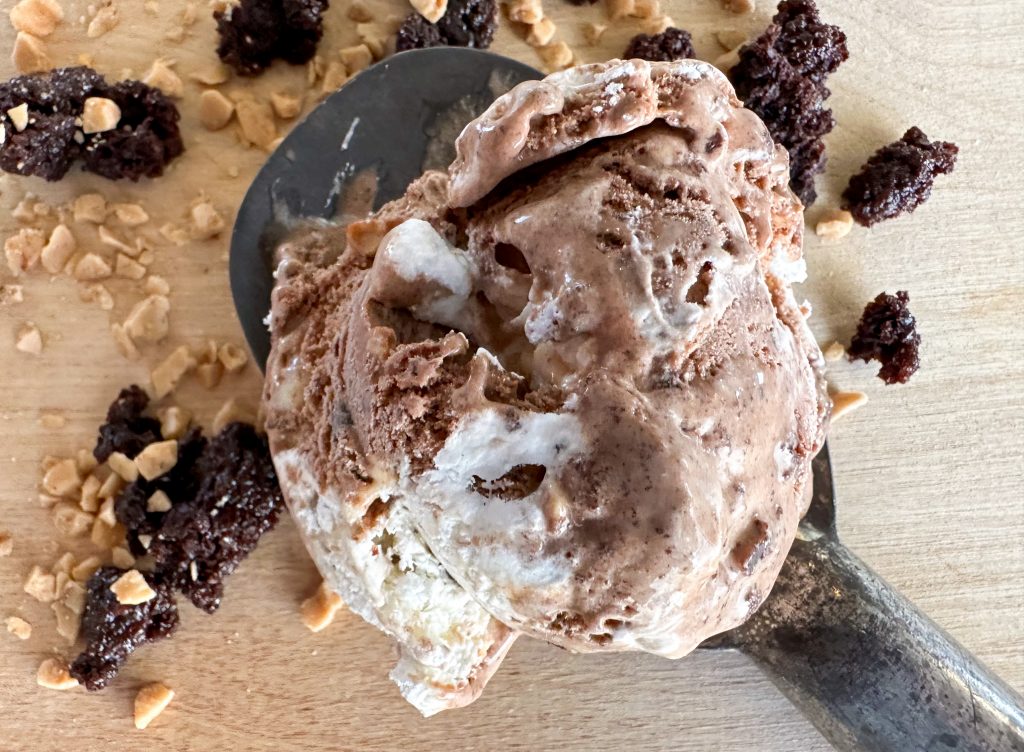 This one is pretty much exactly what you think it is. Chocolate ice cream with sweetened condensed milk soaked cake pieces and toffee bits, swirled with cool whip and a little more sweetened condensed milk, because why the heck not!
Toffee Crunch Cake
I won't say it's better than anything, but I also won't say it's not…
Ingredients
Chocolate Base

2 cups heavy cream

1 cup whole milk

3/4 cup sugar

1/4 cup powdered milk

4 egg yolks

Mix Ins

Chocolate cake (homemade, store bought, or from a box, just make sure it isn't frosted)

Sweetened Condensed milk

Heath bits

Cool whip (original, not fat free)
Directions
Chocolate Base
Mix together the egg yolks, powdered milk, sugars, cream, and milk together. Make sure to mix thoroughly! Don't want any sugar or egg clumps left behind!
Pour the mixture into a saucepan and heat over medium low heat until the base reaches a temperature of 162 degrees. Keep the base on a low heat and stir constantly, allowing the base to reduce for about 10 minutes.
Add the chocolate chips and allow them to sit in the hot cream for a few minutes. After a few minutes, give the mixture a stir. If the chocolate doesn't totally incorporate, use the immersion blender to mix it well.
Add base to a plastic gallon bag, and put in a prepared ice bath until cooled (about 15-20 minutes).
Add the prepared base to the ice cream maker. Make in your ice cream maker based on the maker's instructions.  See mix ins section to get your chunks ready.
During the last 5-10 minutes in the machine, when the ice cream is about the texture of soft serve, add in as many heath bits and cake chunks as you want. (Note: The cake chunks will fall apart and spread throughout the whole ice cream. That is what you want!) 
When ready to remove, add a layer of the ice cream to your ice cream container. Top with a layer of cool whip and stir just a little bit. You don't want to lose the cool whip in the chocolate, you just want it a little bit swirled. Top that with a thin layer of sweetened condensed milk. Repeat until all of your ice cream is in the container.
Move to the freezer until hardened (about 4 hours).
Mix Ins
Break your chocolate cake into small pieces in a bowl. (We probably used about 1 1/2 cups of cake chunks). Open a can of sweetened condensed milk and pour about 1/3 of it over the cake pieces. Let those sit for a little bit before you add them to the ice cream, giving the sweetened condensed milk a chance to really soak in.
Steps for adding the rest of the sweetened condensed milk, cool whip, and toffee pieces are found above.