Our next romcom inspired flavor comes from the movie "The Shop Around the Corner". This is such a cute love story staring Jimmy Stewart and Margaret Sullavan. (If you've seen the movie "You've Got Mail", that movie was inspired by "The Shop Around the Corner"). In the movie, there is a scene where Jimmy Stewart goes to meet his secret pen pal, but is nervous so he has his friend look in and tell him what he observes about her. While snooping, his friend is disturbed that she's dunking her cake in her coffee, to which Jimmy Stewart asks, "Why shouldn't she dunk?" That is where this ice cream came from.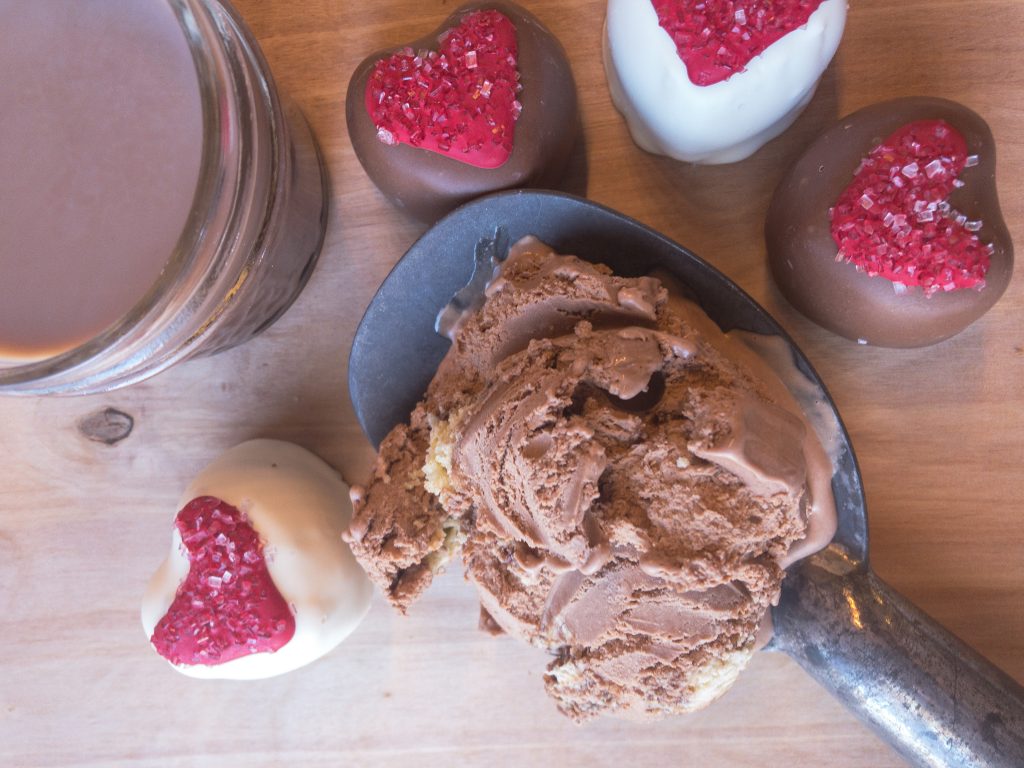 Since the movie takes place in Hungary, we knew we wanted to incorporate some spice into the base. Everything we saw when researching Hungarian food stated the same thing: paprika is key! So, we made a chocolate base with a hint of paprika in it, not enough to overpower it, but just enough to leave a little heat on your tongue. And, of course, for chunks, we dipped cake in a chocolate simple syrup. I mean, why shouldn't we dunk? (We could have dipped it in coffee, but we are not coffee drinkers so we didn't have it on hand. If you wanted to make that change, more power to you!)
"Why Shouldn't She Dunk?"
"We think people who like to smoke candy and listen to cigarettes will love it"
Ingredients
4 large egg yolks

3/4 cup sugar

1/4 cup powdered milk

2 cups heavy cream

1 cup whole milk

4 oz bittersweet chocolate

1/4 tsp paprika (sweet or smoked, we used sweet)

Cake Pieces

1 1/2 Tbs butter, melted

2 large eggs (1 whole egg, 1 egg yolk)

1 cup sugar

1 tsp vanilla

1/2 tsp baking soda

1/2 tsp salt

2 tsp baking powder

3/8 cup flour

Chocolate Simple Syrup

1/2 cup sugar

1/2 cup water

1 Tbs cocoa powder
Directions
For the Cake Pieces
Preheat the oven to 350 degrees and grease a regular bread pan. Combine the melted butter and vanilla together and set aside to allow the butter to cool slightly.
Add the eggs, yolks, and sugars to the bowl of a stand mixer. Turn the mixer on and allow it to mix for 8-10 minutes, until the substance turns a lighter yellowish color and is smooth in consistency (scraping the sides a few times to make sure you get all of the ingredients mixed well).
Gently fold in the flour, followed by the butter/vanilla mixture. (You want to keep as much air in it as possible, so be gentle). Pour the batter into the prepared pan and bake for about 10-15 minutes until cooked through completely.
Allow to cool completely. Cut it up into cubes. Freeze half of the chunks for a later ice cream, and pour some of the butterscotch sauce over the rest of the pieces. Set aside until you are ready to cover them in the chocolate syrup and then add them to your ice cream.
For the Chocolate Simple Syrup
Add the sugar and water to a microwave safe bowl and heat in the microwave until boiling, stirring to make sure all of the sugar is mixed in.
Add the cocoa powder and whisk until no lumps remain.
Allow to cool until ready to use. Right before you add the cake to the ice cream, pour the chocolate syrup over the cake pieces and stir gently until they are all well coated.
Chocolate Paprika Base
Mix together the egg yolks, powdered milk, sugars, cream, and milk together. Make sure to mix thoroughly! Don't want any sugar or egg clumps left behind!
Pour the mixture into a saucepan and heat over medium low heat until the base reaches a temperature of 162 degrees. Keep the base on a low heat and stir constantly, allowing the base to reduce for about 10 minutes.
Add the chocolate pieces and allow them to sit in the hot cream for a few minutes. After a few minutes, add the paprika and give the mixture a stir. If the chocolate doesn't totally incorporate, use the immersion blender to mix it well.
Add base to a plastic gallon bag, and put in a prepared ice bath until cooled (about 15-20 minutes).
Add the prepared base to the ice cream maker. Make in your ice cream maker based on the maker's instructions. 
When the ice cream is ready to come out, add a layer of the ice cream followed by a layer of the soaked cake chunks. Repeat the layers until all of your ice cream is in your desired container. (If you add the cake to the ice cream while it is running in the ice cream maker, the cake may crumble and lose it's definition. Adding it this way ensures that you'll have perfect chunks of cake all throughout your ice cream.)
Move into the freezer until hardened (at least 4 hours).