One of our favorite romantic comedies is "Some Like It Hot". We definitely knew we wanted to make an ice cream out of this one!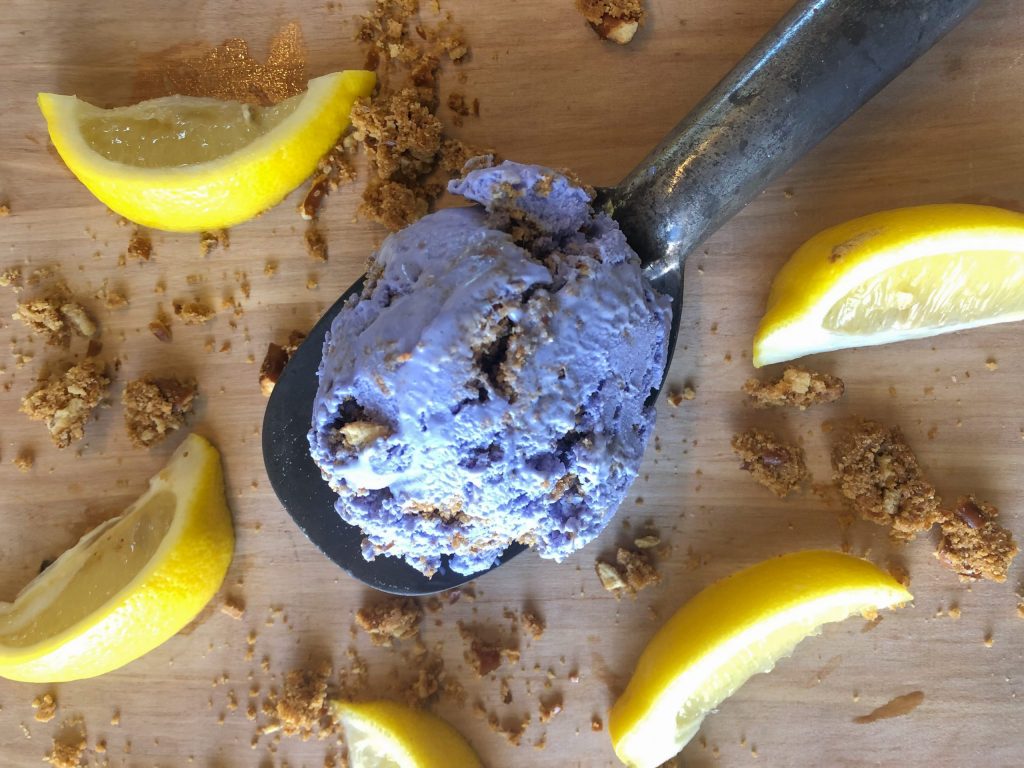 Since it is staring Jack Lemmon, we decided to go with the obvious and make it lemon flavored, but changed it up a little and made it a lemon cheesecake flavor. Then, to make it a little less perfect, we used blue spirulina and a little bit of purple food coloring to make it a periwinkle color. Then, just to add a little bit of texture and flavor, we added layers of pretzel graham cracker crust. Don't let the name of the ice cream fool you though. I'm not sure if there are ice creams much more perfect than this one! Give it a try and definitely watch the movie when you do!
"Well, Nobody's Perfect"
It's very interesting!
Ingredients
Juice of 2-3 lemons

2 Tbs sugar

4 large egg yolks

1/4 cup powdered milk

3/4 cup sugar

2 cups heavy cream

1 cup whole milk

2 oz cream cheese

Blue spirulina (optional)

Purple food coloring (optional)

Pretzel Graham Cracker Crust

4 graham crackers

2 handfuls of pretzels

3 Tbs brown sugar

4 Tbs melted butter
Directions
Combine the lemon juice and 2 Tbs sugar. Simmer until thickened slightly. Set aside and allow to cool until ready to use.
Mix together the egg yolks, powdered milk, 3/4 cup sugar, cream, and milk together. Make sure to mix thoroughly! Don't want any sugar or egg clumps left behind!
Pour the mixture into a saucepan and heat over medium low heat until the base reaches a temperature of 162 degrees. Add the cream cheese and blend well to make sure it is all incorporated. Keep the base on a low heat and stir constantly, allowing the base to reduce for about 10 minutes.
Add base to a plastic gallon bag, and put in a prepared ice bath until cooled (about 15-20 minutes). While it cools, prep your crust.
Add the prepared base and the prepared lemon syrup to the ice cream maker. Make in your ice cream maker based on the maker's instructions. 
When the ice cream is ready to come out, add a layer of the ice cream followed by a layer of the cooked and cooled crust. Repeat the layers until all of your ice cream is in your desired container. (Adding the crust this way helps you to keep some bigger chunks of crust rather than having it get completely lost in the ice cream).
Move to the freezer until hardened (at least 4 hours).
Pretzel Graham Cracker Crust
Preheat the oven to 350 degrees.
Add the pretzels and graham crackers to a Ziploc bag. Pound the pieces with a kitchen mallet until no large chunks remain.
Add the now graham cracker/pretzel crumbs to a bowl. Add the brown sugar and melted butter and stir until combined and it starts to stick together a little bit.
Spread the mixture onto a cookie sheet into a thin, even layer. Bake for 7-10 minutes, until the edges start to brown and the crust is fragrant. Allow to cool completely before crumbling and adding it to the ice cream.