It's been a while since we did a fruity flavor. With Spring popping up on us, it just seemed like the right time. While this ice cream could be made with any kind of berry you want really, we chose blackberries. Simply because, well, we had them in the fridge.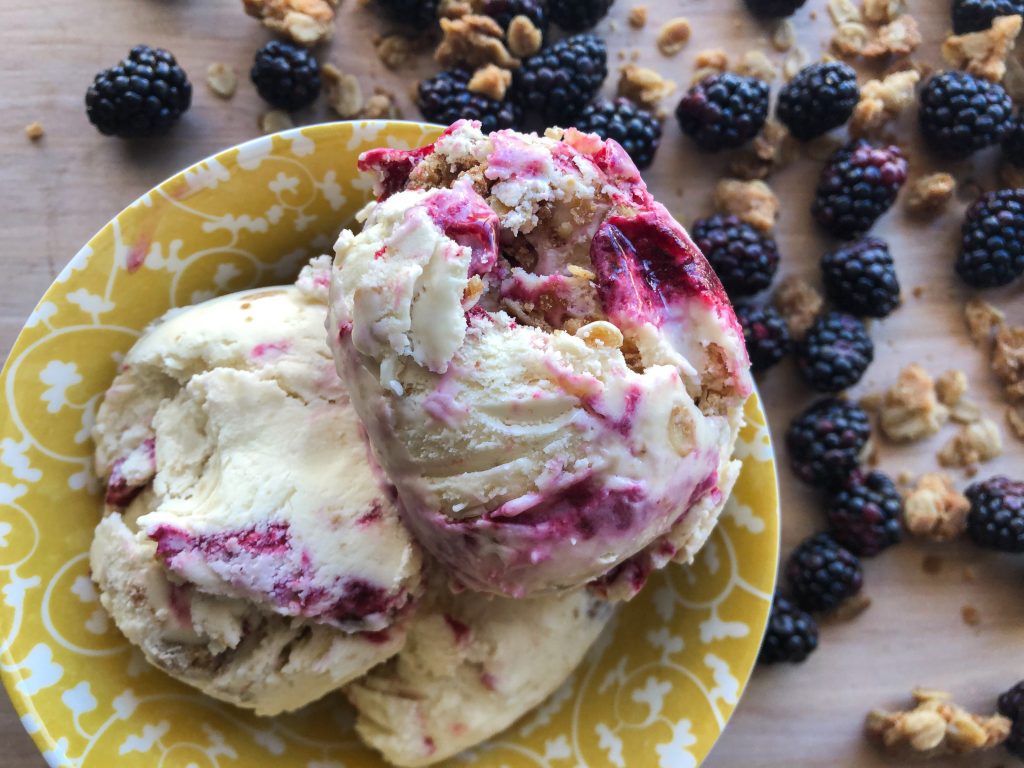 We also went a little crazy and tried this ice cream two ways: one with just our tried and true vanilla base, and one where we subbed in buttermilk for the whole milk. And, oh my goodness! While both were great, the buttermilk gave the ice cream a tanginess that paired perfectly with the sweet berries! Buttermilk vanilla ice cream with blackberry sauce and toasted oat streusel? Yes, please! (Note: The recipe for both the berries and the streusel came from the cookbook "Jeni's Splendid Ice Creams". Highly recommend it!)
Blackberry Crisp with Buttermilk
This one is berry good. You butter believe it.
Ingredients
Buttermilk Vanilla Ice Cream

1 cup whole milk

1 cup buttermilk

3/4 cup sugar

2 large eggs

1 Tbs vanilla

Dash of salt

Blackberry Sauce (from Jeni's Splendid Ice Creams)

2 cups blackberries

1 cup sugar

Baked Streusel (from Jeni's Splendid Ice Creams)

2 sticks butter

1 1/2 cups flour

1/8 tsp cinnamon

3/4 cup brown sugar

1/2 tsp salt

1 1/2 cups old fashioned oats
Directions
Buttermilk Vanilla Base
Prepare your berry sauce and streusel (see recipes below). Allow them to cool completely.
Whisk the eggs until they are light and fluffy, about 2 minutes. Slowly whisk in the sugar until the color turns lighter and the consistency is smooth, about 2 minutes more.
Add the egg/sugar mixture to a sauce pan along with the buttermilk and cream. Heat on medium low heat until it reaches 170, stirring frequently and scraping the bottom with a spatula to avoid cooking the eggs.
Add base to a plastic gallon bag, and put in a prepared ice bath until cooled (about 15-20 minutes).
Add the salt and vanilla. When ready, make in your ice cream maker based on the maker's instructions.
During the last 5-10 minutes in the machine, when the ice cream is about the texture of soft serve, add in your streusel chunks. Don't add it all in! Add handfuls at a time until you get your desired chunkiness.
When it is ready to come out, add a layer of ice cream, followed by a layer of berry sauce. Repeat the layers until your ice cream is all in the container.
Move to the freezer until hardened (at least 4 hours).
Berry Sauce
Add the berries and sugar to a small saucepan. Mash the berries and sugar together as they heat up.
Bring the mixture to a boil, stirring occasionally and mashing up all of the berries. Cook the mixture until it reaches 220 degrees.
Pour the berries through a sieve to remove all of the pulp and seeds (you can add in a few spoonfuls of the pulp and berries back if you want a more rustic look). Allow to cool completely.
Baked Streusel
Preheat the oven to 350 degrees. Add all of the ingredients besides the butter and the oats to a large bowl and mix.
Keep the butter cold and cut into cubes. Add them to the flour mixture and cut the butter cubes in until they are no bigger than pea size.
Add the oats and stir.
Add the streusel mixture to a pan. Bake for 30 minutes, stirring a couple of times making sure the edges don't burn.
Notes
If you want to make this with just regular vanilla ice cream, just sub the buttermilk for whole milk.