One of my favorite things about starting a new school year is the fresh start that it brings. I love reflecting on what I want to work on and what I want to continue doing. Even though I'm not in school now, with kids in school it still feels like a new beginning, even for me. We decided for our last back to school flavor that we wanted to bring that refreshing feeling to our tastebuds too!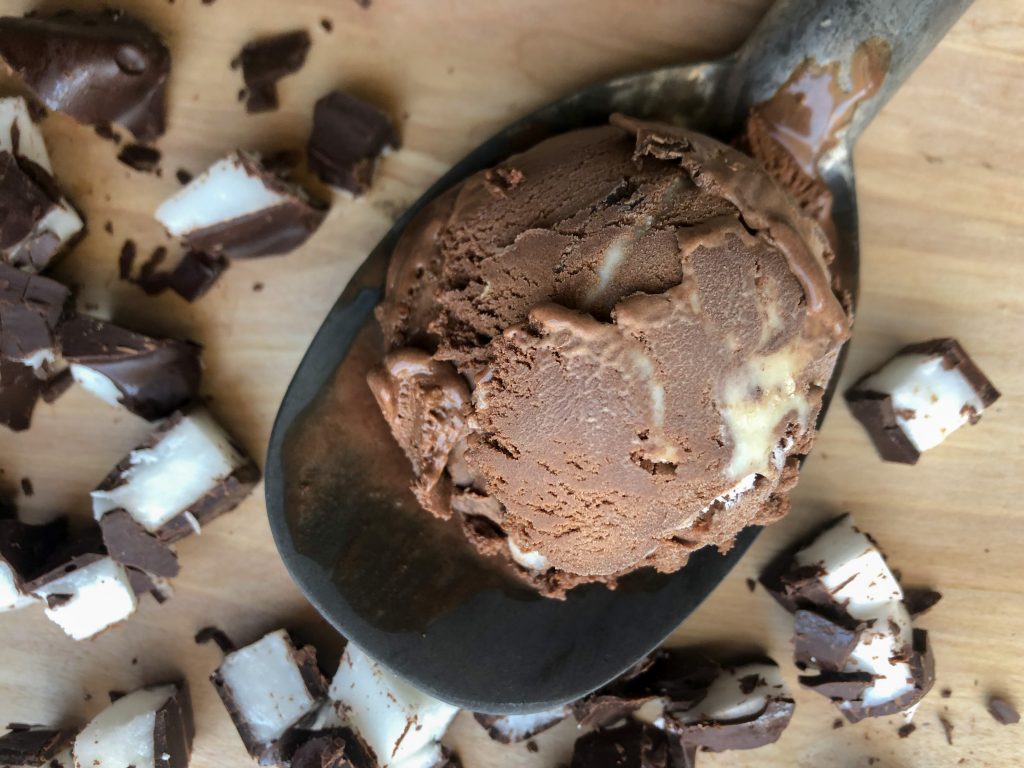 This one is the perfect pairing of dark chocolate and peppermint. We made our favorite dark chocolate base, swirled with white chocolate peppermint sauce, and then adorned with homemade peppermint patties. This fresh flavor has us feeling like we can take over the world!
Fresh Start
What's mint to be will be!
Ingredients
Dark Chocolate Paste

1 cup water

1 cup cocoa powder

1 cup sugar

4 oz bittersweet chocolate

The Rest of the Base

4 large egg yolks

1/4 cup skimmed milk powder

1/3 cup sugar

1 3/4 cup heavy cream

3/4 cup whole milk

White Chocolate Peppermint Swirl

4 Tbs heavy cream

1 Tbs butter

1/4 cup sugar

2 Tbs brown sugar

1/2 cup white chocolate chips

1/2 tsp peppermint extract (more or less to taste)

Peppermint Patties

2 cups powdered sugar

3 Tbs Karo syrup

2 tsp water

1/4 tsp peppermint extract

1 cup bittersweet chocolate chips, for melting
Directions
For the Peppermint Patties
Line a large dinner plate or cookie sheet with parchment paper. Sprinkle with a tablespoon or so of powdered sugar.
Mix together all of the wet ingredients (Karo syrup, water, and peppermint). Gradually add the powdered sugar. When it gets too difficult to stir with a spoon, dig in with your hands until it forms a cohesive mass.
Pat into a circle about 1/4-1/2 inches thick and allow to harden for at least 8 hours, up to overnight.
Once it is hardened, melt the chocolate (careful not to burn). Cut the circle into 6-8 triangular wedges and dip each one on both sides in the chocolate. Place the dipped wedges on wax/parchment paper. Move to the fridge or freezer until chocolate is firm.
Before adding the patties to your ice cream, cut them into small pieces, no larger than a pea. Keep them frozen until you're ready to add them in.
Dark Chocolate Base
To make the paste, add the water to a saucepan and bring to a boil. Once it is boiling, remove from the heat and whisk in the sugar and cocoa powder. Add the chopped chocolate bar while the water is still hot. Allow it to sit for just a minute, and then stir it, until all of the chocolate is melted. Set aside.
In a separate bowl, whisk the egg yolks until they are light and fluffy, about 2 minutes. Slowly whisk in the sugar until the color turns lighter and the consistency is smooth, about 2 minutes more. Add the powdered milk and whisk again until well blended.
Add the egg/sugar mixture to a sauce pan along with the milk and cream. Heat on medium low heat until it reaches 162, stirring frequently and scraping the bottom with a spatula to avoid cooking the eggs. 
Turn the heat on low once it reached temperature and stir constantly, letting the mixture reduce, for about 10 minutes. Add the chocolate paste.
Add base to a plastic gallon bag, and put in a prepared ice bath until cooled (about 15-20 minutes).
Make in your ice cream maker based on the maker's instructions. 
During the last 5-10 minutes in the machine, when the ice cream is about the texture of soft serve, add in your prepared peppermint pattie pieces. Don't add it all in! Add handfuls at a time until you get your desired chunkiness.
White Chocolate Peppermint Swirl
Add the cream, butter, sugar, and brown sugar to a small sauce pan.
Heat stirring constantly over medium heat, until the mixture comes to a boil. Boil for 2 minutes.
In a separate bowl, add the white chocolate chips. Pour the hot, boiling mixture over the chips and allow it to sit for 3 minutes, letting the hot mixture melt the chips.
After it has sat for a bit, stir the mixture until it reaches a uniform color and consistency. Add the peppermint extract, adding 1/4 tsp at a time, tasting it after each addition until you reach your desired minty-ness. Allow to cool before you add it to your ice cream, and right before stir it to make it smooth.
Assembling the Ice Cream
Add a thin layer of the prepared ice cream to your ice cream container, followed by a thin layer of the white chocolate peppermint swirl.
Repeat the layers until all of your ice cream has been moved to the ice cream container.
Move to the freezer until hardened (at least 4 hours).