When coming up with Easter flavors, this one was an obvious choice. Though we don't actually have carrot cake all that often on Easter, I think it's a pretty common springtime dessert. And just because we don't have it all that often doesn't mean it isn't delicious.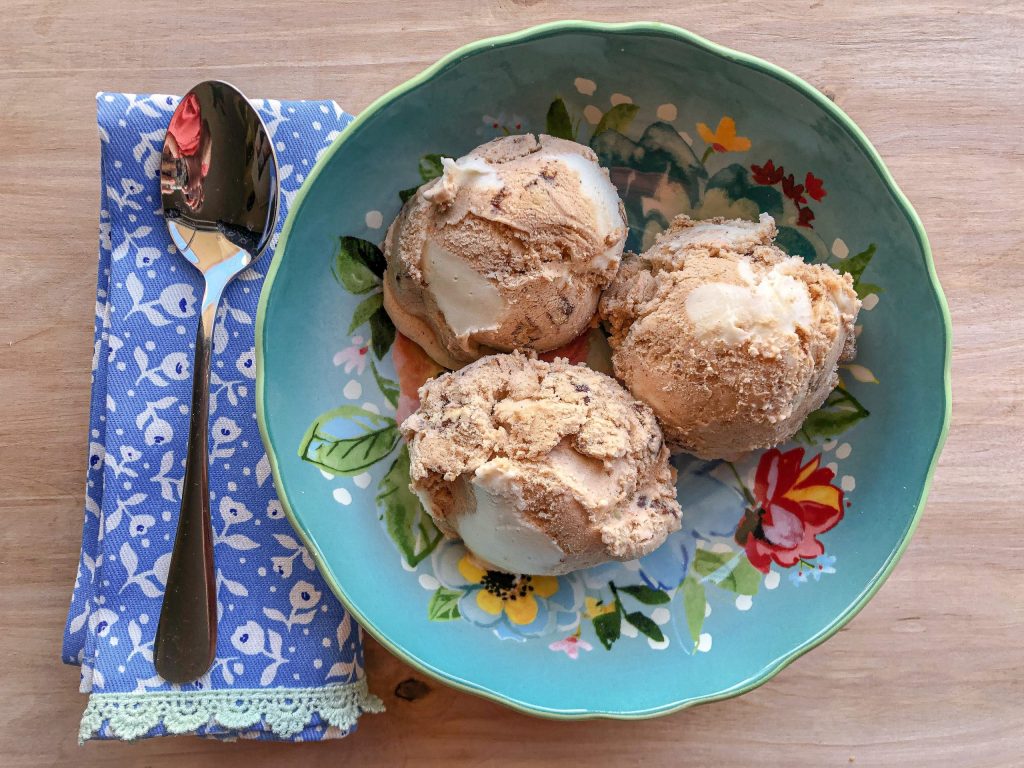 We knew when designing this flavor, though, that we didn't want it to be vanilla ice cream with carrot cake pieces in it. We also didn't want to do a cream cheese base because we didn't want that to be the overwhelming flavor either. We wanted the ice cream itself to actually taste like a carrot cake. So, we got the spices you would normally add to the cake, pureed some boiled carrots, and used brown sugar for a deeper flavor. Once we got the base just perfect, we had to decide on the mix ins. We decided on a cream cheese frosting swirl to get that hint of tanginess. Then, as the finishing touch, we added some spiced, roasted pecans, giving the ice cream the perfect crunch. Genuinely, truly, it tastes just like carrot cake, but in creamy frozen dessert form. We love it when everything comes together to be just right, and this ice cream did exactly that both in flavor and texture!
Carrot Cake
Every bunny will love this one!
Ingredients
Carrot Cake Custard Base

1 cup whole milk

1 cup heavy cream

2 large eggs

3/4 cup brown sugar

2 carrots (boiled until tender, drained, and pureed)

2 tsp cinnamon

1/2 tsp cloves

1/2 tsp nutmeg

1/8 tsp ginger

1 Tbs vanilla extract

Dash of salt

Cream Cheese Frosting

4 oz cream cheese

2 Tbs softened butter

1 cup powdered sugar

Dash of cream or milk (for consistency)

1 tsp vanilla extract

Spiced Pecans

1 egg white

1 Tbs cool water

1 cup pecan pieces

1/3 cup sugar

1/2 tsp cinnamon

Dash of cloves

Dash of nutmeg

Dash of salt
Directions
Carrot Cake Custard Base
Whisk the eggs until they are light and fluffy, about 2 minutes. Slowly whisk in the brown sugar until the color turns lighter and the consistency is smooth, about 2 minutes more.
Add the egg/sugar mixture to a sauce pan along with the milk and cream. Heat on medium low heat until it reaches 170, stirring frequently and scraping the bottom with a spatula to avoid cooking the eggs.
Add all of the spices, the carrot, and the vanilla. Blend with an immersion blender until the consistency is smooth and consistent.
Add base to a plastic gallon bag, and put in a prepared ice bath until cooled (about 15-20 minutes).
When ready, make in your ice cream maker based on the maker's instructions.
Cream Cheese Frosting
Whisk together the softened cream cheese and butter until the mixture is light and fluffy.
Slowly whisk in the powdered sugar and vanilla. Add a little bit of milk or cream to thin it out if necessary. (At this point, you can store it in the fridge until you are ready to use it, but make sure you let it come to room temperature before you add it to the ice cream so that it is spreadable).
Spiced Pecans
Preheat the oven to 350. Whisk the egg white and water together.
Add the nuts to the egg mixture, followed by the sugar and spices. Stir until it is all mixed and the nuts are evenly coated.
Pour the nuts onto a greased, lined cookie sheet. Spread them out into a single layer.
Cook the nuts for 15 minutes, stirring halfway through. If the nuts are starting to look a little too brown you can take them out.
Allow the nuts to completely cool and then break them up to add them to the ice cream.
Assembling the Ice Cream
During the last five minutes in the ice cream maker, while the ice cream is the consistency of soft serve, add the spiced pecans, making sure that the pieces are small.
When the ice cream is done, add a layer of the carrot cake custard followed by a layer of cream cheese frosting, making the frosting layers as thick as you desire. Repeat the layers until all of the ice cream is in your desired container.
Move the ice cream to the freezer until hardened (about 4 hours).