When we go out for date nights, we often spend at least a little bit of time dreaming up new ice cream flavors. This dreamy ice cream is the product of one such date night!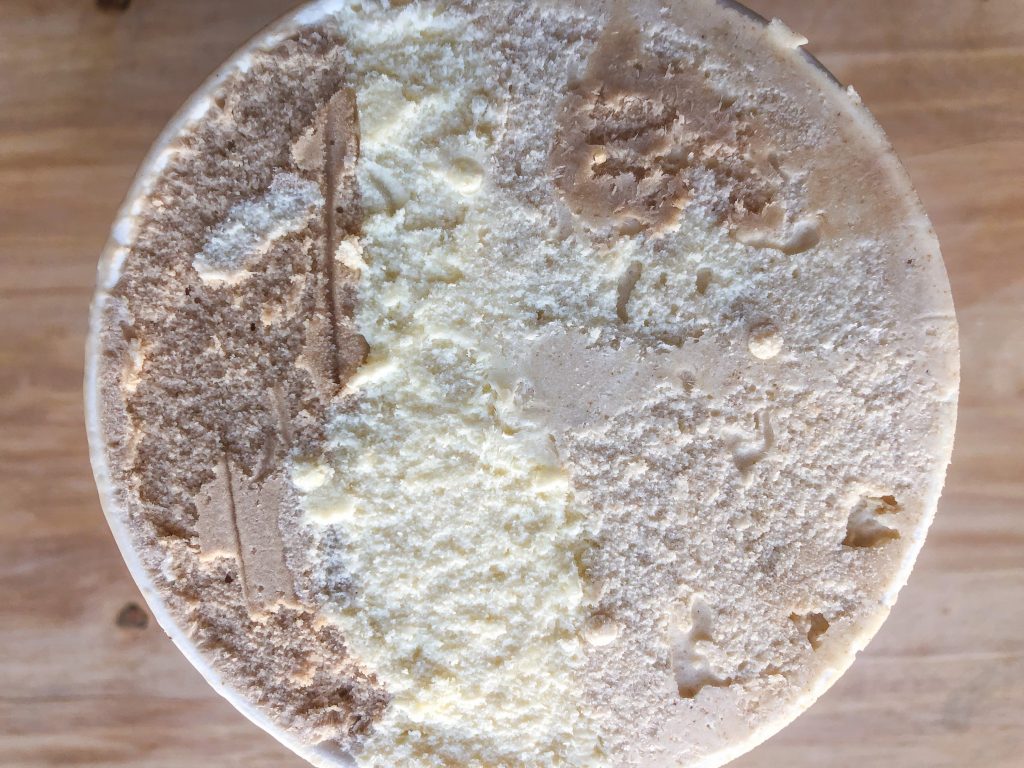 Traditional Neapolitan consists of strawberry, vanilla, and chocolate ice cream. To make a smores version, we made a hershey chocolate base, a roasted marshmallow base, and a graham cracker infused base. Layer them all vertically, and the result is such a fun twist on a classic!
Smores Neapolitan
After one lick, you know you'll want s'more!
Ingredients
Hershey Chocolate Base

4 large egg yolks

2 cups heavy cream

1 cup whole milk

3/4 cup sugar

1/4 cup powdered milk

4 oz Hershey milk chocolate bar

Roasted Marshmallow Base

4 large egg yolks

2 cups heavy cream

1 cup whole milk

1/2 cup sugar

1/4 cup powdered milk

9 jumbo marshmallows

Graham Cracker Infused Base

2 3/4 cup heavy cream

1 3/4 cup whole milk

6 graham crackers

4 large egg yolks

3/4 cup sugar

1/4 cup powdered milk

1/2 tsp cinnamon
Directions
Hershey Chocolate Base
Mix together the egg yolks, powdered milk, sugars, cream, and milk together. Make sure to mix thoroughly! Don't want any sugar or egg clumps left behind!
Pour the mixture into a saucepan and heat over medium low heat until the base reaches a temperature of 162 degrees. Keep the base on a low heat and stir constantly, allowing the base to reduce for about 10 minutes.
Add the chocolate pieces and allow them to sit in the hot cream for a few minutes. After a few minutes, give the mixture a stir. If the chocolate doesn't totally incorporate, use the immersion blender to mix it well.
Add base to a plastic gallon bag, and put in a prepared ice bath until cooled (about 15-20 minutes).
Add the prepared base to the ice cream maker. Make in your ice cream maker based on the maker's instructions. 
When ready, prep multiple ice cream containers and add a layer of the chocolate ice cream to 1/3 of your container. Lay it on the side that has the ice cream in it in the freezer for several hours before you add the next flavor.
Roasted Marshmallow Base
Mix together the egg yolks, powdered milk, sugars, cream, and milk together. Make sure to mix thoroughly! Don't want any sugar or egg clumps left behind!
Pour the mixture into a saucepan and heat over medium low heat until the base reaches a temperature of 162 degrees. Keep the base on a low heat and stir constantly, allowing the base to reduce for about 10 minutes.
Meanwhile, roast the marshmallows in a 400 degree oven for 7-9 minutes, until the marshmallows are really golden. Remove from the oven, and use the immersion blender to completely blend all of the marshmallow pieces in.
Add base to a plastic gallon bag, and put in a prepared ice bath until cooled (about 15-20 minutes).
Make in your ice cream maker based on the maker's instructions. 
When ready, get out your ice cream containers and add a layer of the marshmallow ice cream to the middle 1/3 of your container. Lay it on the side that has the ice cream in it again in the freezer for several hours before you add the last flavor.
Graham Cracker Base
Add the cream and milk to a medium saucepan. Add the graham crackers and cook over medium heat, stirring constantly.
Once the mixture comes to just a simmer, remove it from the heat and cover it with a lid. Allow it to cool to room temperature before you prepare the rest of your ice cream. Once it is cooled, run it through a fine mesh strainer to remove the soggy graham cracker pieces. (You can throw that soggy mess away). Blend the leftover cream just a bit to mix in any pieces that made their way out of the strainer.
Mix together the egg yolks, powdered milk, sugar, and cinnamon. Add the infused cream, little bits at a time, mixing continuously, so that you don't cook your eggs. Make sure to mix thoroughly! Don't want any sugar or egg clumps left behind!
Pour the mixture into a saucepan and heat over medium low heat until the base reaches a temperature of 162 degrees. No need to reduce this time!
Add base to a plastic gallon bag, and put in a prepared ice bath until cooled (about 15-20 minutes).
Make in your ice cream maker based on the maker's instructions.
When ready, get out your ice cream containers and add a layer of the graham cracker ice cream to the last 1/3 of your container.
Move the ice cream to the freezer until hardened (at least 4 hours)