One of my mom's favorite desserts in the whole world is fruit pizza. Can't say I blame her. It is delicious! We've been thinking about how to make a fruit pizza ice cream for a while now, but it is more complicated than it might seem. How do you get the flavors of several different fruits AND sugar cookie AND cream cheese frosting? We knew we didn't want to just add chunks of fruit, because that would be icy and icky. We also knew we didn't want to make a different ice cream flavor of each fruit, because that would be too complicated. But, we knew this was a challenge we wanted to tackle!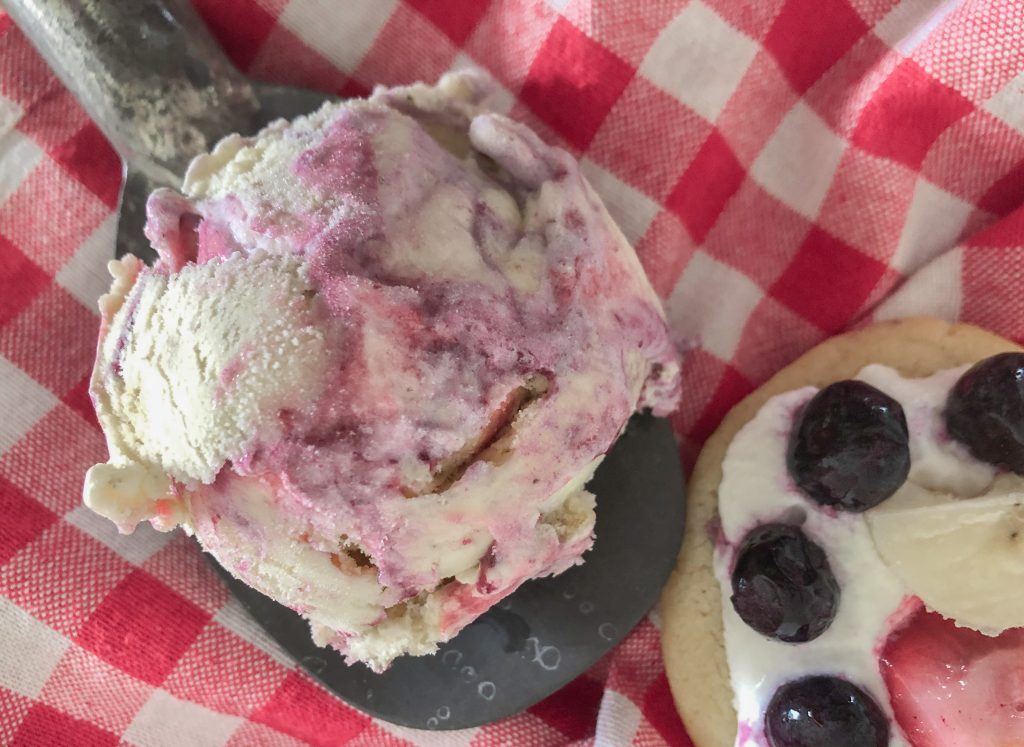 The idea we finally landed on was to make a cream cheese ice cream with different fruit swirls in it. My only issue with that was that one of my favorite fruits on a fruit pizza is banana, and a banana swirl sounded kind of gross. The solution? Make it a banana cream cheese ice cream with fruit swirls. The result? AMAZING! We landed on a strawberry swirl, a blueberry swirl, and a kiwi swirl for ours, but if you're making your own the sky is really the limit! Just add whatever fruits you love! And, of course, don't forget the amazing chunks of sugar cookie! This is a really fun take on a classic dessert! (This one was a little more time consuming with all of the mix ins, but really not bad and definitely worth it.)
Fruit Pizza
Ingredients
4 large egg yolks

1/4 cup powdered milk

3/4 cup sugar

2 cups heavy cream

1 cup whole milk

4 oz cream cheese

3 bananas

Sprinkle of brown sugar, for roasting bananas

Your favorite sugar cookies (I used this recipe), cut up into small pieces

Strawberry Sauce

2 cups strawberries

1 cup sugar

Blueberry Sauce

2 cups blueberries

1 cup sugar

Kiwi Sauce

6 kiwi

1 cup sugar
Directions
To roast the bananas, preheat the oven to 350 degrees. Slice the bananas into 1/2 inch slices. Place in a single layer on a baking sheet lined with parchment paper and sprinkle with a bit of brown sugar. Bake for 15 minutes and allow to cool while you prep the rest of the ice cream.
Mix together the egg yolks, powdered milk, sugar, cream, milk, and cream cheese together. Make sure to mix thoroughly! Don't want any sugar or egg clumps left behind!
Pour the mixture into a saucepan and heat over medium low heat until the base reaches a temperature of 162 degrees. Keep the base on a low heat and stir constantly, allowing the base to reduce for about 10 minutes.
Remove from heat. Use the immersion blender to blend in the roasted banana pieces until you get a nice, smooth consistency.
Add base to a plastic gallon bag, and put in a prepared ice bath until cooled (about 15-20 minutes).
Make in your ice cream maker based on the maker's instructions. 
During the last 5-10 minutes in the machine, when the ice cream is about the texture of soft serve, add in your prepared sugar cookie pieces. (See below for assembly of the ice cream). Don't add it all in! Add handfuls at a time until you get your desired chunkiness.
Fruit Sauces (it is the same for all)
Combine the fruit and sugar into a medium saucepan. Heat over medium heat, stirring and smashing the berries.
The mixture will get thick and bubbly. Cook until the sauce reaches about 200 degrees.
Remove from the heat and pour the mixture through a strainer to remove any seeds or pulp. Allow to cool.
Assembling the Ice Cream
Add a thin layer of ice cream, followed by several generous spoonfuls of one of your fruit sauces.
Add another thin layer of ice cream followed by another layer of generous spoonfuls of a different fruit sauce.
Keep adding layers of ice cream, alternating the layers of fruit syrups. (Be generous with the fruit…they are the star after all)!
Move into the freezer until hardened (at least 4 hours).