As summer approaches and the temperatures rise, I almost always find myself craving something tart and fruity. Something about summer just calls for ice cold glasses of lemonade, right? Well, if that's the case, then it absolutely screams for bowls of this lemon ice cream!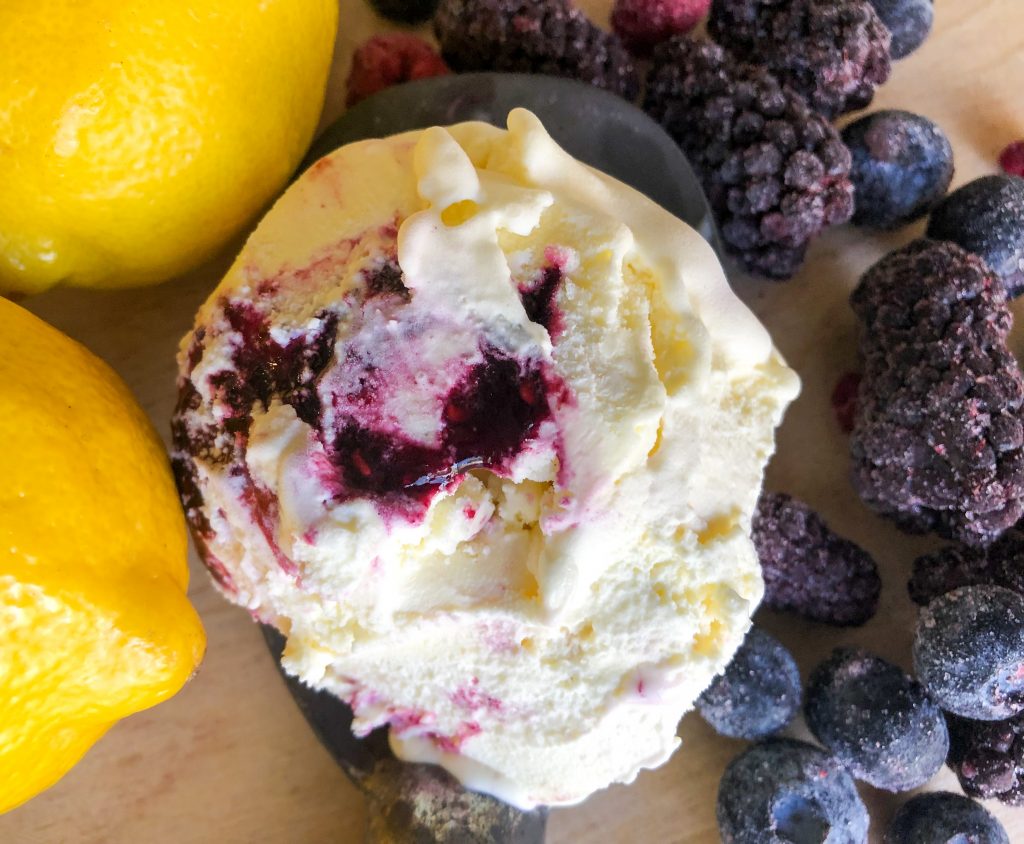 It's a lemon base ice cream (exactly the base we have made before), but this time we added a triple berry swirl, made up of blueberries, raspberries, and blackberries. It is so tart, so refreshing, and just so summery! Give it a try ASAP!
Lemon Berry
Pucker up if you dare!
Ingredients
Lemon Base

Juice from 2-3 lemons

2 Tbs sugar

4 egg yolks

2/3 cup sugar

2 cups heavy cream

1 cup whole milk

1/4 cup powdered milk

Triple Berry Swirl

2 cups mixed berries (we used blueberries, raspberries, and blackberries) (frozen or fresh)

1 cup sugar
Directions
Combine the lemon juice and 2 Tbs sugar. Simmer until thickened slightly. Set aside and allow to cool until ready to use.
Whisk the egg yolks until they are light and fluffy, about 2 minutes. Slowly whisk in the sugar until the color turns lighter and the consistency is smooth, about 2 minutes more. Add the powdered milk and whisk again until well blended.
Add the egg/sugar mixture to a sauce pan along with the milk and cream. Heat on medium low heat until it reaches 162, stirring frequently and scraping the bottom with a spatula to avoid cooking the eggs. 
Turn the heat on low once it reached temperature and stir constantly, letting the mixture reduce, for about 10 minutes.
Add base to a plastic gallon bag, and put in a prepared ice bath until cooled (about 15-20 minutes).
Add the prepared base and the prepared lemon syrup to the ice cream maker. Make in your ice cream maker based on the maker's instructions. 
When the ice cream is ready to come out, add a layer of ice cream into your desired container, followed by a layer of the berry swirl. Repeat the layers until all of your ice cream is in the container.
Triple Berry Swirl
Add the berries and sugar to a medium saucepan. Cook over medium heat, stirring and mashing the berries as you go.
Cook for about 10 minutes (until the sauce reaches around 210 degrees). Allow to cool completely before adding it to your ice cream. It will thicken a bit as it cools.