Around this time of year, I am definitely ready for all things fall or winter. Cooler weather, pumpkin everything, holidays, and warm food starts calling my name. Unfortunately, we live in Arizona. And it is still about 110 degrees. We are a LONG way off from any of that! So, we had to bring a little of fall/winter to our ice cream. Enter hot chocolate ice cream!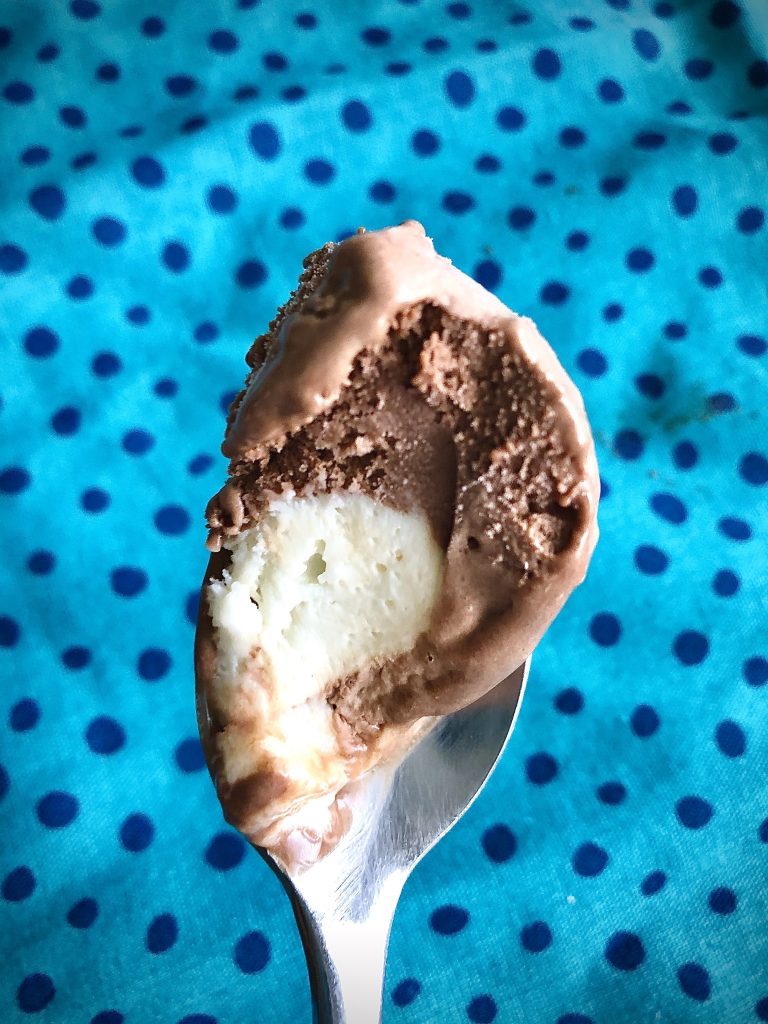 Basically, you take a classic chocolate ice cream, dump a bunch of hot chocolate packets in it, and swirl in some mostly melted marshmallow ganache. So simple, but so delicious! It definitely satisfied my craving for cooler weather. At least until I have to go outside again.
Hot Chocolate
Even better cold!
Ingredients
4 oz bittersweet chocolate

1 cup whole milk

3 packets hot chocolate powder (We used dark)

2 large eggs

3/4 cup sugar

1 cup heavy cream

1 tsp vanilla

Dash of salt

Marshmallow Sauce

1 cup mini marshmallows

2-3 Tbs heavy cream
Directions
Melt the 4 oz chocolate in a double broiler. Once completely melted, slowly add the 1 cup whole milk in small amounts, whisking each time you add cream until color is uniform. Add the hot chocolate packets and stir until it is all dissolved. Set it aside while you make your custard.
For the custard base, heat the 1 cup heavy whipping cream on low in a medium saucepan until it reaches 140° F, stirring occasionally. While the custard heats, using an electric mixer to whisk the 2 large eggs in a medium mixing bowl until light and fluffy, about 2 minutes.
While the cream is still heating, slowly add the 1 cup sugar into the eggs, whisking thoroughly to make sure the mixture doesn't become grainy.
After the cream reaches the target temperature, gradually pour it into the egg and sugar mixture, again whisking each time the cream is added to avoid cooking the eggs.
Pour the entire mixture back into the medium saucepan and heat it to 170° F.
Now pour the mixture back into the mixing bowl and add the 1 teaspoon vanilla extract and the dash of salt. Whisk the chocolate mix into it as well until uniformly mixed.
Cover and chill for 1 hour or up to 3 hours.
When ready, make in your ice cream maker based on the maker's instructions.
About 15 minutes before the ice cream is ready to come out, make the marshmallow sauce (see directions below). When the ice cream is done, put a layer of the ice cream in your container of choice. Add a swirl of the marshmallow sauce on top of it, making the marshmallow layers as thick or thin as you want. Repeat the layers until your container is full.
Move the ice cream from the ice cream maker into a quart-sized container of your choice and freeze until hardened (at least 4 hours).
Marshmallow Sauce
Add the marshmallows and cream in a microwave safe bowl. Heat it up in the microwave for 30 seconds.
Stir the marshmallow sauce to combine. We stirred it until it was mostly smooth with a few soft lumps. This is key to getting a really good texture!
Let cool for about 15 minutes. It will probably need a little stir before you add it to the ice cream. If it is really clumpy, right before you add it you can heat it in the microwave for about 10 seconds, just to make it a little smoother.