Introducing our next back to school flavor! It is like a Mexican hot chocolate, with a little bit of a twist. The spicy kick this one provides may be for more of the rebels in class, but boy oh boy is it delicious!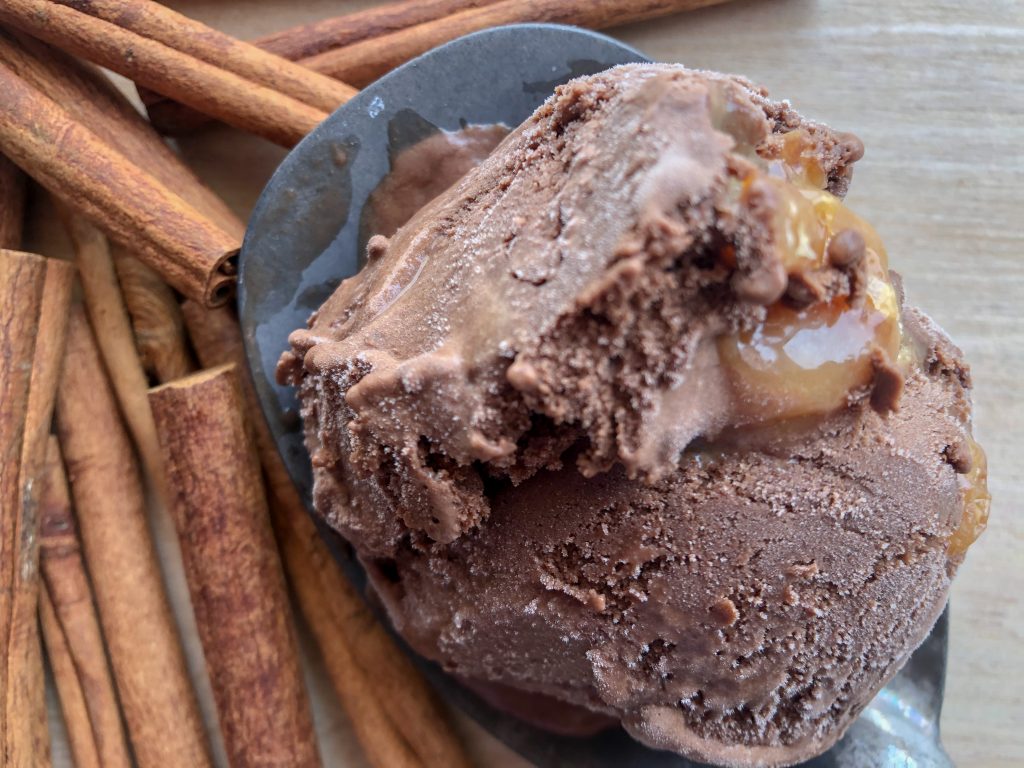 It's a chocolate, cinnamon base with an added kick from some chipotle chili powder. We swirled this one with some homemade cajeta, which was an amazing addition! We strayed from our regular base flavor to make this one, simply because we wanted to try something a little different. Don't worry, though. We are still dedicated to our original base recipe, we just were feeling a little rebellious ourselves.
Hot For Teacher
Try this one if you can handle a little heat!
Ingredients
2 cups heavy cream

6 Tbs cocoa powder

3/4 cup sugar

3 ounces bittersweet chocolate

1 1/2 cups whole milk

1 tsp vanilla extract

1/2 Tbs cinnamon

1 tsp chipotle chili powder

1 tsp corn syrup

Cajeta

4 cups goats milk

1 cup sugar

2 Tbs light corn syrup

1/4 tsp baking soda

1 cinnamon stick

1/2 vanilla bean

Sea salt for sprinkling
Directions
Whisk the cream, cocoa powder, sugar in a saucepan. Stir and allow the mixture to come to a boil.
Remove from the heat and add the rest of the ingredients except for the vanilla. Allow to sit for a few minutes to allow the chocolate to melt. Then, stir until it is well mixed and the color is uniform. Use an immersion blender to make sure the mixture is really smooth.
Add base to a plastic gallon bag, and put in a prepared ice bath until cooled (about 15-20 minutes).
Add the prepared base and vanilla extract to the ice cream maker. Make in your ice cream maker based on the maker's instructions. 
When the ice cream is done, add a thin layer to the bottom of an ice cream container followed by a layer of cajeta. Repeat the layers until your container is full.
Move into the freezer until hardened (at least 4 hours).
Cajeta
In a large saucepan (size is important here), add the milk, sugar, corn syrup, baking soda, cinnamon stick, vanilla bean, and salt. Heat over medium heat until the mixture begins to boil. It will foam up a lot! Stir continuously so the bottom doesn't burn.
Turn the heat to medium low and continue stirring so the mixture can reduce but not burn. Cook this way for about 20 minutes.
Once the mixture is a light brown color and fragrant, turn the heat to low and again, continue stirring and cook for 15 more minutes. Remove it from the heat and allow it to cool.