This one is inspired by a classic. Who doesn't love a good no bake cookie? This one is really simple, but really delicious!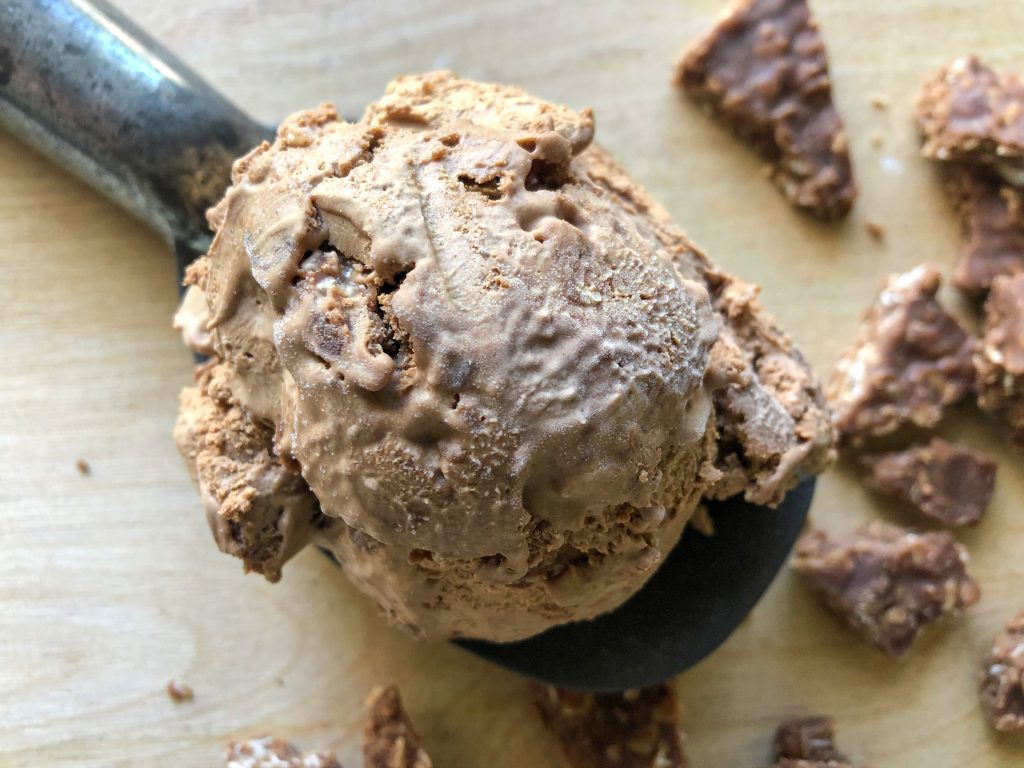 It's a chocolate peanut butter base with pieces of no bake cookies in it. Nothing extreme, but everything delicious!
No Bake Cookie
Ingredients
Chocolate Peanut Butter Base

4 large egg yolks

1/4 cup powdered milk

2 cups heavy cream

1 cup whole milk

3/4 cup sugar

1 heaping Tbs peanut butter

4 oz bittersweet chocolate chips

1 tsp vanilla extract

Dash of salt

No Bake Cookies

2 cups sugar

1/2 cup milk

1 stick butter

1/4 cup cocoa powder

2 3/4 cups old fashioned oats

1 cup peanut butter (smooth or crunchy)

1 tsp vanilla

Pinch of salt
Directions
Chocolate Peanut Butter Base
Mix together the egg yolks, powdered milk, sugars, cream, and milk together. Make sure to mix thoroughly! Don't want any sugar or egg clumps left behind!
Pour the mixture into a saucepan and heat over medium low heat until the base reaches a temperature of 162 degrees. Keep the base on a low heat and stir constantly, allowing the base to reduce for about 10 minutes.
Add the chocolate pieces and peanut butter and allow them to sit in the hot cream for a few minutes. After a few minutes, give the mixture a stir. If the chocolate doesn't totally incorporate, use the immersion blender to mix it well.
Add base to a plastic gallon bag, and put in a prepared ice bath until cooled (about 15-20 minutes).
Add the prepared base to the ice cream maker. Make in your ice cream maker based on the maker's instructions. 
During the last 5-10 minutes in the machine, when the ice cream is about the texture of soft serve, add in the no bake cookie pieces. Don't add it all in! Add handfuls at a time until you get your desired chunkiness.
Move to the freezer until hardened (about 4 hours).
No Bake Cookies
Lay out a sheet of parchment paper.
Add the sugar, milk, butter, and cocoa to a pot or a bowl. Either melt and bring to a boil for 1 minute on the stove, or melt in the microwave, stirring every 30 seconds. Make sure that the butter is all melted and that the sugar is all dissolved.
Remove from the heat and add all of the remaining ingredients. Give it a good stir until everything is well mixed.
Drop a couple of spoonfuls per cookie onto the parchment paper. Allow them to sit until they firm up (they will firm up faster in the fridge or freezer). Chop up a few cookies to add to your ice cream.