In our house, one of the most popular desserts ever is a peanut butte bar. Truthfully, though, we don't make them all that often. It is one of those recipes that whenever you make it you think, "Man, these are great! We need to make them more often," but then you just don't. I really have now idea why. Because they really are amazing! And what could be more amazing than peanut butter bars? Of course! Peanut Butter Bar ice cream!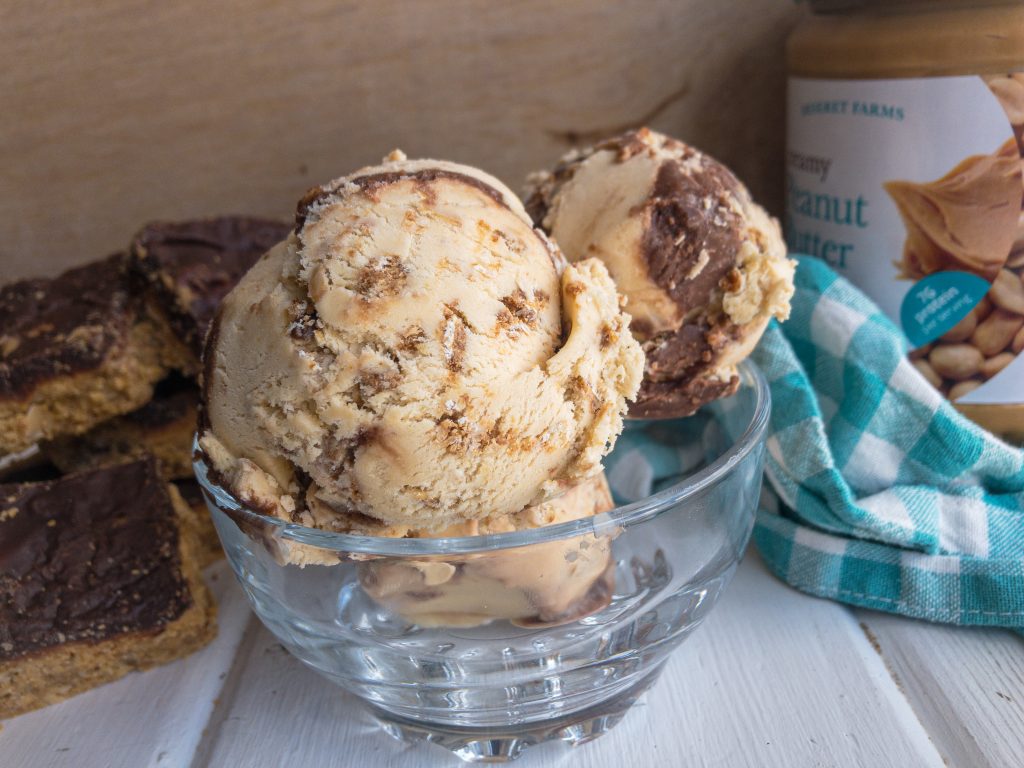 We decided that rather than just adding pieces of peanut butter bar into the ice cream, we would deconstruct it a little. We ended up making a brown sugar peanut butter ice cream base, with a chocolate frosting swirl and oat streusel chunks. And, while we love peanut butter bars, we love this ice cream even more. The flavor was spot on!
With this recipe, we did a little experimenting. We decided to try it with a different kind of milk/cream. We wanted to see what it would taste like if we made it with oat milk, since the bars we make are pretty oat-y. We also made it with our usual milk/cream combination and decided to compare the differences. The top picture is the oat milk result, followed by the standard milk/cream base.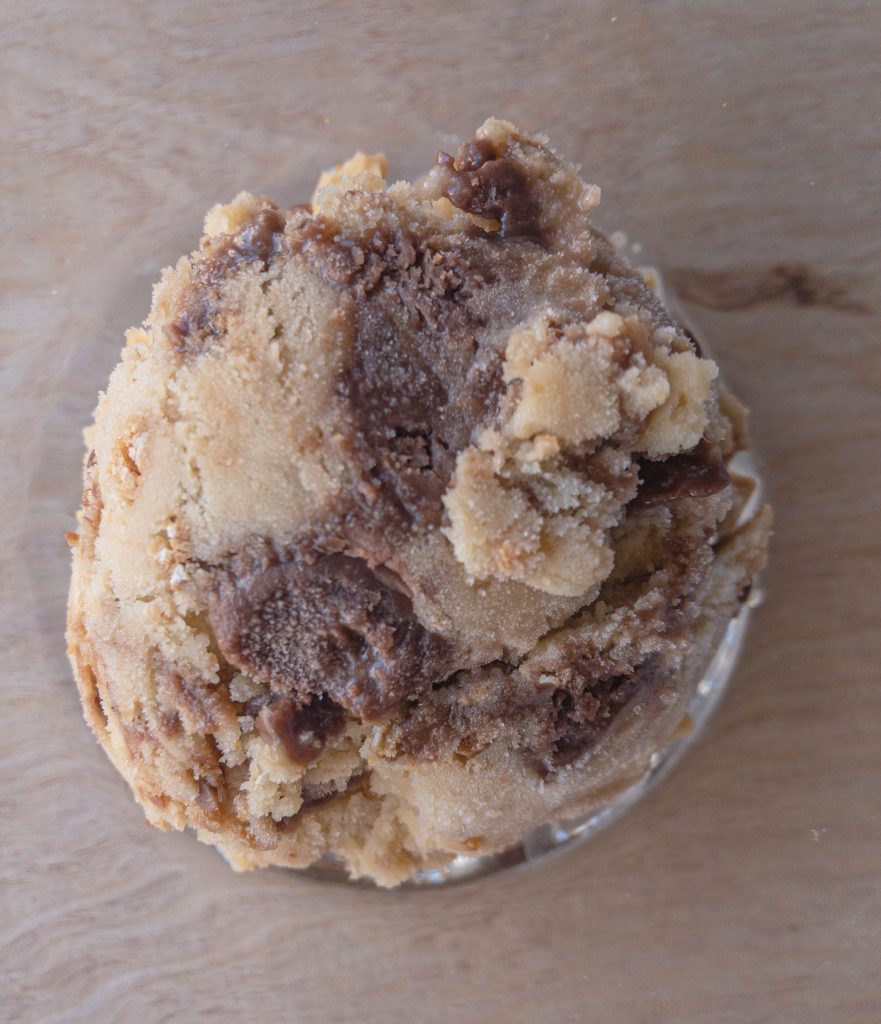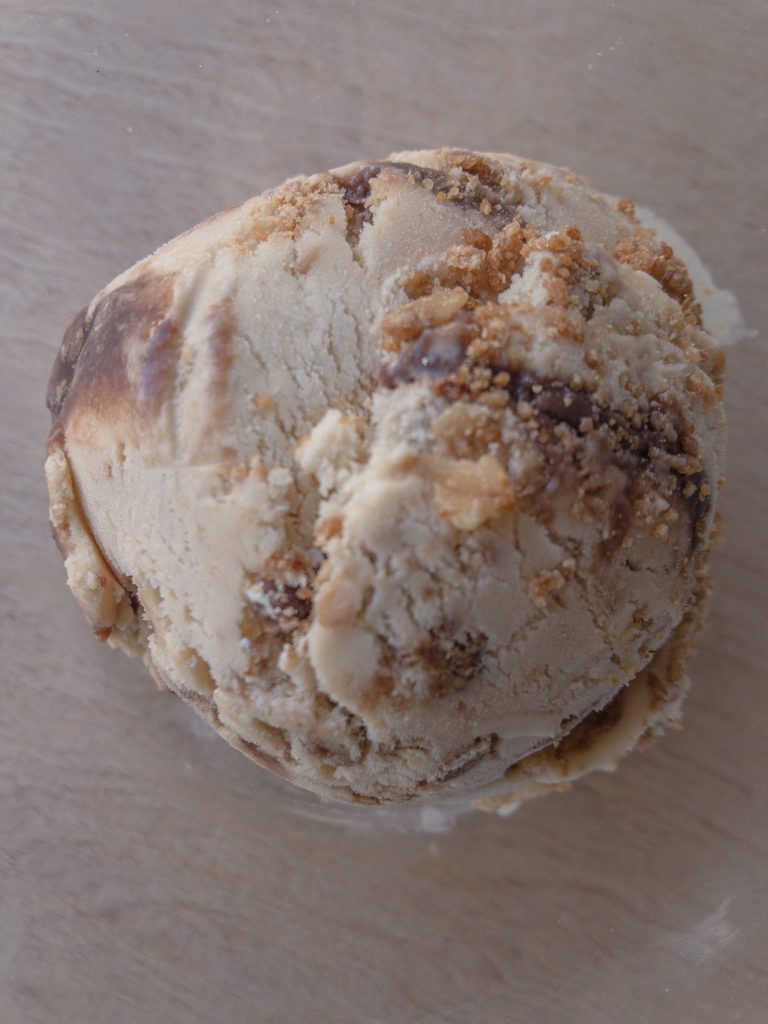 It may be difficult to tell in the pictures, but the difference was pretty interesting. The flavor of the oat milk ice cream was really good, but it was pretty icy. It was difficult to scoop into a nice scoop and just kind of fell apart into crumbly chunks. It felt kind of like eating an icy peanut butter sorbet. Which was definitely a strange sensation.
The other ice cream, of course, was the texture we expected. It felt like a creamy, milky melt in your mouth. Hardly any icy crystals in sight. It just has an almost silky flavor that the oat milk variety was just lacking. We definitely would need to do more research before making another oat milk based ice cream again. I'm not against it though. While the texture was definitely lacking, the flavor was better than I expected it to be. But, it would take a whole lot to be as good as the real thing when it comes to ice cream. There is nothing better!
Peanut Butter Bar
You'll go nutty for this one!
Ingredients
Peanut Butter Base

1 cup whole milk

1 cup heavy cream

3/4 cup brown sugar

2 large eggs

1/4 cup peanut butter

Oat Streusel (Adapted from Jeni's Splendid Ice Cream at Home)

1 stick cold butter, cut into small squares

3/4 cups flour

6 Tbs brown sugar

1/4 tsp salt

3/4 cups old fashioned oats

Chocolate Frosting

1 stick butter

1/4 cup cocoa powder

6 Tbs milk

1 tsp vanilla extract

4 cups powdered sugar
Directions
Peanut Butter Base
Prep the oat streusel and frosting before making your ice cream, so they have time to cool.
To make the custard, whisk the eggs until they are light and fluffy, about 2 minutes. Slowly whisk in the brown sugar until the color turns lighter and the consistency is smooth, about 2 minutes more.
Add the egg/sugar mixture to a sauce pan along with the milk and cream. Heat on medium low heat until it reaches 170, stirring frequently and scraping the bottom with a spatula to avoid cooking the eggs. Add in the peanut butter towards the end and whisk/blend with an immersion blender until there are no more chunks .
Add the custard base to a plastic gallon bag, and put in a prepared ice bath until cooled (about 15-20 minutes).
When ready, make in your ice cream maker based on the maker's instructions. During the last 5-10 minutes in the machine, when the ice cream is about the consistency of soft serve, add the streusel chunks. Don't add it all in! Add handfuls at a time until you get your desired chunkiness.
When the ice cream is done, add a layer of the ice cream, followed by a layer of frosting. Repeat the layers until you have filled your container of choice.
Move the ice cream to the freezer until hardened (about 4 hours).
Oat Streusel
Preheat the oven to 350. Combine everything but the butter and oats together in a bowl and stir.
Using your hands or a pastry cutter, cut the butter chunks into the flour mixture, working fast so as not to melt the butter. Work the butter in until you have nothing bigger than about pea sized pieces.
Add the oats and stir to combine.
Sprinkle the streusel onto a lined or greased cookie sheet and bake for 30 minutes. About halfway through baking, take it out and flip the pieces over, paying close attention to the edges so as not to let them burn.
Allow the streusel to cool completely, and break into fine pieces before adding them to your ice cream.
Chocolate Frosting
Add the butter, cocoa powder, vanilla, milk to a sauce pan.
Cook over medium heat, stirring constantly so that the cocoa and milk don't burn.
Heat and stir until the mixture comes to a gentle boil.
Once it is boiling, remove the mixture from the heat and gradually add 4 cups of powdered sugar, stirring until no clumps remain. (If your powdered sugar is lumpy, sift it in.)
Allow to cool before adding it to the ice cream, so that it isn't warm, but is still easily spreadable.