Wow. That's all that really needs to be said about this fantastic flavor. It had a deep caramelized feel, but also a hit of freshness from the fresh pineapple syrup, and a touch of tart from the cherry swirl. Admittedly we basically never make this classic dessert, but we will most definitely be making this ice cream again!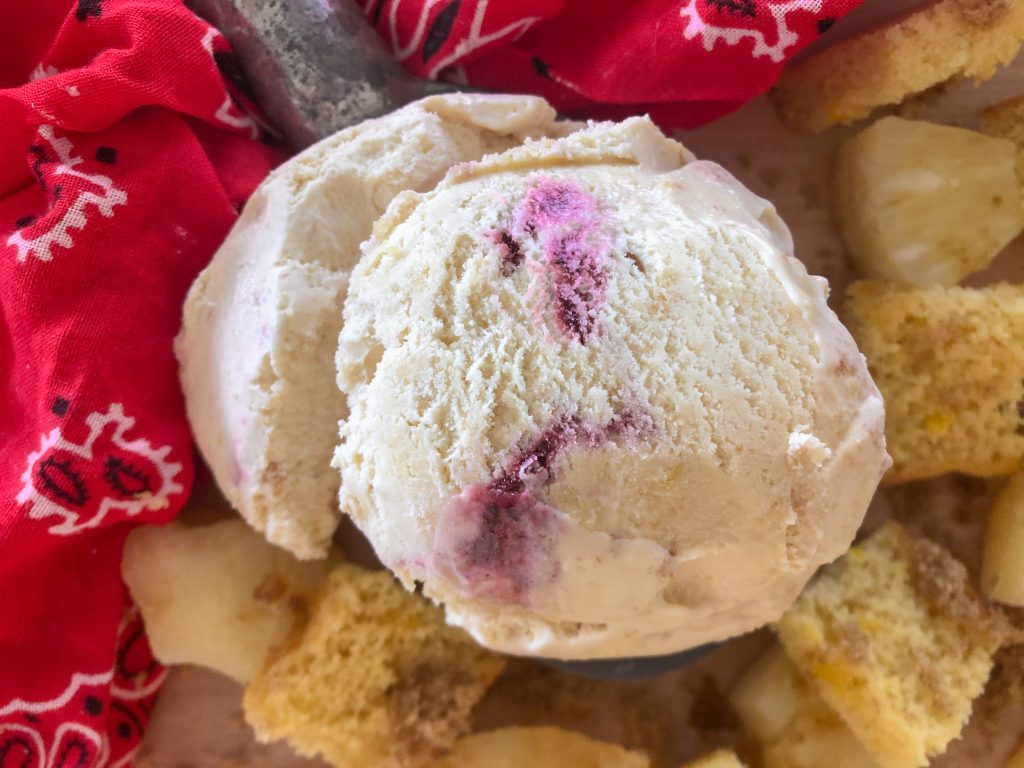 It's a dark brown sugar caramel and pineapple base with chunks of butterscotch soaked cake pieces and cherry sauce swirled throughout. I'm not going to lie. This was not the quickest flavor in the world to make but boy oh boy is it worth it!
Pineapple Upside Down Cake
You may just flip upside down for this one!
Ingredients
Pineapple Syrup

1/4 cup fresh pineapple juice

2 Tbs sugar

The Rest of the Base

2 Tbs brown sugar

3/4 cup minus 2 Tbs sugar

4 egg yolks

1/4 cup powdered milk

2 cups heavy cream

1 cup whole milk

Cake Pieces (from Jeni's Splendid Ice Creams at Home)

3 Tbs butter, melted

1/2 Tbs vanilla extract

2 eggs

2 egg yolks

1/4 cup sugar

1/4 cup packed brown sugar

1/4 tsp salt

3/4 cup cake flour (or regular flour)

Butterscotch Sauce (also from Jeni's Splendid Ice Creams at Home)

1/2 cup sugar

1/3 cup honey

3/4 cup heavy cream

2 Tbs butter

Dash of salt

Cherry Sauce

2 cups cherries (I used frozen)

1 cup sugar
Directions
For the Cake Pieces
Preheat the oven to 350 degrees and grease a square 8×8 pan. Combine the melted butter and vanilla together and set aside to allow the butter to cool slightly.
Add the eggs, yolks, and sugars to the bowl of a stand mixer. Turn the mixer on and allow it to mix for 8-10 minutes, until the substance turns a lighter yellowish color and is smooth in consistency (scraping the sides a few times to make sure you get all of the ingredients mixed well).
Gently fold in the flour, followed by the butter/vanilla mixture. (You want to keep as much air in it as possible, so be gentle). Pour the batter into the prepared pan and bake for about 20 minutes until cooked through completely.
Allow to cool completely. Cut it up into cubes. Freeze half of the chunks for a later ice cream, and pour some of the butterscotch sauce over the rest of the pieces. Set aside until you are ready to add them to your ice cream.
For the Butterscotch Sauce
Add the sugar and honey to a medium saucepan over medium heat and stir just until the sugar melts and it begins to boil. Stop stirring and allow it to bubble up for a bit, until the mixture turns a deep brown color (about 5 minutes).
Once it reaches your desired color, remove from the heat. Add the heavy cream gradually until the sauce is uniform in color. Cut the butter into pieces and stir in to the hot sauce until melted. Finish off with a pinch of salt if desired.
Pour some of the sauce over the cake pieces (see recipe below) and allow to cool. (This will also make more than you need, so you can just save the leftovers).
For the Cherry Sauce
Combine the cherries and sugar into a medium saucepan. Heat over medium heat, stirring and smashing the fruit. The mixture will get thick and bubbly. Cook until the sauce reaches about 200 degrees.
Remove from the heat and pour the mixture through a strainer to remove any seeds or pulp. Allow to cool.
For the Pineapple Syrup
Add the juice and 2 Tbs of sugar to a microwave safe bowl or liquid measuring cup and mix. Heat in the microwave in 1 minute increments until just boiling. Set aside and allow to cool while you prep the rest of the base.
For the Rest of the Base
Heat the dark brown sugar in a small saucepan over medium heat stirring continuously until the sugar melts. Continue to cook a few minutes, until small glasslike bubbles form on the top. Gradually add little bits of cream at a time, stirring after each addition, until all the cream is incorporated and the caramel is dissolved in it.
Mix together the egg yolks, powdered milk, sugar, milk, and caramel/cream mixture. Make sure to mix thoroughly! Don't want any sugar or egg clumps left behind!
Pour the mixture into a saucepan and heat over medium low heat until the base reaches a temperature of 162 degrees. Keep the base on a low heat and stir constantly, allowing the base to reduce for about 10 minutes.
Add base to a plastic gallon bag, and put in a prepared ice bath until cooled (about 15-20 minutes).
Add the prepared base and the prepared pineapple syrup to the ice cream maker. Make in your ice cream maker based on the maker's instructions. 
During the last 5-10 minutes in the machine, when the ice cream is about the texture of soft serve, add in your soaked cake pieces. Don't add it all in! Add handfuls at a time until you get your desired chunkiness.
When it is ready to come out of the ice cream maker, add a layer of ice cream followed by a thin layer of cherry sauce (see note). Repeat the layers until all of your ice cream is in your desired container.
Move into the freezer until hardened (at least 4 hours).
Notes
We wanted to go pretty light on the amount of cherry sauce we used, simply because the amount of cherries on a pineapple upside down cake is pretty small. If your crazy about that cherry flavor though, you can add as much sauce as you want!