We love trying new things with the base ice cream we make to see what works and what doesn't. Some things, like subbing honey or brown sugar have been amazing, while other things, like adding caramel without reducing the sugar, have been less than amazing. We learn as we go, but I love that we aren't afraid to experiment! Lately, we've really enjoyed infusing the cream with different things, like the buttery popcorn. This time, we decided to try to replicate the flavor of child favorite treat!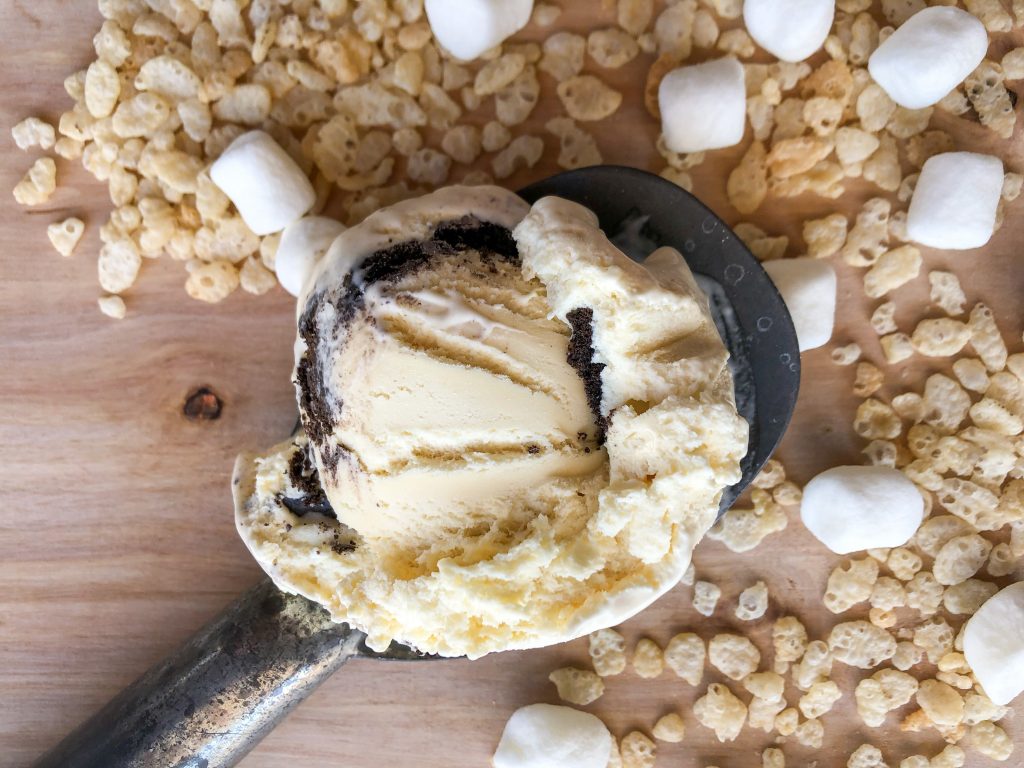 We infused the cream with Rice Krispies cereal, reduced the sugar, and blended toasted marshmallows into the base itself, making it a Rice Krispies Treat flavored base. And, I know I say this a lot, but seriously, it tasted just like the real thing! Then, just for good measure, we added some layers of Oreo pieces to reflect one of my favorite ways to eat a Rice Krispies Treat. So good and so spot on!
Rice Krispies Treat with Oreos
Ingredients
2 cups heavy cream

1 cup whole milk

2 cups Rice Krispies cereal

4 large egg yolks

1/4 cup powdered milk

1/2 cup sugar

8 jumbo marshmallows

*12 Oreos, broken into pieces (see note)
Directions
To infuse the cream, add the cream and milk to a medium saucepan. Add the Rice Krispies cereal and cook over medium heat, stirring constantly.
Once the mixture comes to just a simmer, remove it from the heat and cover it with a lid. Allow it to cool to room temperature before you prepare the rest of your ice cream. Once it is cooled, run it through a fine mesh strainer to remove the soggy cereal pieces.
Mix together the egg yolks, powdered milk, sugar, infused cream/milk, and salt. Make sure to mix thoroughly! Don't want any sugar or egg clumps left behind!
Pour the mixture into a saucepan and heat over medium low heat until the base reaches a temperature of 162 degrees. Keep the base on a low heat and stir constantly, allowing the base to reduce for about 10 minutes. (At this point, preheat your oven to 400 degrees).
Add base to a plastic gallon bag, and put in a prepared ice bath until cooled (about 15-20 minutes).
While the ice cream cools, toast your marshmallows in a 400 degree oven for about 7-8 minutes, or until soft and toasty.
Once the base is cooled and immediately after the marshmallows come out of the oven, add the toasted marshmallows and the base to a bowl and blend with an immersion blender until there are no marshmallow pieces (or blend in a blender).
Make in your ice cream maker based on the maker's instructions. 
As you take the ice cream out, add a layer of the base followed by a layer of Oreo pieces. Repeat the layers until all of your ice cream is in the container.
Move into the freezer until hardened (at least 4 hours).
Notes
*We like our Oreos to be really soft in our ice cream, so we dip them in half and half and freeze them while our base is cooling. Right before we need to add them to the ice cream we take them out and cut them into fourths.