Finally, a new ice cream! We've been dying to make this one for a long time! It all started at Thanksgiving…
I'm in charge of at least some of the pies every year for Thanksgiving. I really like that job, because then I know I'll get to have what I want (which of course is something chocolate). When I was looking up pies this year, I decided that along with the traditional pies (and of course something chocolate), I wanted to try something different. There were lots of fun ideas of really interesting pies, but the one that caught my eye was this salted honey pie. Honestly, I'm not really sure why. It's not a crazy beautiful pie and I'm not the biggest fan of honey. But I just had a feeling that it was going to be good.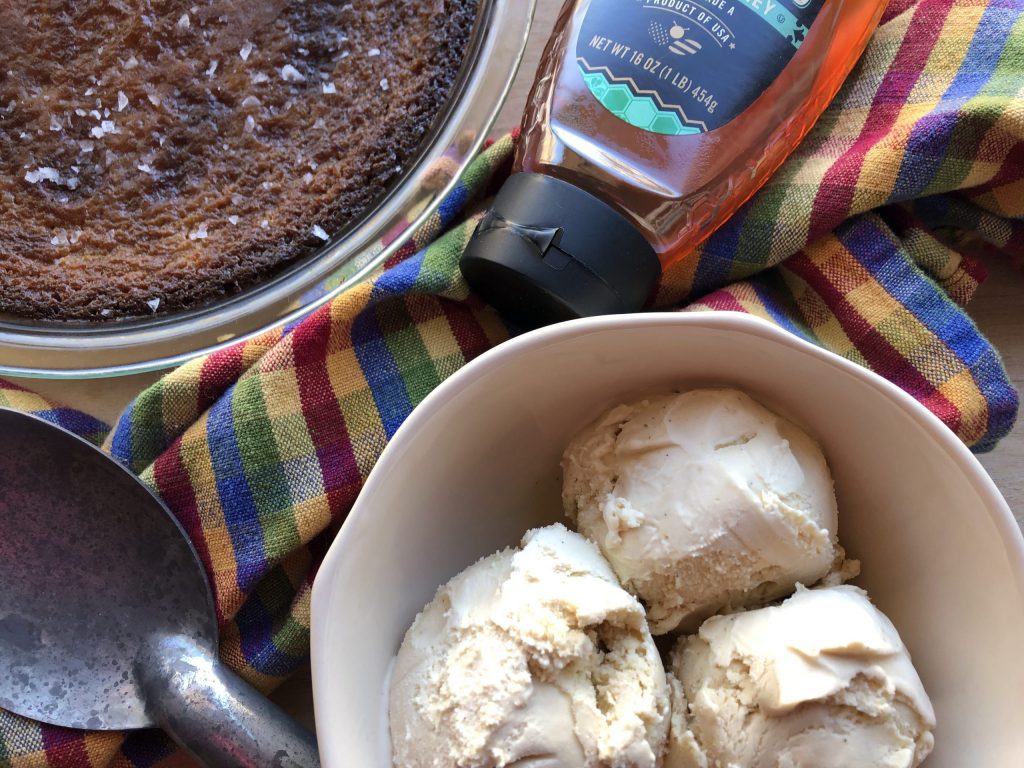 While I figured it would be good, it exceeded my expectations! It was amazing! It tastes almost like toffee, and the flaky salt just added an amazing lasting flavor. And the crust that forms on the top of the pie is something every pie should aspire to.
After devouring a slice and contemplating a second, we naturally concluded that this would make an amazing ice cream. Again, I figured it would be good, but it exceeded my expectations! It's an amazing warm flavor in a cold dessert! Give it a try!
Salted Honey Pie
Ingredients
Salted Honey Pie (use the filling recipe from here)

1 stick unsalted butter

3/4 cup sugar

1 Tbs cornmeal

1/2 tsp kosher salt

1 tsp vanilla paste (I bought mine on amazon)

3/4 cup honey

3 large eggs

1/2 cup heavy cream

2 tsp white vinegar

Flake sea salt (to sprinkle on top at the end)

Salted Honey Pie Ice Cream Base

1 cup heavy cream

1 cup whole milk

3/4 cup sugar

2 large eggs

1 vanilla bean (cut in half lengthwise, and scrape out the inside-use the inside bits and discard the skin)

1/3 cup salted honey pie filling (from recipe above)
Directions
Honey Pie Filling
Preheat the oven to 375 degrees. Lightly spray a pie tin.
Melt the butter. Mix the melted butter with the sugar, cornmeal, vanilla paste and salt. Stir in the honey and the eggs, followed by the cream and vinegar.
Pour it into the prepared pie tin and bake for 45 to 50 minutes. It will be done when a crust has formed on top and the middle is set (it will be like the consistency of jello when you jiggle it)*.
Allow the pie to cool, and then top with a teaspoon or two of the flaky sea salt. **
Ice Cream Base
Heat the 1 cup heavy whipping cream and 1 cup milk on low in a medium saucepan until it reaches 140° F, stirring occasionally. While the custard heats, using an electric mixer to whisk the 2 large eggs in a medium mixing bowl until light and fluffy, about 2 minutes.
While the cream is still heating, slowly add the 3/4 cup sugar into the eggs, whisking thoroughly to make sure the mixture doesn't become grainy.
After the cream reaches the target temperature, gradually pour it into the egg and sugar mixture, again whisking each time the cream is added to avoid cooking the eggs.
Pour the entire mixture back into the medium saucepan, add the vanilla bean and pie filling, and heat it to 170° F. (We used an immersion blender to break up the pie pieces and give the ice cream a smooth consistency)
Now pour the mixture back into the mixing bowl. Cover and chill for 1 hour or up to 3 hours.
When ready, make in your ice cream maker based on the maker's instructions.
Move the ice cream to the freezer until hardened (about 4 hours).
Notes
*The edges might get really dark and chewy because you aren't cooking the pie in a pie crust. That is totally fine! You can just scoop out the soft parts and discard the chewy bits.
**You can half the pie filling recipe if you want to and still have plenty for the ice cream. You will just need to adjust the cooking time. If you make the entire filling, you will definitely have some left over, though that's not necessarily a bad thing…