We know this is a weird name, but hear us out. Since it is the month of Valentine's Day, we decided that it would be fun to take quotes from some of our favorite romantic comedies throughout the decades and turn them into ice cream flavors! We love watching old movies together, so we decided to start with the 1930s. Can you name the movie? Here is a link to the scene: https://www.youtube.com/watch?v=qFWptPtHG78. (Admittedly not the most romantic scene, but it makes for some delicious ice cream.)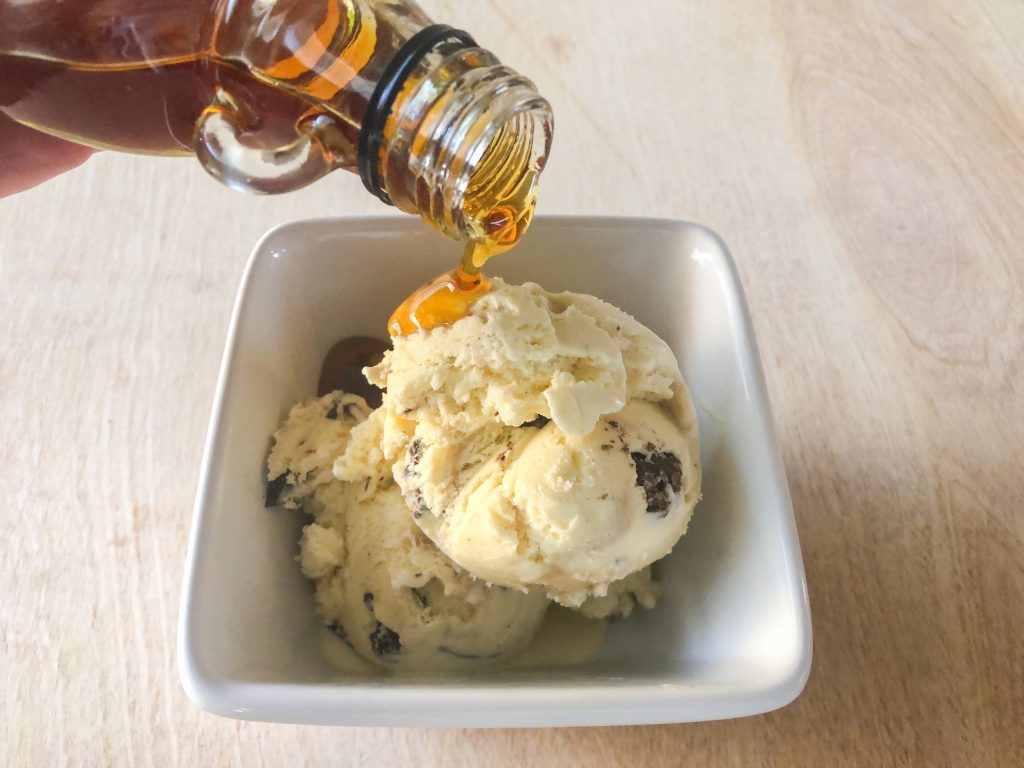 We knew we had to go with a vanilla bean flavor, but it took us a minute to really commit to the chocolate covered bacon. We just weren't sure about the flavor. To make it a little more exciting, we added a maple cream cheese swirl. Even though we weren't sure how it would end up, turns out it tastes great! And, perfect timing for national eat ice cream for breakfast day! More in our romantic comedy series to come!
"Your father didn't know beans about piggy back riding."
Don't hold it against us. We're a little screwy ourselves.
Ingredients
4 large egg yolks

1/4 cup dry milk powder

1/2 cup sugar

1/4 cup brown sugar

2 cups heavy cream

1 cup whole milk

2 vanilla beans

Maple Cream Cheese Frosting

4 oz cream cheese

2 Tbs butter, softened

3 cups powdered sugar

Splash vanilla extract

1 tsp maple extract

Splash of milk or cream

Chocolate covered bacon

1 1/2 cup chocolate chips

6-8 slices of bacon, cooked and chopped small
Directions
Mix together the egg yolks, powdered milk, sugars, cream, and milk together. Make sure to mix thoroughly! Don't want any sugar or egg clumps left behind!
Split the vanilla beans in half and scrape the insides into the cream mixture. Stir to spread them throughout.
Pour the mixture into a saucepan and heat over medium low heat until the base reaches a temperature of 162 degrees. Keep the base on a low heat and stir constantly, allowing the base to reduce for about 10 minutes.
Add base to a plastic gallon bag, and put in a prepared ice bath until cooled (about 15-20 minutes). While it cools, prep your bacon and maple cream cheese frosting.
Add the prepared base to the ice cream maker. Make in your ice cream maker based on the maker's instructions. 
During the last 5-10 minutes in the machine, when the ice cream is about the texture of soft serve, add in your prepared bacon bits, making sure there are no big clumps. Don't add it all in! Add handfuls at a time until you get your desired chunkiness.
When the ice cream is ready to come out, add a layer of the ice cream followed by a layer of the maple cream cheese frosting. Repeat the layers until all of your ice cream is in your desired container.
Move into the freezer until hardened (at least 4 hours).
Maple Cream Cheese Frosting
Soften the cream cheese and butter. Mix on medium speed in a stand mixer until combined and smooth.
Add the powdered sugar. Turn the mixer on low and slowly increase the speed to avoid a sugar cloud. Add in the two extracts.
Mix, scraping the sides of the bowl a few times, until the frosting is smooth. If you'd like it a little bit thinner, add little bits of milk or cream in increments until you've reached your desired consistency. If you'd like it a little thicker, add more powdered sugar. (I went for a texture that was a little runnier than regular frosting, but not as thin as icing).
Chocolate covered bacon
Cook your bacon until crispy. Allow it to cool and cut into small pieces (I went really small, but you can make them however big you want).
In a microwave safe bowl, melt the chocolate chips 30 seconds at a time, stirring between each. Once they are melted and smooth, add your bacon bits to the bowl and stir until they are all coated.
Pour the chocolate covered bacon onto a piece of parchment paper into a thin layer. Pop them in the freezer until you are ready to add them to your ice cream.
Notes
This quote came from the movie "It Happened One Night"