"Each year, the Great Pumpkin rises out of the pumpkin patch that he thinks is the most sincere." (Linus, It's the Great Pumpkin, Charlie Brown). Hopefully, this ice cream will prove just how sincere our little pumpkin patch is! This one was invented by our son!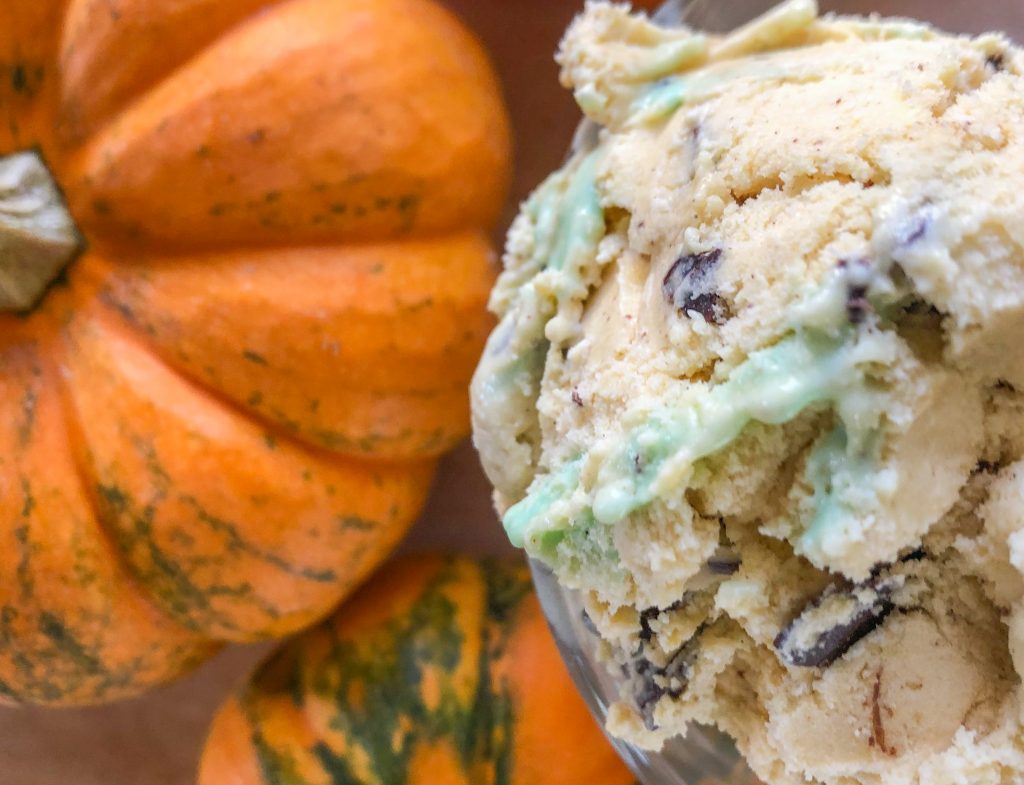 It's a pumpkin ice cream with pumpkin spice, chocolate chunks, and swirls of green cream cheese frosting. The chocolate chunks are meant to look like the face pieces of the jack-o-lantern, and the green frosting is reminiscent of the green stem and leaves. It is so yummy and tastes just like Fall should!
The Great Pumpkin
Ingredients
2 cups heavy cream

1 cup whole milk

4 large egg yolks

1/4 cup powdered milk

1/2 cup sugar

1/4 cup brown sugar

1 tsp pumpkin spice

1/2 of 1-15ounce can of pumpkin

Chocolate Chunks

1/2 cup chocolate chips

1 tsp avocado oil

Cream Cheese Frosting (Inspired by this recipe)

4 oz softened cream cheese

2 Tbs softened butter

1 cup powdered sugar

1/2 Tbs sour cream

1/2 tsp vanilla

Pinch of salt

Green food coloring (optional)
Directions
Mix together the cream, milk, egg yolks, powdered milk, sugar, brown sugar, and pumpkin spice. Make sure to mix thoroughly! Don't want any sugar or egg clumps left behind!
Add in the pumpkin and blend with an immersion blender until smooth.
Pour the mixture into a saucepan and heat over medium low heat until the base reaches a temperature of 162 degrees. Keep the base on a low heat and stir constantly, allowing the base to reduce for about 10 minutes.
Add base to a plastic gallon bag, and put in a prepared ice bath until cooled (about 15-20 minutes).
Make in your ice cream maker based on the maker's instructions. 
During the last 5-10 minutes in the machine, when the ice cream is about the texture of soft serve, add the chopped chocolate chunks. Don't add it all in! Add handfuls at a time until you get your desired chunkiness.
When the ice cream is ready to come out, add a layer of the ice cream followed by a layer of the cream cheese frosting. Repeat the layers until all of your ice cream is in your desired container.
Move into the freezer until hardened (at least 4 hours).
Chocolate Chunks
Add the chocolate chips and avocado (or coconut oil) into a microwave safe bowl. Microwave 30 seconds at a time, stirring in between to help prevent burning it.
Spread the chocolate into a thin layer on a cookie sheet lined with parchment paper. Move to the freezer and allow to harden.
Right before it is time to add the chocolate chunks to your ice cream, remove the cookie sheet from the freezer and chop the chocolate into small pieces. Add them back into the freezer for a minute before adding them to the ice cream. They melt fast so be quick!
Cream Cheese Frosting
Whip the cream cheese and butter together until nice and smooth. Add in the rest of the ingredients and whip, first on low, then on high until it is all uniform and no chunks remain. You will have to scrape the sides of the bowl a bit to get it nice and smooth.
Add the green food coloring if using and mix/stir until all of your frosting is colored. Leave on the counter or bring to room temperature when you add it to your ice cream. If it is cold it will be to hard to spread into layers.