We are heading into birthday season at our house. Over the summer it feels like we just have back to back birthdays to celebrate. The kids are definitely getting pumped!
Thinking of all of the fun celebrations ahead made us think of making a birthday cake flavor. And while most birthday cake ice cream flavors are vanilla cake based, basically every birthday cake we have at our house is chocolate. We are just that kind of family I guess. So, in order to make a birthday cake ice cream in the style of our family, we made it chocolate with chocolate and some more chocolate.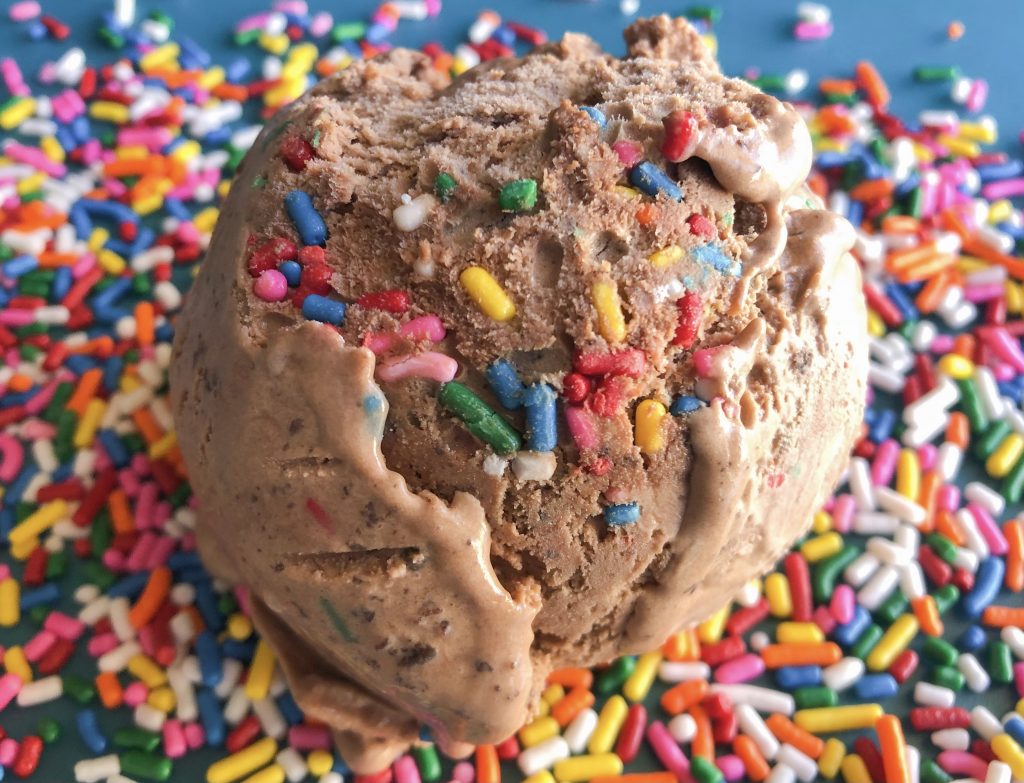 We made a chocolate custard with the new method we tried out last time. We added chocolate cake pieces that had been soaked in a little bit of sweetened condensed milk, swirled in chocolate frosting, and, of course, added sprinkles. We thought that by soaking the cake it would keep the cake pieces from becoming dry or icy, and it definitely did the trick! The ice cream was smooth, creamy, chocolatey, and wonderfully cakey! This ice cream is definitely reminiscent of birthday cakes at our house. But, the real question is, what would birthday cake flavor look like at your house?
Chocolate Birthday Cake
This one takes the cake!
Ingredients
Chocolate Base

4 egg yolks

3/4 cup sugar

1/4 cup dry milk powder

2 cups heavy cream

1 cup whole milk

4 oz bittersweet chocolate, chopped

Chocolate Cake Pieces

Scraps left from chocolate cake (you certainly don't need or want a whole cake here)

Sweetened Condensed Milk

Chocolate Frosting

1 stick butter, softened

1 Tbs vanilla

2 cups powdered sugar

1/3 cup cocoa powder

1/4 cup whole milk

Dash of salt
Directions
Whisk the egg yolks until they are light and fluffy, about 2 minutes. Slowly whisk in the sugar until the color turns lighter and the consistency is smooth, about 2 minutes more. Add the powdered milk and whisk again until well blended. It will turn chunky at first, but if you keep whisking it will get really smooth.
Add the egg/sugar mixture to a sauce pan along with the milk and cream. Heat on medium low heat until it reaches 162, stirring frequently and scraping the bottom with a spatula to avoid cooking the eggs.

Turn the heat on low once it reached temperature and stir constantly, letting the mixture reduce, for about 10 minutes.
Add the chopped chocolate and let it sit for a few minutes. Once the chocolate has had a chance to melt, stir it until the color is uniform and no chunks remain.
Add base to a plastic gallon bag, and put in a prepared ice bath until cooled (about 15-20 minutes).
When ready, make in your ice cream maker based on the maker's instructions.
During the last 5-10 minutes in the machine, when the ice cream is about the texture of soft serve, add in your cake pieces (they will break apart into little cake flecks, but no fear…that's what you want). Don't add it all in! Add handfuls at a time until you get your desired chunkiness.
Chocolate Cake
Break your cake pieces into small chunks and add to a bowl.
Pour over some sweetened condensed milk, just enough to cover the top. Stir the cake/milk so all of the pieces get equally coated.
Allow the cake to sit for a few minutes to soak in the milk. See step 7 of the chocolate base instructions when you are ready to add them in.
Chocolate Frosting
Cream the butter and vanilla together.
Add the powdered sugar, cocoa, and salt and mix until well combined.
Slowly add the milk about 1 tablespoon at a time until the frosting reaches the consistency you want.
Assembling the Ice Cream
When the ice cream is ready to come out of the ice cream machine, add a layer of ice cream to your container. On top of that add a thin layer of frosting, followed by a layer or sprinkles.
Repeat the layers until all of the ice cream is out of the machine.
Move to the freezer until hardened (at least 4 hours).