This one was inspired by the 1961 romantic comedy "Lover Come Back", starring Doris Day and Rock Hudson. In the movie, Rock Hudson sells a product that doesn't actually exist in the beginning. In the end, however, a scientist creates "vip", which ends up being a mint that is highly alcoholic. It definitely makes for a hilarious ending to the movie. We decided to make vip ice cream, only minus the alcohol (sorry if that disappoints).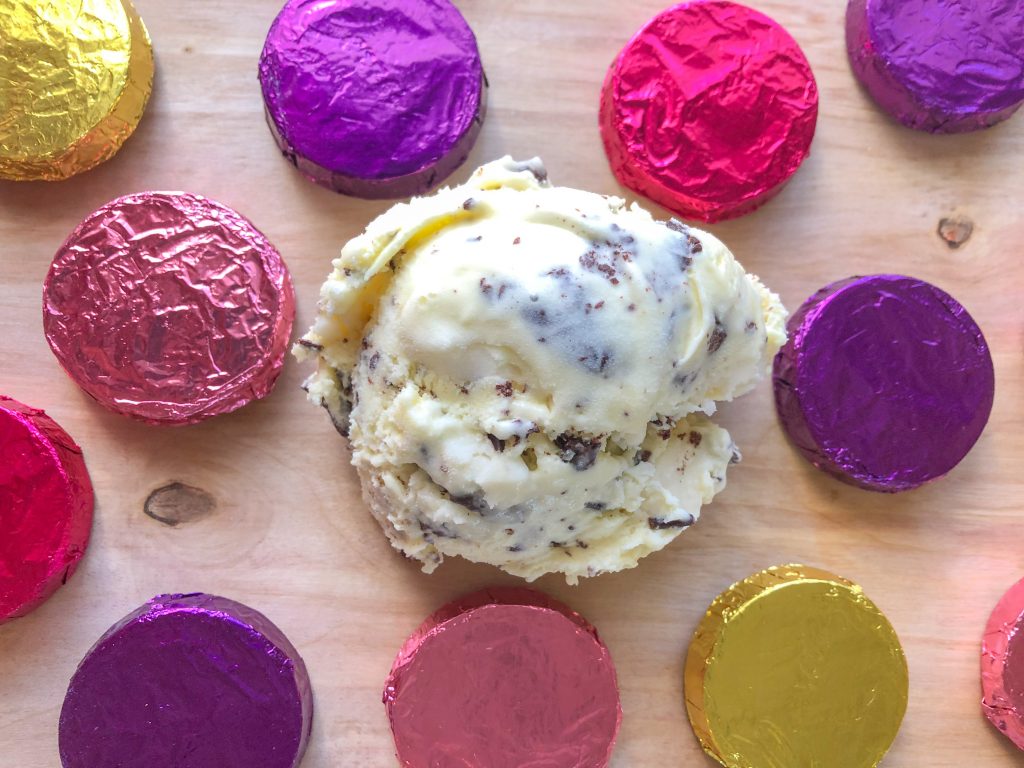 To make it "v-i-p", we started with a vanilla buttercream frosting. We swirled that into an Irish cream base (made with Irish cream flavor), and flecked that with peppermint chocolate. The result is a minty, buttery flavor, similar, I imagine, to the product in the movie. It will definitely put a smile on your face, as will the movie. Give both a try if you haven't!
"Everything I own, I owe to vip"
V day is coming!
Ingredients
Irish Cream Base

4 large egg yolks

2 cups heavy cream

1 cup whole milk

3/4 cup sugar

1/4 cup dry milk powder

1/4 tsp Irish cream flavor (we used this one)

Vanilla Buttercream Frosting

1/2 cup butter

1 tsp vanilla extract

2 cups powdered sugar

Splash of milk

Peppermint Chocolate Flecks

1/2 cup bittersweet chocolate chips

1/8 tsp peppermint extract

1 tsp avocado oil
Directions
Mix together the egg yolks, powdered milk, sugar, cream, and milk together. Make sure to mix thoroughly! Don't want any sugar or egg clumps left behind!
Pour the mixture into a saucepan and heat over medium low heat until the base reaches a temperature of 162 degrees. Keep the base on a low heat and stir constantly, allowing the base to reduce for about 10 minutes.
Add base to a plastic gallon bag, and put in a prepared ice bath until cooled (about 15-20 minutes). While it cools, prep your chocolate flecks and frosting.
Add the prepared base and Irish cream to the ice cream maker. Make in your ice cream maker based on the maker's instructions. 
During the last minute in the machine, lightly drizzle the prepared chocolate over the ice cream, allowing it to naturally crack and fleck throughout the base.
When the ice cream is ready to come out, add a layer of the ice cream followed by a layer of the vanilla frosting. Repeat the layers until all of your ice cream is in your desired container.
Move to the freezer until hardened (at least 4 hours).
Vanilla Buttercream Frosting
Soften and beat the butter until smooth. Add the vanilla and powdered sugar and mix, slowly at first and then faster until the frosting is smooth.
If needed, add a splash of milk to thin it out.
Peppermint Chocolate Flecks
Melt the chocolate, peppermint extract, and oil in a microwave safe bowl in 30 second increments until the consistency is melted and smooth. Be careful not to burn. Allow to cool slightly before adding it to your ice cream.
During the very last few minutes of your ice cream churning slowly drizzle in the melted chocolate. It will create these perfect little chocolate flecks! Just don't overmix, or it may start to turn the ice cream brown.