We have one more Halloween ice cream to share, but we want to get to actually eat it on Halloween and we weren't going to go a whole week without making ice cream, so we had to throw off the Halloween groove a little bit.
This ice cream was inspired by one of my former roommates. She would make these things called "Grandma Carlo Treats". Basically, all you do is melt some chocolate and mix that with some creamy cool whip. The mixture is pretty sticky. Once it gets a chance to set up in the fridge a bit, you use two spoons to dollop the mixture onto a bed of Nilla Wafer crumbs, and roll it around until it is coated. Refrigerate them for a little bit and then you can eat them like a truffle. They are delicious! I have never met her Grandma Carlo, but I like her dessert style!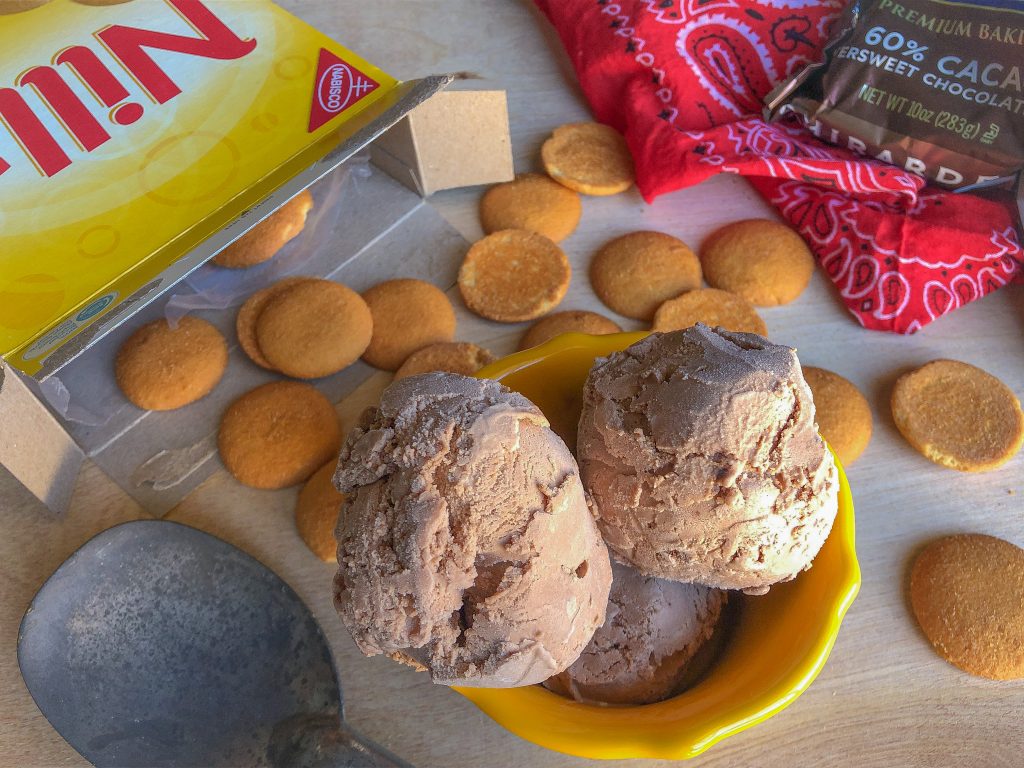 I have been craving these treats lately, and decided it was probably time that we try making an ice cream out of it. All we did was make a vanilla base, add about 1/4 of Nilla Wafer crumbs (maybe even a little less), and added some ganache at the very end. If I'm being totally honest, we wanted the ganache to just fleck but left it in the ice cream maker too long so the chocolate totally mixed in. That being said, these look a lot more like Grandma Carlo treats than our original plan, so it all worked out! And the taste was perfect! Totally satisfied my craving!
Grandma Carlo Treats
Thanks Grandma Carlo (and Stephanie)!
Ingredients
1 cup heavy cream

1 cup whole milk

2 large eggs

3/4 cup sugar

1 Tbs vanilla extract

Dash of salt

1/4 cup Nilla Wafer crumbs

1/2 cup bittersweet chocolate chips

2-3 Tbs heavy cream
Directions
Heat the 1 cup heavy whipping cream and 1 cup milk on low in a medium saucepan until it reaches 140° F, stirring occasionally. While the custard heats, using an electric mixer to whisk the 2 large eggs in a medium mixing bowl until light and fluffy, about 2 minutes.
While the cream is still heating, slowly add the 3/4 cup sugar into the eggs, whisking thoroughly to make sure the mixture doesn't become grainy.
After the cream reaches the target temperature, gradually pour it into the egg and sugar mixture, again whisking each time the cream is added to avoid cooking the eggs.
Pour the entire mixture back into the medium saucepan and heat it to 170° F.
Now pour the mixture back into the mixing bowl. Cover and chill for 1 hour or up to 3 hours.
Meanwhile, add the chocolate chips with a couple of tablespoons of cream to a microwave safe bowl. Microwave for 30 second increments, stirring in between, until smooth. If the mixture seems grainy, add a dash more cream and stir. Just be cautious not to make it too runny!
Add the vanilla and salt to the base right before adding it to the ice cream maker. When ready, make in your ice cream maker based on the maker's instructions.
During the last 5-10 minutes in the ice cream maker, add the Nilla Wafer crumbs. Once they all seem incorporated, add the ganache slowly. You can either take it out right after you add it for a flecked effect, or let the machine run for a few minutes so that the ganache all mixes in.
Move the ice cream to the freezer until hardened (about 4 hours).