We've been meaning to make this flavor for a while now. When we made the lemon pie flavor, we knew a lime version would be just as good. And, well, we weren't wrong.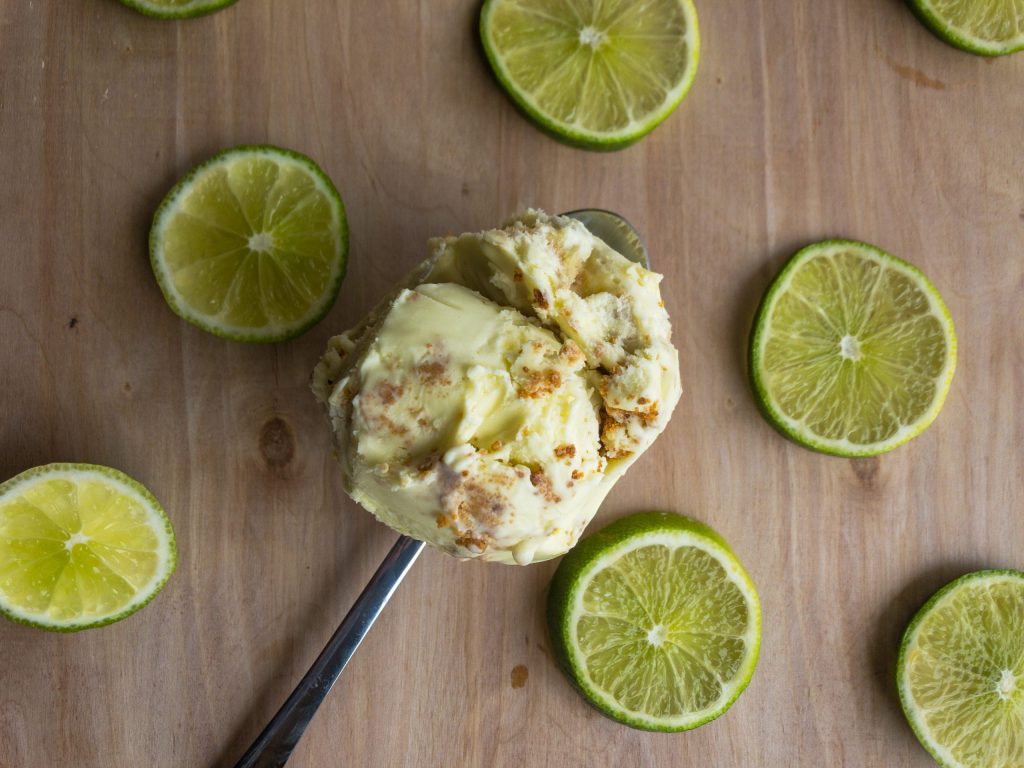 Now, we made a few adjustments to the lemon pie flavor, but truthfully not a lot. We didn't use a pudding base this time, and then used lime extract and lime curd instead of lemon. That's pretty much it. And while it tastes fairly similar to the lemon pie one, it also has a distinct flavor all its own.
Key Lime Pie
Simply sub-"lime"!
Ingredients
Key Lime Ice Cream Base

2 large eggs

3/4 cup sugar

1 cup heavy cream

1 cup whole milk

2 tsp lime extract

Lime curd (homemade or store bought- I used this recipe subbing lime for lemon)

Graham Cracker Crust

1 cup graham cracker crumbs

4 Tbs butter, melted
Directions
Graham Cracker Crust
Preheat the oven to 350.
Mix the graham cracker crumbs and melted butter together either in a food processor or by hand until the crumbs start to clump together.
Press the crumbs onto a parchment paper lined cookie sheet into a flat, thin layer. Cook for about 5 minutes, or until the edges start to turn golden.
Key Lime Ice Cream Base
Heat the 1 cup heavy whipping cream and 1 cup milk on low in a medium saucepan until it reaches 140° F, stirring occasionally. While the custard heats, using an electric mixer to whisk the 2 large eggs in a medium mixing bowl until light and fluffy, about 2 minutes.
While the cream is still heating, slowly add the 3/4 cup sugar into the eggs, whisking thoroughly to make sure the mixture doesn't become grainy.
After the cream reaches the target temperature, gradually pour it into the egg and sugar mixture, again whisking each time the cream is added to avoid cooking the eggs.
Pour the entire mixture back into the medium saucepan and heat it to 170° F, whisking constantly.
Now pour the mixture back into the mixing bowl. Cover and chill for 1 hour or up to 3 hours.
When ready, make in your ice cream maker based on the maker's instructions, adding the lime extract when you add the base into the ice cream maker.
When the ice cream is done, start layering it in your container of choice. First, add some ice cream to cover the bottom. Then, add a few tablespoons of lime curd evenly. On top of that, add a thin layer of graham cracker crust, covering the whole thing. Repeat the layers until you have gotten all of your ice cream out of the ice cream maker.
Freeze until hardened (at least 4 hours).