Halloween is fast approaching! While most of the stores have already moved on to Christmas, we still have a few more spooktacular flavors to share with you before we are ready to move on. This one was my brainchild (Sarah). Pretty predictable? Sure. But also, pretty delicious? Absolutely!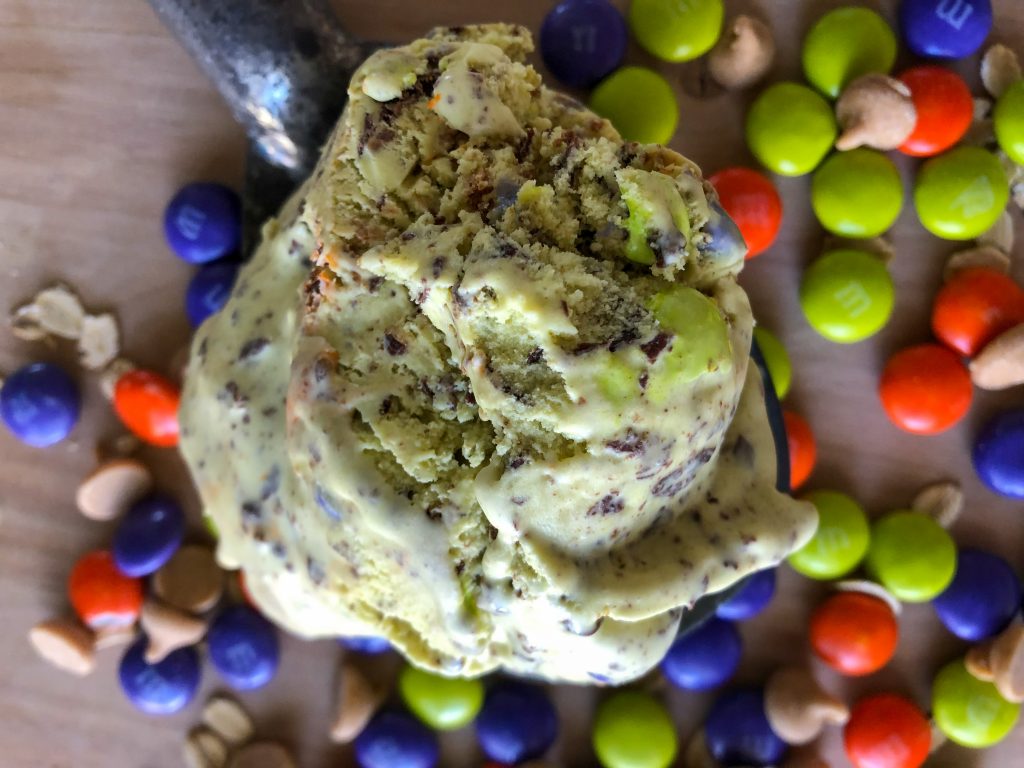 As you probably guessed, this one is meant to taste just like a monster cookie. The main stars of the show here are oats, peanut butter, and M&Ms. So, it is a peanut butter base (with a hint of cinnamon) with Halloween M&Ms, roasted peanut butter streusel, and flecked with tiny specks of chocolate peanut butter. It is monstrously divine! Hope you try it!
Monster Mash
Try it if you dare!
Ingredients
2 cups heavy cream

1 cup whole milk

4 egg yolks

1/4 cup powdered milk

1/2 cup sugar

1/4 cup brown sugar

3 heaping Tbs peanut butter

Pinch of salt

1 tsp vanilla

Lime green food coloring

Peanut Butter Streusel

1/4 cup butter

1/4 cup peanut butter

3/8 cup flour

Dash of cinnamon

3/8 cup brown sugar

Dash of salt

3/4 cup flour

Chocolate Peanut Butter Flecks

1/4 cup chocolate chip

1/4 cup peanut butter chips

1/2 tsp coconut or avocado oil
Directions
Peanut Butter (with Cinnamon) Base
Mix together the egg yolks, powdered milk, sugar, cream, and milk together. Make sure to mix thoroughly! Don't want any sugar or egg clumps left behind!
Pour the mixture into a saucepan and heat over medium low heat until the base reaches a temperature of 162 degrees. Keep the base on a low heat and stir constantly, allowing the base to reduce for about 10 minutes.
Remove from heat. Use the immersion blender to blend in the peanut butter, cinnamon, and salt, until you get a nice, smooth consistency.
Add base to a plastic gallon bag, and put in a prepared ice bath until cooled (about 15-20 minutes).
Add the prepared base, food coloring, and vanilla extract to the ice cream maker. Make in your ice cream maker based on the maker's instructions. 
During the last 5-10 minutes in the machine, when the ice cream is about the texture of soft serve, add in your prepared flecks (see instructions for adding that below) and then the mini M&Ms and peanut butter streusel pieces (broken up into small pieces). Don't add it all in! Add handfuls at a time until you get your desired chunkiness.
Move into the freezer until hardened (at least 4 hours).
Baked Streusel
Preheat the oven to 350 degrees. Add all of the ingredients besides the butter, peanut butter, and the oats to a large bowl and mix.
Keep the butter cold and cut into cubes. Add them and the peanut butter to the flour mixture and cut the butter cubes in until they are no bigger than pea size.

Add the oats and stir.
Add the streusel mixture to a pan. Bake for 20-25 minutes, stirring a couple of times making sure the edges don't burn.
Chocolate Peanut Butter Flecks
Add the chocolate chips, peanut butter chips, and oil to a microwavable bowl.
Microwave 30 seconds at a time, stirring in between each time, until totally melted and smooth. Allow to cool for a bit before adding to the ice cream.
Right toward the end of your ice cream churning, slowly drizzle the chocolate mixture over your ice cream. The chocolate will automatically harden and the ice cream maker will break up the chocolate pieces into smaller flecks. (We add the chocolate flecks before adding the other mix ins).