Growing up we would have a lot of the same side dishes at family events. One of those staples was a raspberry Jell-O with a cream cheese center layer underneath and then a pretzel crust underneath that. Itd is always delicious and brings with it a sense of nostalgia.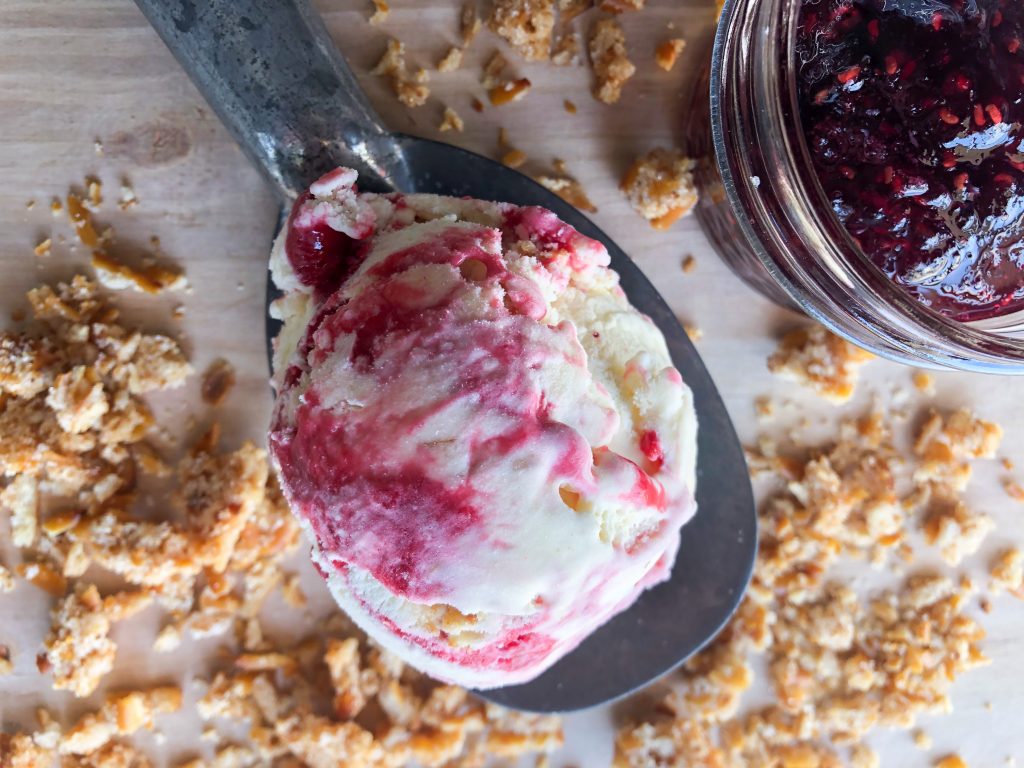 Turning this one into ice cream was pretty simple. We just made a vanilla cream cheese base, added pretzel crust chunks, and swirled the whole thing with a ribbon of raspberry sauce. Gotta say, it tastes just like I remembered the dessert tasting like! It is absolutely amazing! It is quickly becoming a favorite here at our house.
Raspberry Pretzel
Pure delight in every bite!
Ingredients
Vanilla Cream Cheese Base

4 egg yolks

1/4 cup dry milk powder

3/4 cup sugar

2 cups heavy cream

1 cup whole milk

2 oz cream cheese, softened

1 Tbs vanilla extract

Pretzel Crust

2 cups crushed pretzels

1/4 cup melted butter

1/2 cup sugar

Raspberry Sauce

2 cups raspberries (fresh or frozen)

1 cup sugar
Directions
Vanilla Cream Cheese Base
Whisk the egg yolks until they are light and fluffy, about 2 minutes. Slowly whisk in the sugar until the color turns lighter and the consistency is smooth, about 2 minutes more. Add the powdered milk and whisk again until well blended.
Add the egg/sugar mixture to a sauce pan along with the milk and cream. Heat on medium low heat until it reaches 162, stirring frequently and scraping the bottom with a spatula to avoid cooking the eggs. 
Turn the heat on low once it reached temperature and stir constantly, letting the mixture reduce, for about 10 minutes.

Add the cream cheese and blend until smooth. Add base to a plastic gallon bag, and put in a prepared ice bath until cooled (about 15-20 minutes).
Add the prepared base and the vanilla extract to the ice cream maker. Make in your ice cream maker based on the maker's instructions. 
During the last 5-10 minutes in the machine, when the ice cream is about the texture of soft serve, add in your prepared pretzel crust (broken up into small pieces). Don't add it all in! Add handfuls at a time until you get your desired chunkiness.
See assembling instructions for how to build the ice cream.
Pretzel Crust
Preheat the oven to 350 degrees. Crush up the pretzels. Add the melted butter and sugar. Stir well.
Spread the mixture onto a cookie sheet in a flat layer. Bake for 7-8 minutes, until it is fragrant.
Allow to cool completely. Break up into small pieces before adding it to the ice cream.
Raspberry Sauce
Add the berries and sugar to a medium saucepan. Cook over medium heat, stirring and mashing the berries as you go.
Cook for about 10 minutes (until the sauce reaches around 210 degrees). Allow to cool completely before adding it to your ice cream. It will thicken a bit as it cools.
Assembling the Ice Cream
Add a layer of the base (with the chunks of pretzel in it). Then, add a thin layer of the berry sauce. Repeat the layers until your container is filled.
Move into the freezer until hardened (at least 4 hours).